Gould Grads Celebrate Passing Bar, Becoming Lawyers

USC Gould School of Law
Wednesday, December 9, 2015
The Hon. John Segal '77 and the Hon. Jay Gandhi '97 deliver oath
-By Gilien Silsby
USC Gould School of Law's Class of 2015 graduates celebrated their crowning achievement Friday when they were sworn in as attorneys to the California state and federal bars.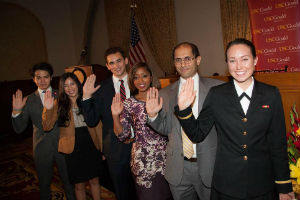 Gould grads who passed the bar relish the moment.
USC Gould graduates posted a bar passage rate of 87 percent – the second highest in California, behind Stanford Law School. The increase comes despite a significant average decrease in passage among California exam-takers this year.
"We did better than Loyola, better than Pepperdine, better than Berkeley, better than UCLA," Professor Robert K. Rasmussen said to graduates, friends and family, who gathered in USC's Town and Gown. "This is truly a great achievement. The California Bar had the lowest pass rate in over 30 years."
The California bar exam is a three-day test that examines analytical rigor, creativity and in many cases, sheer stamina. For more than a decade, USC Gould has been one of the top performers among California law schools. This year, USC Gould graduates posted the biggest gain when compared to the California average, which was 60 percent for first-time takers.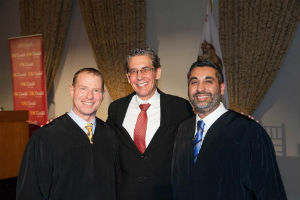 The Hon. John Segal '77, Professor Robert Rasmussen and the Hon. Jay Gandhi '97
The Hon. John Segal '77 and the Hon. Jay Gandhi '97 delivered the oath for admission to the State Bar of California and the United States District Court for the Central District of California, respectively. But before the official oath they each offered words of wisdom and reflection.
"There is essentially one currency in our profession: reputation," said Gandhi. "It's your most valuable professional asset or liability... Your character and integrity define your reputation. Do the right thing."
Segal reminded the new attorneys that they will be called upon as a lawyer to assist "people who are injured, who are frightened, who are desperate, who are nervous, who are innocent, and yes, maybe even guilty.Remember that your fellow citizens come to you because they need you. They need you to solve problems in their lives, and they need you because you are a lawyer."
After the ceremony, the graduates celebrated with family and friends, relishing the moment.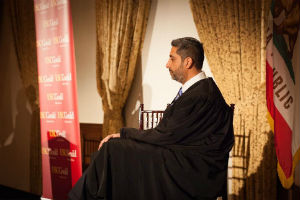 Judge Gandhi '97 told recent Gould grads: "Your character and integrity define your reputation. Do the right thing."
Raymond Nhan '15, who is working at the Pacific Legal Foundation in Sacramento, said USC Gould prepared him for the bar by offering rigorous classes and placing him "among many bright minds. I had many great classmates and professors that pushed me to think critically about major legal issues. Going through rigorous discussions in bar and non-bar classes helped me develop the necessary thinking skills to succeed on the bar essays and the performance tests."
Janille Chambers Corbett '15, who is working at Alston & Bird LLP in Los Angeles, said she will forever be grateful to USC Gould professors and the Trojan Network.
"The professors have excellent academic, creative, and comedic talents which makes complex subjects a lot easier to grasp. Most have specialized practical experience, which helps to provide context for the rules they present in class. I also had numerous USC Law alumni share extensive amounts of bar prep information with me, even though I never asked. Their resources, encouragement, and overall confidence in me helped me to believe I could conquer the bar before I even began studying."
Read More
RECENT NEWS