News
Preparing for Recruitment Season
Wednesday, Jul 13, 2016
First-of-its-kind career event intended to help students "thrive and succeed"
More than a job fair, USC Gould's recent "Meet the Firm Night," presented law students with the opportunity to make personal connections with potential employers before recruitment season kicks into high gear.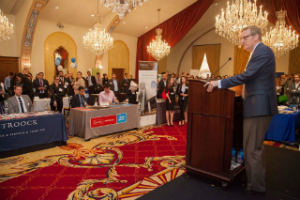 Dean Andrew Guzman welcomes guests and students to "Meet the Firm Night."
The event, held on June 29 at Town & Gown, boasted more than 130 guests (including 86 alumni) who represented 43 law firms. Approximately 150 students took advantage of the networking evening, the first-of-its-kind organized by Gould's Career Services Office.
"One of our objectives is to find our students good jobs where they can thrive and succeed," said Dean Andrew Guzman, as he thanked the firms for giving Gould students the "opportunity to get to know you."
The students needed no further encouragement, as they buzzed through the room strategically making conversation with firm personnel, many of whom are USC Gould alumni.
"This was a great way for first-year students to get an introduction to firms and firm practice," said Denise McKenzie '96, a patent litigator at Arnold & Porter LLP. "For us, it was a way to give back as well as to answer general questions from students and help them form their goals."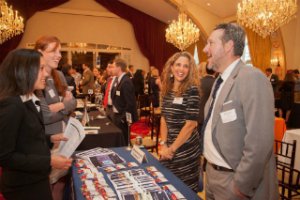 Gould students networking with potential employers.
For Mina Rizk '18, who described himself as "torn between transactional law and litigation," the evening provided him with a better sense of which firms he'd like to meet with at On Campus Interviews (OCI), which begin in August.
Rizk, who is spending his summer as a Judicial Extern at the United States District Court for the Central District of California, conducted research before Meet the Firm night to target firms that interested him the most. Still, he said the event introduced him to "a few firms I hadn't considered before." In addition, he felt grateful that so many USC Gould alumni attended the event "because I felt they answered my questions honestly, which was very helpful."
Gould's Dean of Career Services, Elizabeth Armour spearheaded the event as a means to "give students a chance -- beyond just reading information on the firms' website -- to understand each institution's personalities and values."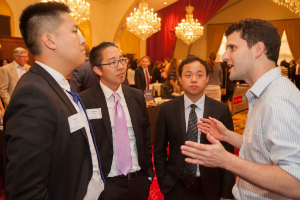 Law firm representative offering students advice.
And, in turn, Armour added, each firm had the opportunity to assess the students and "gauge their interpersonal skills; how they present themselves in 'live action' situations," she said.
To provide a networking primer before the event, Armour hosted an informational panel for students earlier in the evening. Panelists included: Daniel Prince, partner and co-chair of recruiting for the Los Angeles office at Paul Hastings; Lesli Hutchinson Wampler, attorney recruiting manager at Morrison & Foerster LLP and Gould alumnus Abe Tabaie '08, litigation associate at Skadden.
The panelists shared their advice for pursuing a position with a firm, including:
Do your research. "Don't assume all of a firm's offices are the same. For instance, a firm's Los Angeles and New York offices may be distinct from each other," Tabaie advised.
Read Gould's Career Services e-newsletter to find the firms hosting receptions, and make an effort to attend. "Attending receptions provides you with an opportunity to figure out which firms are a good fit for you, said Wampler. "Ask questions and you'll gain insights before OCI."
Prepare for your interview. Prince told the audience that they should "be able to communicate to the particular firm your interests and how you add value. This includes being able to speak intelligently about items on your resume."
Take advantage of the Trojan network for insights into a firm. "Reach out to alumni who work there or have worked there," said Tabaie.
In conclusion, Armour advised that students should know the answer to 'Why this firm?'" Wampler concurred. "We want to feel that you want to be here," she said.
Photos: Brett Van Ort
RECENT NEWS