News
USC Gould Class of 2019 Receives High Marks
Wednesday, Aug 31, 2016
USC Gould Welcomes Class of 2019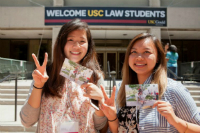 First-year students excited to start their law school journey.
USC Gould welcomed a bright and diverse law school class to the Trojan Family at an orientation celebration at Town and Gown.
The Class of 2019, selected from a pool of 4,500 applicants, boasts a median LSAT of 165 and GPA of 3.76, making it among the nation's most selective. It is also a diverse class with 37 percent underrepresented minorities. Seventeen students are the first in their family to attend college. They come from 100 colleges and universities including Stanford University, University of Chicago and New York University.
"We are extremely proud of our first-year class," said David Kirschner, USC Gould's dean of admissions. "They are an extremely gifted group who will enhance our law school community."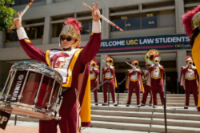 The Trojan marching band performing for the Class of 2019.
Law school applications were up 7 percent at USC, higher than the national average, which saw a 1.9 percent increase. "There has been a noticeable shift. I think students know the value of a law school degree – here and across the country," said Dean Andrew Guzman.
The class is a highly competitive group with broad interests. Students include an All-American swimmer, classically trained violinist, museum curator, Peace Corps volunteer, skateboard company owner and top-40 hip-hop artist. The youngest first-year student is 17 and the oldest is 34.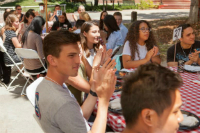 New students enjoying the celebration held in front of the law school.
Many of the new students possess a passion for public interest and social justice. Before law school, internships ranged from jobs at the ACLU and Legal Aid to Children's Rights and The New York Center for Children. And the commitment continues. A group of 40 first-year students spent the weekend before their classes began volunteering their time in downtown and South Los Angeles.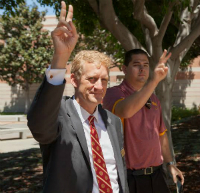 Dean Andrew Guzman welcoming the new class to the Trojan Family.
Some students worked with the National Lawyers Guild to provide pro bono legal advice at the Skid Row Citation Clinic; while the others joined the Inner City Law Clinic, going door-to-door in a South LA neighborhood to share information about tenants' rights.
In his welcome to the new class, Guzman challenged students to make law school meaningful and scholarly – but also fun.
"Hard work is important, and the students who work hard while here are the students who thrive," said Guzman. "But I need to add, this is a marathon, not a sprint. You can't work all the time every day for three years. Some of you are going to try, but it will not work. And that brings me to another suggestion – go camping."
RECENT NEWS