News
Civil Rights Watch Dog
Friday, Jan 13, 2017
Mauro Morales '91 on politics, policy, and public service
Since graduating from USC Gould in 1991, Mauro Morales has combined his legal skills with political acumen, ultimately landing a coveted appointment by President Barack Obama in April 2015 as staff director for the bipartisan U.S. Commission on Civil Rights.
"This has been a dream job for me and a thrill of a lifetime," says Morales. "We're known as the 'Civil Rights Watch Dog' because we're responsible for making sure the government is enforcing civil rights laws fairly."
For example, last year the commission announced separate investigations into fines levied against minority community members as a way to cover municipal expenses related to policing and court costs. It also investigated public education funding inequality.
"It has been extremely rewarding," Morales says. "I've been very lucky to use my law degree and experience
in the public sector. They have worked hand in hand." Morales previously served the Obama Administration in the Office of Personnel Management as assistant director of the Office of Public Engagement.
Morales' interest in politics began as an undergraduate at Georgetown University. After a number of
political internships, he became a legislative assistant for then Congressman Esteban Torres, performing
a range of duties on the Hill. However, he soon realized that a law degree could be a powerful boost to
his career.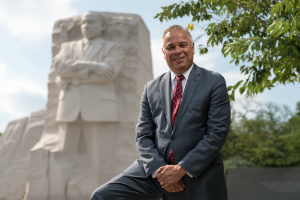 Mauro Morales '91, pictured at the Martin Luther King Jr. Memorial. "Working on the Hill can be very challenging," he says.
"I reached a point where I knew that I would need a law degree to make a difference in our nation and our community."
After law school, Morales was a senior law clerk with the Orange County, Calif., District Attorney's Office and an associate attorney at Pereyda, Delnick and Ruedaflores.
But he had politics running through his veins, and Washington, D.C., continued to beckon.
"I was a senior associate attorney at McGuiness & Williams in Washington, D.C., and while I enjoyed it, I really was still interested in working in the
public sector."
He got a big break after volunteering on Loretta Sanchez's campaign for Congress. "She won, and I was offered a job as a legislative director and then as district director," he says. "It's really exciting to work in public policy. You can be creative, and if you care about a particular issue, you can make a real difference. I am most proud of the work I did
to amend the Higher Education Act so that students attending Hispanic-serving institutions would be eligible to receive the same scholarships and federal assistance available to every student."
Morales credits much of his success to his law education at USC. He was taught to think broadly and critically.
"You know, I owe all of this to USC. I really do," he says. "What I learned in law school helped create the foundation for a lot of the policy and legal analysis I do today. I still think about a class I took with Professor Ron Garet. He asked us to look beyond the law — and at humanity: How do you use the law to better the community and, even more
importantly, better people's lives? I have always remembered that, and it really guides me."
RECENT NEWS