News
USC Gould Students Gain Insight into Entertainment Industry Law
Sunday, Nov 13, 2016
2016 Institute on Entertainment Law and Business proves to be a can't-miss event

The 2016 Institute on Entertainment Law and Business, hosted by the USC Gould School of Law and the Beverly Hills Bar Association, is not only a can't-miss event for industry veterans, but also a significant opportunity for USC Gould students to learn about the latest issues and information relating to the entertainment industry.
A Los Angeles tradition for over 50 years, the 2016 Institute featured more than 800 industry professionals and 30 well-known speakers who addressed the latest challenges facing the industry.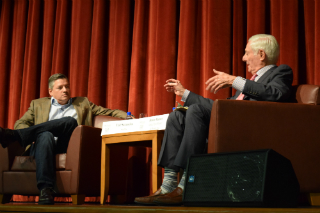 Ted Sarandos, Netflix CCO, discusses the current landscape of the entertainment industry with Bruce Ramer.
And with the news of AT&T's deal to purchase Time Warner breaking during the event, panelists such as Netflix chief content officer Ted Sarandos had plenty of current and provocative issues to discuss. There were also four networking opportunities and afternoon breakouts that allowed in-depth learning with industry leaders in an intimate setting.
Jeffrey Cole (Director, Center for the Digital Future, USC Annenberg School for Communication and Journalism) began the morning session, returning for his entertainment industry update, now in its sixth year. Cole provided highlights from his ongoing study of how the Internet impacts content and society including eye-opening facts on consumer's use of media.
The expert-led discussions featured in-depth analysis as well insider knowledge to help those in attendance stay ahead of the curve. Valiant's Peter Cuneo, Paladin's Tom DeSanto and Marvel Studios' Louis D'Esposito discussed the rise of the comic book multiverse as an Industry superpower. Miramax Film's Steven Schoch led a panel on the exploitation of film and television libraries with Fox Home Entertainment's Mike Dunn. Other panel topics included the rise of virtual reality, protecting reputation and privacy, common missteps and misunderstandings in copyright and many more.
The keynote presentation was headlined by Netflix's Sarandos, whom TIME has listed among its "100 Most Influential People in the World," has led Netflix to be the world's leading internet television network with over 86.7 million subscribers worldwide. In his interview, Sarandos discussed the rise and future goals of Netflix, along with details about its unique approach to original programming.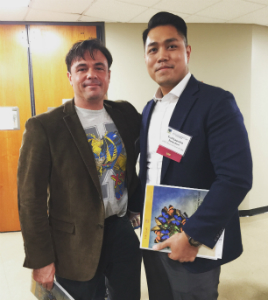 USC Gould student, Yudisaputra Betaubun, with film producer and screenwriter Tom Desanto.
Yudisaputra Betaubun, a USC Gould LLM student with aspirations to be an entertainment lawyer, attended the event to learn from experts in the field. "I knew that this event would be a great opportunity to learn about practical matters in the entertainment industry, but it was even more beneficial than I expected. I gained a new point of view from the sessions with well-known leaders from companies such as 20th Century Fox, Miramax, Paladin Entertainment and Marvel. My favorite part was the interview session with Ted Sarandos, who was so amazing and inspiring!" said Betaubun.
USC Gould students also had the opportunity to network with industry professionals. "I met some of the speakers during the break, had a great chance to talk to them and exchange business cards. People were so nice, you could tell that the more experienced a person, the more he/she would like to share their experiences. I also had a conversation that I feel could lead to a job after graduation," Betaubun said.
Those who attended the event also were able to earn California Minimum Continuing Legal Education (MCLE) and California Board of Accounting (CPE) credit.
RECENT NEWS