News
Rebuilding Lives, One Angeleno at a Time
Friday, Jan 6, 2017
Kimberley Guillemet '05 of L.A.'s Office of Reentry, started on a path toward restorative justice at USC Gould
Kimberley Guillemet's desire to use her legal degree to effect sweeping and systemic reform within the criminal justice system was sparked by her pro bono and clinical experiences while a student at USC Gould.
As manager of the City of Los Angeles Office of Reentry, Guillemet '05 works to implement citywide policies and
programs that help Angelenos with a criminal past re-enter society and rebuild their lives, primarily through opening
access to employment and education.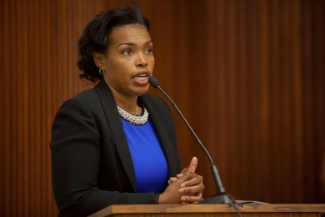 Kimberley Guillemet '05, manager of the City of Los Angeles Office of Reentry
Mayor Eric Garcetti established this new office — the first in Los Angeles' history — in August 2015 and tapped Guillemet to build it from the ground up. No other U.S. city has a similar office, according to Guillemet, which means she has no existing model to follow. She is, however, building the office on a solid foundation based upon her deep understanding of restorative justice.
Before coming to the Mayor's Office, Guillemet served as a deputy attorney general in the Division of Recidivism Reduction and Re-Entry at the California Department of Justice. She was previously an attorney for Disability Rights California and taught in the L.A. Unified School District.
As an Equal Justice Works fellow, Guillemet directed a project to provide legal representation to at-risk, underserved youth with mental health and behavioral challenges.
Guillemet took her first steps onto the path of reform and advocacy for underserved citizens soon after she
arrived at USC.
"Two impactful experiences at Gould helped me frame the way I was going to work in criminal justice and set me
on a course toward restorative justice," Guillemet recalls.
The first was her involvement with Gould's Street Law program. "It was very small with not much participation
when a classmate and I decided to build it out," Guillemet says.
The law students brought the program into several LAUSD high schools where they taught legal rights and
the legal process. The program continues to thrive with law students teaching legal literacy to high school and middle school students.
Guillemet, who grew up in Watts, says her second defining experience involved working with the
USC Post-
Conviction Justice Project (PCJP)
, a clinic which is offered to second-year law students.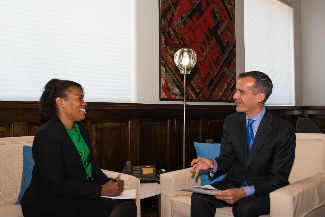 Mayor Eric Garcetti tapped Kimberley Guillemet '05 to establish the Office of Reentry, the first in L.A. history.
Within the program, students who are certified as legal interns represent parole-eligible inmates.
Guillemet says of the experience, "Visiting a person in prison makes you see life in a different way. It was an impactful experience, and issues around criminal justice crystallized for me."
Beyond these two programs, Guillemet said she learned two critical skills while at USC: building relationships and finding common ground.
Guillemet returned to Gould recently as part of Mayor Garcetti's Higher Education Challenge. Moderating
a panel of experts
who had gathered to examine the barriers that keep Angelenos with a prior criminal record from accessing higher education, Guillemet was back where she started, building relationships and finding common ground.
RECENT NEWS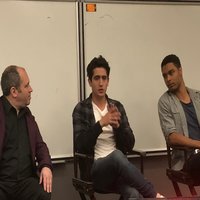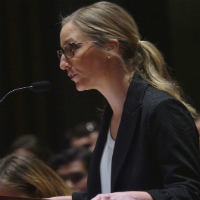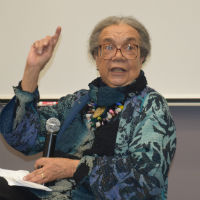 Follow the Need
April 3, 2018
Children's rights pioneer Marian Wright Edelman inspires at USC Gould