News
The Power of Social Activism
Wednesday, Feb 15, 2017
USC Gould Students flocked to a talk by ACLU legal director David Cole
-By Christina Schweighofer
When Julie Gantz '19 recently heard that USC Gould School of Law was hosting a talk titled "How to Stop Trump: Defending Civil Liberties and Civil Rights in a New Era," she immediately knew that she wanted to attend. Her hope was that the speaker, David Cole from the American Civil Liberties Union, would help answer a pressing question: "What can I do?"
Cole, who is the ACLU's new legal director, did have an answer. "Join the organizations that are fighting for the values you see under threat," he told about 150 students and faculty members at the packed event. He urged everyone to engage as citizens by calling Congress members and going to the state legislature. "It does have an effect if it's done in numbers," he said.
Cole's main message was that constitutional law is made only in part by the arguments of lawyers in the Supreme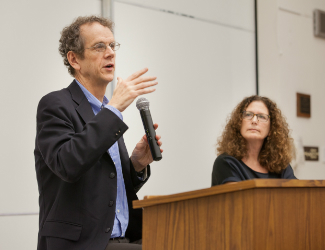 David Cole from American Civil Liberties Union dicusses Trump's immigration law with USC Gould Prof. Nomi Stolzenberg, who organized the lecture.
Court or through the formal separation of powers. What ultimately leads to victory in the courts is the organized engagement of citizens outside the courts. He said that the "broad swath of concern" over President Donald Trump's immigration ban gave backbone to attorneys general among others, and he promised that for engaged citizens action would lead to hope.
USC Gould professors Nomi Stolzenberg and Ariela Gross, who helped organize the event on behalf of USC's Center for Law, History and Culture in conjunction with the American Constitution Society at USC, both agreed that law students needed to hear Cole's message. "The community is outraged, and everyone is looking for a way to use their legal education to help protect citizens, noncitizen and refugees," Gross said. "Cole is on the frontline as the leading lawyer fighting this fight. He made clear that great rights aren't won in the weeds but in social movements."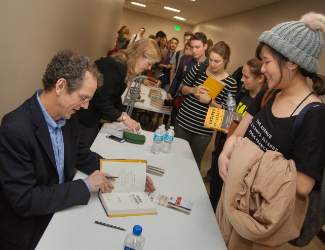 David Cole meets with USC Gould students after lecture.
Stolzenberg said that Cole's message was that courts respond to popular opinion and the efficacy of lawyers stems from the fact their work is embedded in and supported by social activism.
Formerly a law professor at Georgetown University, Cole cited a couple of historic situations where the people, organized through advocacy institutions, had changed the background for court or policy decisions: Marriage equality went "from unthinkable to inevitable" in only 30 years. The NRA secured the individual right to bear arms by mobilizing its members and engaging in reforms outside the Supreme Court. And President George W. Bush retreated from counterterrorism measures such as torture, extraordinary rendition and warrantless wiretapping because of public pressure.
Julie Gantz '19 liked Cole's approach. "I really appreciated what he said about hope coming from action," she said, "and how he put into context everything that happened after 9/11 and the pushback we were able to achieve."
Another student, Daniel Brovman '19, said that while the people are the first defense against questionable executive actions, lawyers have a greater understanding of their impact and provide "teeth and structure" for the larger movements. "The women's march is great," he said. "But unless you have lawyers filing habeas corpus petitions, refugees will still be detained at airports."
RECENT NEWS