News
Justice for Two Teenagers: 150 Hours to Asylum
Monday, Jun 5, 2017
Students in the Immigration Clinic win case for persecuted Tanzanian sisters

Six years ago, two young girls were brutally hunted down in their tiny African village – machetes flailing as bounty trackers battled for their "magical" albinism body parts.
Today, Bibiana and Tindi Mashamba are safe in Los Angeles, thanks to the work of USC law students, who fought for their asylum and ultimately proved that the teenagers would face grave danger if they returned to Tanzania.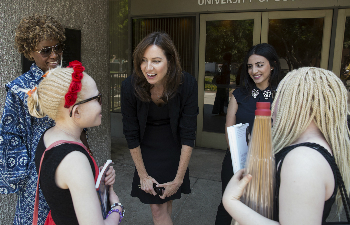 The Mashamba sisters at USC Gould, flanked by Jean Reisz '05 (left) and Elena Babakhanyan '18 (right). With them are African Millennium Foundation leader Malena Ruth.

"Bibiana and Tindi's ability to stay positive through the unimaginable struggles that they have endured is truly inspirational," said Amy Stern '16, who worked on their case in her final year at USC Gould School of Law. "I joined USC's Immigration Clinic hoping to be an advocate for the people who need it most, and this case gave me that invaluable opportunity."
Stern and fellow law student Elena Babakhanyan '18 logged more than 150 pro bono hours, gathering details of their case to present at an asylum hearing last spring.
They interviewed the girls, their extended family and even a member of the Tanzanian parliament, who has albinism. Stern put together documents and evidence showing that the girls were targeted from a young age due to Tanzania's grisly trade in albino parts. Babakhanyan prepared the teens for their asylum hearing in May.
"Their story was both powerful and important to tell," said Babakhanyan, a second-year law student.
The sisters had always lived in fear, but in 2010 their nightmares became real: Bibiana, 17, was attacked while sleeping, her right leg and two fingers hacked off. Her sister, Tindi, 16, hid from the trackers.
Bibiana received an offer for treatment at the Orthopaedic Institute for Children in Los Angeles due to advocacy by the African Millennium Foundation. After her recovery, the sisters faced new fears, this time of deportation. But USC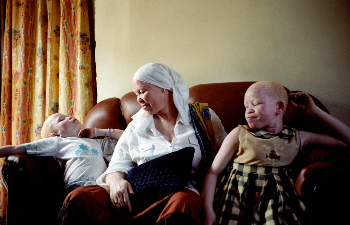 The Mashamba sisters in Tanzania, after the gruesome attack in 2010.
Gould's Immigration Clinic stepped in to provide assistance — legal representation for the girls to stay in the United States.
"The government in Tanzania is either incapable, or worse, unwilling, to protect people with albinism," said Prof. Niels Frenzen, director of USC's Immigration Clinic. "There are government officials who are willing to turn a blind eye to these attacks and killings. We had to prove this, otherwise, the girls would have lost their cases."
Today, the girls attend Montessori high school in Ojai and have dreams of attending law school or becoming doctors.
"We are enjoying a happy ending," Bibiana said.
"The law has always interested me, and now I want to make sure these kinds of human rights abuses end," Tindi added.
RECENT NEWS