Client of Post-Conviction Justice Project reflects on his 41-year fight for release

By Gilien Silsby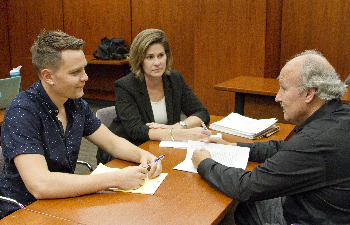 Marvin Mutch, right, meets with PCJP Co-Director Heidi Rummel and Alex Kirkpatrick (JD 2017).
When it comes to the circumstances of the crime, no case in USC's Post-Conviction Justice Project is ever the same. But for innocent clients, it is not about the crimes that were not theirs in the first place. It is about the anguish they feel in the face of injustice. And how they hold up in the face of a wrongful conviction. Very often, it is by fighting for release and a life beyond prison.
Case in point: Marvin Mutch. Convicted of a murder at age 18, he spent 41 years in prison despite multiple
appeals and valiant efforts by the California Innocence Project. Because he maintained his innocence, Marvin
Mutch was denied parole at 21 hearings. That is, until last year, when the PCJP represented him at his final parole hearing and where he was found suitable for release.
"Our success in convincing the parole board to grant parole must be tempered by the injustice of a man who has served 40 years for a crime he did not commit," says Heidi Rummel, co-director of the PCJP. "Marvin is one of a kind. As soon as I met him, I understood he was going to be a very interesting client."
With less than a year of freedom under his belt, Mutch, 60, visited USC Gould to speak to PCJP students about his legal journey. "I had a long path to freedom," Mutch says. "What kept me going was to keep looking forward to
see what was on the horizon."
During his decades-long incarceration, Mutch threw himself into prison advocacy work, which helped dull the sting of parole denials and the hopelessness of the prison environment.
Mutch successfully advocated for humane treatment of prisoners, de-escalated potentially violent situations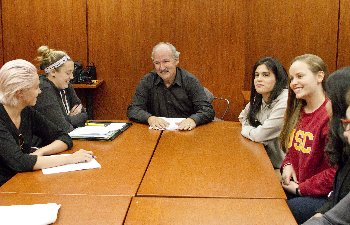 Mutch visited with PCJP students in fall 2016.
and served as a mediator to promote tolerance. He was also elected statewide chairman of the Men's Advisory
Council, a group that serves as liaisons between the Calif. Dept. of Corrections administration and inmates.
He left San Quentin a leader, drawing admiration from fellow prisoners, correctional officers and prison administration. "Looking back, my actions were often compelled by my own lifelong need to realize
fairness and a just resolution over things I perceived as unjust," he says. "This did not always make me popular with those who kept the watch. But I had the drive to make sure that due process was followed, that policy made sense and that thestakeholders were heard. Those accomplishments made the wall dividing the incarcerated from the rest of the world seem manageable."
Sara Pitt '17 says that hearing Mutch's story is a reminder of the important work PCJP does. "Our meeting with Mr. Mutch re-lit the group's passion to help other clients achieve the same freedom," she says. "I spoke with Mr. Mutch a number of times over the phone while he was still incarcerated, so it was so wonderful to be
able to speak to him face to face."