News
In the Public Interest
Tuesday, Apr 18, 2017
At annual event, alumni and students honored for pro bono work

By Anne Bergman
They worked with refugees. They brought legal lessons to local middle and high school classrooms. They spent their breaks from law school volunteering to provide legal aid. They logged nearly 1,900 pro bono hours. Now it was time to celebrate and take some time to honor their own.
On April 8, the Public Interest Law Foundation (PILF) held its annual Pro Bono Awards Luncheon at Town and Gown. The event honored:
•
PILF Student of the Year and 2017-18 Sydney & Audrey Irmas Fellow: Stephanie Rector '17
•
Public Interest Attorney of the Year: Fernando Gaytan '01, Legal Aid Foundation of Los Angeles (LAFLA)
•
Paul Davis Memorial Pro Bono Attorney of the Year: Kelsey McGregor '15 (WilmerHale)
Rector will work at Neighborhood Legal Services in Los Angeles on domestic violence issues. She said that she was grateful for the Irmas fellowship, which will allow her to "educate and advocate in an attempt to stop sexual assault perpetrators and to empower domestic violence and sexual assault survivors."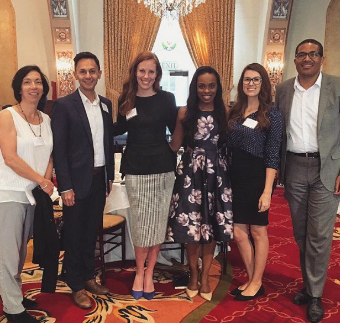 Prof. Clare Pastore, Fernando Gaytan (2001), Jacqueline Bowers (2018), Ja'Mesha Morgan (2018), Stephanie Rector (2018) and David Aigboboh (2016)
She added that she came to law school three and a half years ago, in the hopes of doing work with domestic abuse survivors. And throughout her time at Gould, Rector – who also served as SBA President – interned for legal aid organizations such as Neighborhood Legal Services, the California Women's Law Center, and LAFLA.
Gaytan, a former Skadden Fellow, leads LAFLA's Affirmative Housing litigation and policy work. He had warm words for the students about his time at USC, the growing public interest culture at Gould, and the rewards of a nonprofit career.
The 2016 Irmas Fellow, David Aigboboh, who is midway through his fellowship at Los Angeles' Inner City Law Center, also attended.
"Our students and alumni have a long history of commitment to public service, so it's gratifying to see them honored for their hard work," said Prof. Clare Pastore, a leading member of California's public interest community. Pastore currently oversees Gould's new
public interest certificate
for JDs.
Recipients of the summer PILF grants to continuing students were also announced:
Gloria Yi '18, Ariana Sanudo-Kretzman '18, Rebecca Taylor '19, Sarah Walkowicz '19, Khadeijdra Carson '19, Karen Blevins '19, Neusha Etmad '19, Elizabeth Yang '19, Daisy Mercado '19, Elizabeth Nguyen '19, Ryan Booms '19, Michael Su '19, Cathy Joo '19, and Helen You '19.
Nicholas Munoz '18 was awarded the Adam Freeman Scott Memorial summer grant and Shana Emile '17 won the Karen A. Lash Grant, which provides a stipend to defray the costs of the bar examination. A former associate dean at Gould, Lash '87 is a founding member of PILF. The grant is awarded to a graduating student entering the field of Public Interest Law.
In addition, PILF bar stipends were awarded to graduating students Andrew Tippin, Kevin Johnson, Karmdeep Gill, Sujata Awasthi, Kelly McVey, Patrick O'Connor, Zachary Genduso, Robert Fiffer, Cameron Edwards, and Nicholas Garcia.
Finally, the luncheon also included the introduction of next year's newly elected PILF President Matthew Saria '19 and the PILF Board for 2017-18. Outgoing PILF President Ja'Mesha Morgan '18 and PILF Board Member Jacqueline Bowers '18 shared emcee duties and were recognized for their efforts in steering PILF this year.
Interested in social justice? Find out more about
PILF
.
RECENT NEWS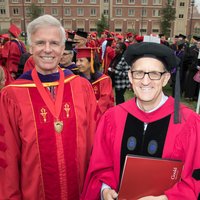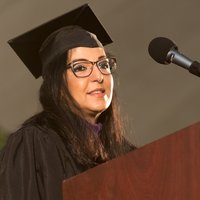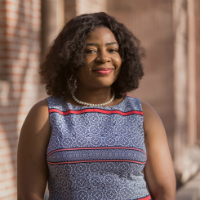 Another Person's Shoes
May 8, 2018
Nigerian lawyer Sharon Obuns wants to use her LLM degree to raise awareness for the benefits of mediation