News
They Are the Champions
Thursday, Apr 27, 2017
Gould students impress elite panel of judges at annual Moot Court finals

By Anne Bergman
The competitive spirit was in the air for USC Gould's annual Hale Moot Court finals, a spring semester tradition since 1948. All that was missing was the Trojan Marching Band.
The finals are a culmination of a year's worth of work that begins when each first-year JD student writes an appellate brief and presents an oral argument. Based on scores by faculty and fellow students, 40 participants are chosen for the Hale Moot Court Competition in their second year. They write appellate briefs, attend an oral advocacy clinic, take part in filmed practice rounds, and present arguments before state and federal judges, practicing attorneys and faculty members.
During the spring semester, the 16 quarterfinalists present their oral arguments and eight participants are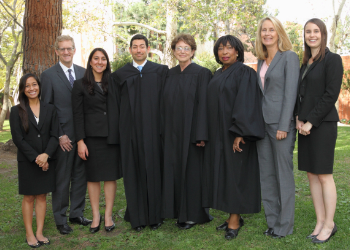 Members of the Hale Moot Court Executive Board, Dean Guzman and Professor Lonergan met with Judges Cuellar, Berzon and Donald before the proceedings began.
chosen for the semifinal round, where they compete for the final four spots.
This year's finalists were Taylor Ashton, James Nikraftar, Zoe Steinberg and Rachel Yang, who took to their podiums on March 10 in the Norris Theater at USC before peers and faculty.
As soon as court was called to order and the students began their arguments, the distinguished panel of judges -- Hon. Marsha Berzon (U.S. Court of Appeals, Ninth Circuit), Hon. Mariano-Florentino Cuellar (Supreme Court of California) and Hon. Bernice Donald (U.S. Court of Appeals, Sixth Circuit) – began to vigorously interject with questions.
But all four students appeared well-prepared, impressing the judges with their poise under pressure. As the arguments concluded, the judges selected James Nikraftar as the winner, with Zoe Steinberg as runner-up.
Judge Berzon, who served as the moot court's chief justice, commended all four competitors. "It was a treat to see how well-trained and thoughtful all four of you soon-to-be lawyers are," she said. "I was impressed with ability of each of you to listen hard to our questions."
"We were impressed by all of you," said Justice Cuellar. "I advise you to come to a career in appellate advocacy. You would do the profession a great service."
Judge Donald added that, "One sign that you are incredibly well prepared, is that we would interrupt you and you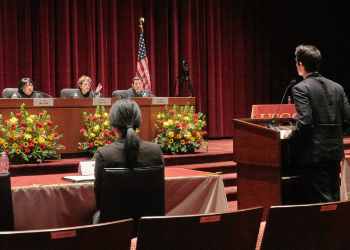 The judges selected James Nikraftar, pictured at the podium, as the winner.
were each receptive. You didn't lose your patience or your focus, and you always addressed the entire bench, no matter who asked the question."
Well-prepared, indeed. Nikraftar asked four friends to moot him the week of the final, one each day. "Each person helped me refine my style, pin down a strong theme, plan for oddball questions, and mostly get confident with the material," he said. "In total, I was mooted about 10 times that week."
At the conclusion of the final round, Dean Andrew Guzman noted: "As dean of the law school, I have a lot of opportunities to be proud of our students. I'm most proud of the moments when they show the world how incredible they are. This is one of those moments."
The Hale Moot Court Honors Program is run by students under the direction of Professor Rebecca Lonergan, the Associate Director of the Legal Writing and Advocacy Program. She praised all of the Hale students. "I could not be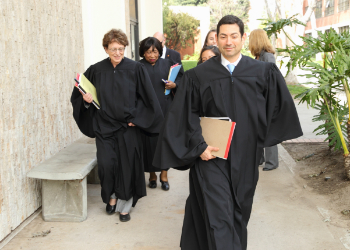 The judges head into the proceedings.
happier with how well they all did this year," Lonergan said. "They worked incredibly hard, and it showed. Every year as I watch the finals, I am amazed by how articulate, skilled, and confident our students are as they field really difficult questions from the guest judges. We should all be incredibly proud."
After the Moot Court finals, 10 students from the honors program are tapped to join the National Moot Court Team to represent USC in other moot court competitions across the country. This year, two Gould competitors -- Andrea Hadjiyianni '17 and Monique Matar '17 -- made it all the way to the semifinals of the National Moot Court Competition's west-coast regional rounds.
Nikraftar, who says he walked away from the Hale Moot Court experience with "an incredible amount of respect for my co-competitors," plans to continue competing. He's already teamed up with fellow 2L Vanuhi Karapetian. "We are very excited!" he said. Let the mooting begin.
RECENT NEWS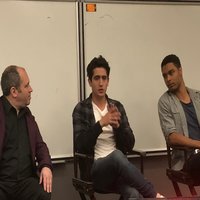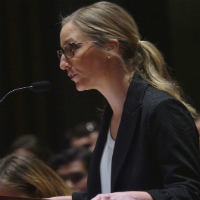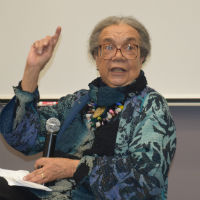 Follow the Need
April 3, 2018
Children's rights pioneer Marian Wright Edelman inspires at USC Gould