News
Giving Mental Health a Voice
Tuesday, May 9, 2017
Saks Institute holds symposium on Supported Decision-Making

USC law professor and MacArthur Genius Award recipient Elyn Saks knows what it's like to be voiceless when planning mental health care. From the time she experienced symptoms of schizophrenia as a graduate student at Oxford, Saks was forced to sit on the sidelines while doctors and family members made decisions about her healthcare. That only changed when she demanded a say in her mental healthcare decisions, and ultimately figured out a balance of medication and talk therapy to treat her mental illness.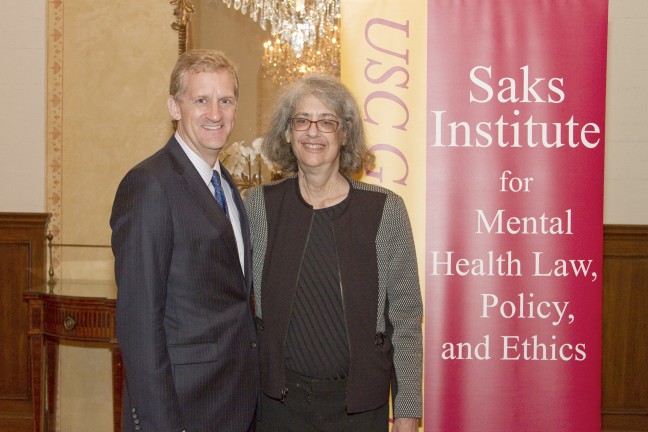 Dean Andrew Guzman with Prof. Elyn Saks
Today, Saks' mission is to develop and adopt a formal Supported Decision-Making (SDM) approach customized for people who have mental illness. The long¬-term goal is to empower individuals to become high-¬functioning members of society.
At her recent symposium, "Supported Decision-Making: Giving Mental Health A Voice," Saks brought together panels of mental health experts, advocates, judges, consumers and academics to discuss, analyze and explain the benefits of Supported Decision-Making. Saks also shared goals for her SDM approach, which will be unveiled in the coming year. Held at USC's Town and Gown, 150 people attended the day-long event, which was moderated by New York Times reporter, Ben Carey.
"No one would ever say that someone with a broken leg is less than a whole person, but people say or imply that all the time about people with mental illness," Saks said. "Giving people the ability, rights, and opportunity to plan their care is what Supported Decision Making is all about."
The symposium's keynote speakers, Sacramento Mayor Darrell Steinberg, and his daughter Jordana Steinberg, discussed how mental illness affected their family, and how they could have benefited from an SDM model.
Jordana Steinberg struggled with mental illness as a young child, and her parents had few support mechanisms for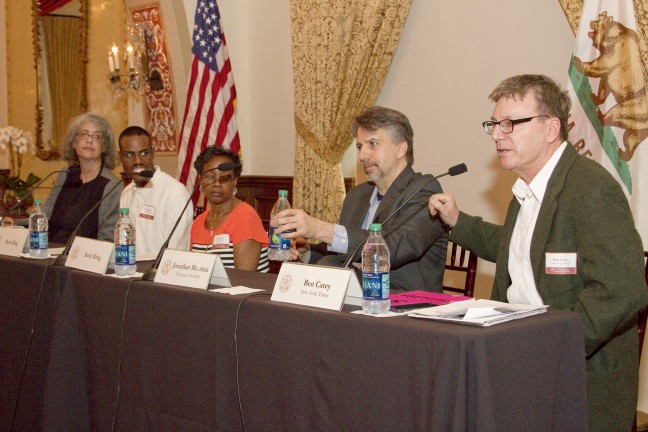 New York Times reporter Ben Carey moderates the panel discussions.
determining care and treatment. This despite the fact Steinberg was a state senator and a leading proponent of better mental health policy.
"We were very much alone," Mayor Steinberg said. "Jordana attended an amazing elementary school and we had great health care, but building a team to discuss what was best for Jordana was a struggle."
Jordana received mental health treatment hundreds of miles from her Sacramento home in Texas and Utah, "but of course it would have been better to figure out how to care for her closer to home," Mayor Steinberg said.
Today, Jordana, 23, attends university and thanks to her supportive family, she has a voice in her health decisions. She is off medication, and living a full, well-rounded life. But at times, she struggles with stigma associated with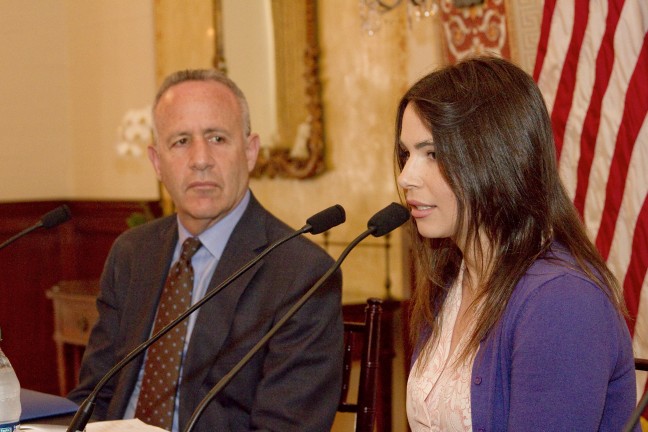 Sacramento Mayor Darrell Steinberg, and his daughter Jordana Steinberg, discussed how mental illness affected their family.
mental illness.
"Sometimes I feel like I'm hitting a brick wall," she said. "There's stigma and you're forever in this box. Once you are defined with a mood disorder or with any diagnosis, it leaves very little room for individual growth. It's hard for people to see past the illness."
Saks believes stigma will diminish when people with mental illness are treated fairly and as equals. "We don't need to be told what we should and shouldn't do," Saks said. "That simply drives the misconception that we are unable to make good and wise decisions."
RECENT NEWS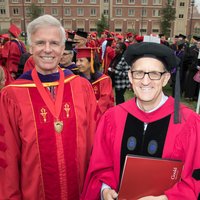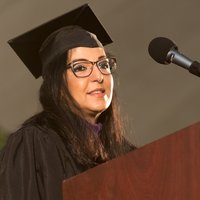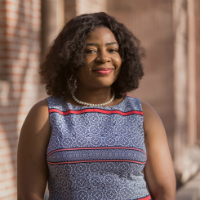 Another Person's Shoes
May 8, 2018
Nigerian lawyer Sharon Obuns wants to use her LLM degree to raise awareness for the benefits of mediation