News
Hitting the Jackpot
Thursday, May 18, 2017
Calif. Attorney General Becerra addresses USC Gould commencement

By Anne Bergman
California Attorney General Xavier Becerra urged new graduates of USC Gould to take on leadership roles and change the world.
"From my perspective, you've hit the jackpot," Becerra said during his commencement address on May 12 in USC's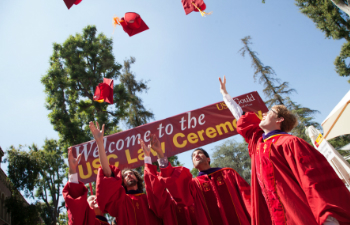 JDs from the Class of 2017 toss their caps in celebration.
Founders Park. "Think about the time we're in right now. This is a time when Americans need experts in law. Graduation is an important step as you move forward to become our next generation of leaders. It's a great time to be a leader in the United States of America…for you to stand up for what you believe in and express your values. And, it's a perfect time for you to use what you've been taught to change this world."
Becerra also welcomed Gould's 209 juris doctor recipients and the 281 international students receiving their Master of Laws -- who hail from a total of 41 countries -- to remain in California.
"In California, we employ more people than any other state in the nation. We welcome you to stay. I hope that we can invite all of you – whatever your background, or wherever you are from originally – to make this your home," he said.
Dean Andrew Guzman reminded the graduates to pause and thank "those who have been present throughout your journey" for their "moral and emotional support." He then cited the accomplishments of the graduates, who are heading into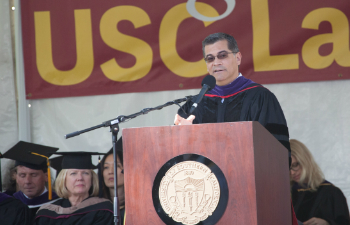 California Attorney General Xavier Becerra addressed the Class of 2017.
careers that span law firms of all sizes, as well as District Attorney offices and prestigious foundations.
"You've worked hard for many years to get where you are," he said. "Whether you realized it or not, all that work made you a leader in our society, our nation, and our world. You may not feel like that description fits you, but I promise you that for the large majority of people in this country, a graduate of this law school looks like such a leader."
The commencement ceremony also featured speeches from 2017 Class President John Stanley and international student speaker Nikita Dehal, who is from South Africa.
Stanley focused on Gould's collegial aspect, sharing that his preconception of law school was that it would be a "solo
endeavor." Instead, he discovered three years later, that "we're a close-knit group of smart, ambitious future lawyers. It is an honor to be included in that group."
Dehal concurred, noting that "more than being classmates, we formed friendships with individuals who speak different languages, who have different cultures and who are of different races, religious beliefs and sexual orientations, these friends became our family here in the United States and made our experience at USC Gould and Los Angeles, all the more enjoyable."
Watch California Attorney General Xavier Becerra's commencement address here.
RECENT NEWS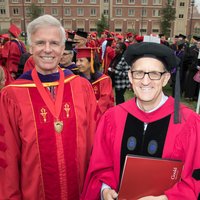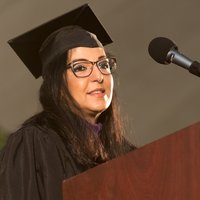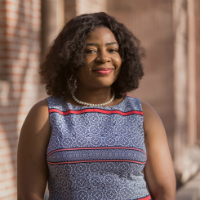 Another Person's Shoes
May 8, 2018
Nigerian lawyer Sharon Obuns wants to use her LLM degree to raise awareness for the benefits of mediation