News
Career Services Dean Takes Community Approach
Friday, Aug 25, 2017
Elizabeth Armour calls on alumni, faculty and staff to help grads succeed

"It takes a village to place a class," is Elizabeth Armour's motto. The Dean of Career Services at USC Gould apologizes for the cliché — which she admitted Dean Andrew Guzman teases her about — but she insists it's the most fitting motto for the Office of Career Services.
"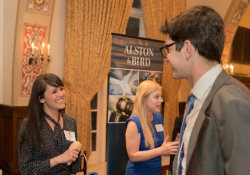 Gould students got to know future employers at the recent "Meet the Firm" night.
We can't do this alone," said Armour, who is the dean of Career Services. "Our critical partners in this important work include our alumni, faculty, administrators and the dean. Everyone has a stake in the success of our grads — it can only enhance the value and reputation of the school nationally and internationally." This community approach pays dividends. For three years running, Gould has boasted a 94 percent placement rate.
"The reason we have 94 percent is we have highly educated students who are a desirable commodity in the marketplace," Armour said. "We are also very hands on — this is a hallmark of our school. We don't want to leave anything to chance; therefore, we make sure our students are as prepared as possible and present themselves as well as possible. And we continue to work with grads up to a full year after graduation to make sure they secure a meaningful position."
Education and Opportunities
Armour understands both sides of the recruitment process, having enjoyed a two-decade-plus career in recruitment in private law firms and law schools. She said the Career Services mission is twofold: education and opportunities. From the get-go, students are required to meet a career counselor, submit their resume for review and sign up for mock interviews.
"We view ourselves as an educational arm of the school," Armour said. "We want to open our students' eyes to the myriad of ways they can use the JD degree. We also want to give them good job-search skills for the long haul, not just the initial post-grad job."
In that education, Armour said, alumni play a major role. The Career Services office engages alumni to come to campus for presentations and conversations with students about their career path, practice area, firm or organization, and geographic market. Additionally, numerous alumni participate twice a year in the mock interviews program.
"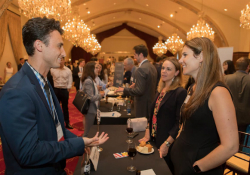 The CSO recently hosted the second annual Meet the Firm Night, bringing together rising 2Ls with representatives (many Gould grads) from 50 law firms.
Participation in the mock interviews is such a gift from our alumni. More than 100 alumni have conducted mock interviews this summer in the run up to off-campus job fairs and early interview week," Armour said. "We are grateful for the support of our alumni, and we are so lucky to have a school with such an outstanding alumni network — it's really second to none."
When it comes to opportunities for networking, mentorship, internships, clerkships and jobs, alumni are again indispensable. For example, Career Services' signature event, the annual Mentor Lunch for 1L and transfer students, brings record numbers of alumni to campus each spring for networking and relationship building with students interested in their practice area. Recently, the law school expanded its Alumni Association regional committees in critical markets (including Chicago and New York) which facilitate national recruitment efforts as Career Services staff are introduced to decision makers in firms and agencies.
Career Services seeks to generate additional bona fide opportunities for students through a range of services, including job postings and resume collections. They also host many high-profile recruiting programs throughout the year and participate in a large public interest and government job fair featuring more than 100 employers every February. And the office recently hosted the second annual Meet the Firm Night, bringing together rising 2Ls with representatives (many Gould grads) from 50 law firms.
The signature recruiting program every August is early interview week, with four days of on-campus interviews. More than 100 employers, mostly from large institutional law firms, interview 2Ls for summer associate jobs, which can be feeders to post-graduate jobs, Armour said. As a companion to early interview week, Gould participates in off-campus job fairs, where students can interview in Washington, D.C., New York City, Chicago and the Bay Area, and in other nationally based specialty job fairs.
"Our motivation is to expand access and opportunity," Armour said, who spent more than a decade as head of Boston University School of Law's Career Development Office. "Our Southern California market is vital, but students also have to be willing to move to the market that has the bulk of the type of work they are interested in."
"We like to open students to the idea of the portability of their degree: we are a school with national and international reach," added Armour. "Alumni are our partners who help us open doors and provide an on-the-ground support network."
Recruiting Outside Gould Too
A native of Oakland, Calif., Armour left California to attend Smith College in Massachusetts. She built a career on the East Coast and served in various leadership roles, including president, within the National Association for Law Placement (NALP). She returned to California three years ago for her current position and she's glad to be home.
"What I love about Gould, among many things, is the unique culture of collegiality and cooperation," she said. "And quickly, thank heaven, I found my musical home, also at USC — the University Chorus."
Armour's passion for USC goes beyond her work with Career Services at Gould.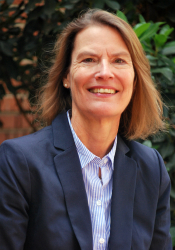 Dean Elizabeth Armour
She has been a member of the Thornton School's doctoral student-conducted choir for three years, where she once again put her recruiting skills to use. With other staff, she helped the choir snag law school faculty like Professors Scott Altman and Rebecca Brown and grow to more than 100 members.
Apparently, the "it takes a village" theme applies to both Armour's professional and personal lives at USC. She has clearly found the best place from which to help future leaders in law find their professional homes.
Seeking an intern or a post-grad hire to work for your firm or company? Contact the Career Services Office by calling (213) 740-7397, or emailing
careers@law.usc.edu
RECENT NEWS