Start with "Yes"
Monday, November 27, 2017
During "Conversation with the Dean," alumnus Paul Richardson (JD 1990) shares career insights

By Anne Bergman
To an audience of USC Gould students and alumni, Paul Richardson (JD 1990), ESPN's senior vice president of human resources, shared personal stories from his career journey, as well as insights into staying fresh in a constantly evolving global marketplace.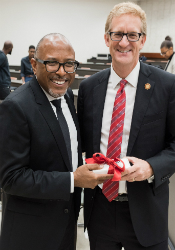 Paul Richardson (JD 1990) engaged in a lively conversation with USC Gould Dean Andrew Guzman.
Dean Andrew Guzman selected Richardson, who also recently served as Chief Diversity Officer (CDO) for the Walt Disney Company, as his first guest for the "Conversations with the Dean" series. While the series is a tradition at Gould, this was the first that Guzman has hosted since he joined the law school in 2015.
"We invite really accomplished and insightful guests to talk about their experiences and Paul is the perfect first choice," said Guzman, noting that Richardson is a Los Angeles native and a Double Trojan, earning a BA in Political Science from USC in 1987. "A law degree opens up a wide spectrum of career options. Paul was prepared to seize opportunities when they arrived."
In his role at ESPN, Richardson oversees all aspects of human resources, supporting 50 different business units and approximately 8,000 employees around the world. In 2011, when he became CDO at Disney, Richardson drafted an inclusion strategy that comprised initiatives such as veteran hiring program "Heroes Work Here," as well as initiatives focused on women and Hispanics.
Richardson shared that while growing up near USC, he was a Trojans football fan. When accepted to USC, UCLA and Yale, he selected USC because his heroes -- such as former congresswoman Yvonne Brathwaite Burke (JD 1956) -- were also Trojans.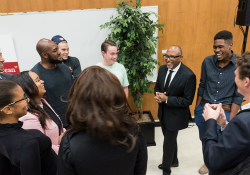 USC Gould students and alumni got a chance to meet Richardson after the discussion.
His decision to attend law school sprang from a love for reading and writing. "I also loved to argue and persuade people," he recalled. "I wanted to develop poise and purpose. I wanted an opportunity to make a difference. And I wanted to find a career where I could actually do those things."
In law school, Richardson was one of six African Americans in his class. He has fond memories of "learning and interacting with members of my study group. They taught me how to be a good teammate."
Initially, Richardson intended to join a law firm, but an internship with the Times Mirror legal department turned into a permanent, full-time job in Human Resources. "I learned the company from the ground up, as my boss started me at a distribution center on my first day, so I could learn all aspects of newspaper publishing. Now, I apply that same concept to my new employees by starting them in production trucks on their first day so they can learn what ESPN does from the ground up. "
At Times Mirror, Richardson helped to bring diversity to the company, to "diversify the storytelling, the communities consuming our product and the workforce." Under his leadership, the company launched a professional development program aimed at enhancing the diversity among the company's senior management team.
Richardson next joined Paramount Pictures as senior vice president, human resources, a role he characterized as "developing leaders, putting the right talent into the right roles and helping people do their best work."
At Disney, he invented the role of Chief Diversity Officer, driven by the goal that "we should look like our customers around the globe. We can't be stuck in a US-centric mindshare. We have to understand what is valued and be in touch with our customers in other countries."
Of his current job at ESPN, Richardson said, "Because we are in the live sports business, every day at ESPN is different."
Diversity remains top of mind for Richardson. He strives to encourage a wide range of ideas from his employees, such as the decision to embark on sports-related documentary feature production "because we can tell those stories better than anyone else." The result was the widely acclaimed "OJ: Made in America," which premiered at the Sundance Film Festival in 2016 and won the Oscar for Best Feature Documentary.
Responding to a question from the audience about how ESPN covers the intersection of sports and social justice (e.g., professional athletes taking a knee during the national anthem), Richardson acknowledged that, "It's complicated. We are wrestling with it."
"We have to balance not offending our audience on the right or the left," he said. "That intersection is one we have to navigate every day. But our North Star is sports. We do our best to not get in the way of that story."
When asked for his formula for career success, Richardson advised, "Be really good at something and develop a keen expertise in that practice area. And when someone offers you an opportunity, start with 'yes.' Don't be afraid to step into it."
RECENT NEWS