News
A Memorable 2017
Wednesday, Dec 20, 2017
With 2018 approaching, we look back at our exceptional year
As we say farewell to 2017, we want to acknowledge the many accomplishments of our students, staff and faculty throughout the year.
Here is a selection of some of our favorite moments from 2017:
Stellar Scholars
Three prominent faculty – nationally recognized cybersecurity authority
Orin Kerr
, leading commercial law and finance expert
Michael Simkovic
and
Franita Tolson
, an award-winning voting rights expert – joined USC Gould this academic year.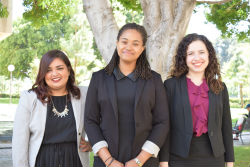 Clinton Fellows: Sujata Awasthi, Shana Emile, Kelly McVey
Top Trio
Three USC law grads began applying their public interest skills on a global scale when they joined the Clinton Foundation this fall as Clinton-Orfalea-Brittingham Fellows.
T
his was the first time that three Gould students have been selected simultaneously
.
Tax Time
As the tax cut bill made its way through Congress, three of our faculty – Edward Kleinbard, Edward McCaffery, Michael Simkovic –
shared their expertise with the media
, penning op-eds and appearing on radio and TV.
In addition, Prof. Kleinbard hosted a discussion, "
Tax Reform: Perspectives From Across the Nation
" on Oct. 25, featuring experts with Tax Analysts and the American Bar Foundation. And Prof. McCaffery launched the
People's Tax Page
, with the goal of teaching people about tax and economic policy in a manner that anyone can understand.
Showing Up for Veterans
Students from the
Public Interest Law Foundation (PILF)
are partnering with the Veterans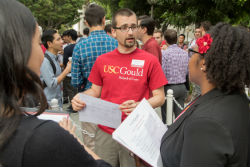 One of Gould's Peer Mentors advises two new students at Orientation.
Legal Institute (VLI) to conduct the USC/VLI Veterans Legal Clinic here on campus. 2L Matthew Saria, president of PILF, said that PILF decided to launch an on-campus veterans' clinic for myriad reasons. "I have family members who served in the military," Saria said. "So I know firsthand how veterans deserve as much support as we can give them."
RECENT NEWS