Detention and Deportation Lead Civil Liberties Discussion
Monday, April 30, 2018
Prominent ACLU litigator joins USC Gould for lively Q&A centered on immigration law
By Diane Krieger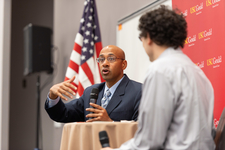 Ahilan Arulanantham, legal director at the ACLU of Southern California, and Prof. Sam Erman
Immigrant rights advocate and 2016 MacArthur "Genius Award" recipient Ahilan Arulanantham was the featured guest at this year's Allen Neiman & Alan Sieroty Lecture.
The April 17 event showcased Arulanantham, who is legal director at the ACLU of Southern California, in conversation with USC Gould's Sam Erman, an expert on U.S. relations with Puerto Rico.
Detention and deportation was on everyone's mind. Earlier in the morning, the U.S. Supreme Court had handed down its 5-4 decision in Sessions v. Dimaya, finding the definition of a "crime of violence" under the Immigration and Nationality Act unconstitutionally vague. Justice Neil Gorsuch had notably sided with liberals in the majority.
Arulanantham has followed that case closely, as he does all immigration law. The prominent ACLU litigator previously had made ground-breaking arguments before the 9th Circuit in such landmark immigration cases as Nadarajah v. Gonzales, Rodriguez v. Robbins and Franco v. Holder.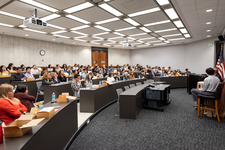 More than 120 law students, faculty and staff attended the Neiman Sieroty Lecture

The talk drew an eclectic crowd of students, faculty and alumni—among them distinguished lecture series founder Alan Sieroty (JD 1955) and Deanne Neiman, widow of Allen Neiman (JD 1955).
Arulanantham and Erman kept the conversation within reach of non-immigration law specialists.
"How many people have been to an immigration detention facility?" Arulanantham asked the near-capacity lecture hall. For those who hadn't, he proceeded to described it in detail.
"It's a prison," he said. "People wear orange jumpsuits. There's security: you can't just walk in, you have to be searched. There's no contact with inmates. Family members can only visit on particular days and during particular hours. They talk through glass or with a phone. They're locked facilities. They're run by private prison companies or by jails."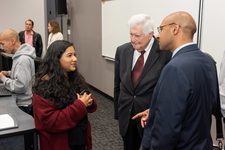 A law student speaks with Alan Sieroty (center) and Arulanantham
More than 400,000 people pass through these centers each year, said Arulanantham, himself the child of Sri Lankan Tamil refugees. Forty-thousand people will sleep in what he called "immigration jail" tonight, he added.
"This is by far the largest system of imprisonment without trial that we have in the country, and it has existed in a legal black hole for a very long time," he said.
Abstract and Concrete
Arulanantham's and Erman's discussion ran the gamut from philosophical abstraction—musing on the built-in conservatism of an Anglo-American jurisprudence that privileges precedent above all else—to bread-and-butter matters of best practice.
"Bring almonds to every argument," Arulanantham suggested, in commenting on studies showing a strong correlation between hungry judges and harsh judicial outcomes. The quip, among others, drew ripples of laughter from the crowd.
Overall, Arulanantham expressed faith in the system, capricious though it can seem. He referenced a 9th Circuit appeal he'd litigated in 2007 challenging the U.S. Immigration and Customs Enforcement practice of forcibly injecting detainees with antipsychotic drugs to pre-empt possible resistance to deportation.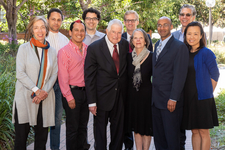 USC Gould faculty with Arulanantham (second from right) and Alan Sieroty (center) and Deanne Neiman (third from right)

"I thought, 'I don't care which judge we get. Once this comes to light, they will stop this. Nobody will think this is OK. It's evil.' And I was right," he said. ICE voluntarily reversed the policy after the appeal was heard.
The annual civil rights lecture was sprinkled with senior faculty, some of whom chimed in during the Q&A sessions. Several have collaborated closely with Arulanantham.
In discussing innovative "bonding out" options being proposed as an alternative to detention, Arulanantham gave a shout-out to USC Gould faculty memberProfessor Emily Ryo, praising her "remarkable empirical research" that validates arguments he made in Rodriguez. The 2015 decision established the right to a bond hearing for all noncitizens detained for more than six months. Ryo later asked a question about creeping "legal cynicism" among immigrant communities due to inconsistent outcomes.
Arulanantham was optimistic that breakthroughs in immigration law will continue even under the Trump administration. The trick, he said, is to "find the spots where the tension between legal fiction and reality is most obvious and try to push that before the judge. Where that tension exists, often you get results."
Outside-the-box thinking can also yield dividends. In response to a question from USC Gould professor Alex Capron, a health policy expert, about constitutional avenues to blocking the privatization of jails and detention facilities, Arulanantham said he knew of none. However, he pointed to an ingenious alternative now working its way through civil courts.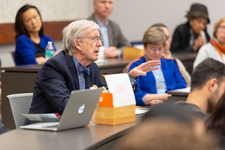 Prof. Alex Capron

"There are about six cases using wage-and-hour challenges to the use of immigration detainees to run private prisons," he said. If ICE's $1-a-day pay rate doesn't apply to detainees who've been charged with no crime, then for-profit detention centers might be driven out of business simply by being held to the statutory minimum wage.
Arulanantham expressed cautious optimism that the tide of public opinion is turning.
It comes down to a simple question, he said: "Do we think it's OK to imprison people without trial here in this country? Also, are immigrants people? If you're not a citizen, are you still a person under the due-process clause?"
To Arulanantham, to deny immigrants' personhood "sounds a lot like Dred Scott or Plessy v. Ferguson." The jury is still out, but he's betting ordinary Americans will come to agree with him.
RECENT NEWS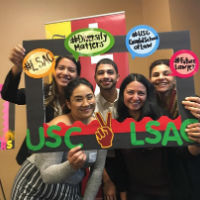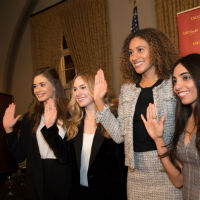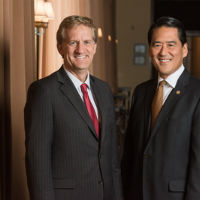 Highlights from 2018
December 20, 2018
As the year quickly comes to a close, we look back at Gould's most notable moments