Orin Kerr Named to Professorship
Thursday, May 3, 2018
Criminal procedure and computer crime law expert honored
By Gilien Silsby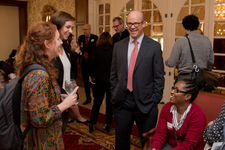 Orin Kerr with students and Prof. Franita Tolson (right)

Orin Kerr, an expert in criminal procedure and computer crime law, was recently installed as the Frances R. and John J. Duggan Distinguished Professor of Law at a ceremony that paid tribute to his highly influential legal work and scholarship.
Kerr's work has appeared in more than 300 judicial opinions and 3,000 articles. He is currently the most-cited law professor in the field of criminal law and procedure.
"Orin is an extraordinary professor with jaw-dropping productivity," said Dean Andrew T. Guzman at the installation ceremony. "I have been attempting to lure him away from George Washington University for years. And though it took me a little while, I could not be more pleased that Orin has come here to USC and that I am now able to call him a colleague."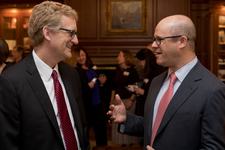 Andrew Guzman with Orin Kerr

Kerr, who joined the USC law faculty in January, was honored at the April 26 ceremony before friends, family, colleagues, and students. "It has been an amazing experience to come here," Kerr said. "I was looking to be in an exciting scholarly environment and that's what I have found at USC Gould."
Kerr offered guests an explanation of how his scholarship has evolved over the years.
The questions Kerr began researching two decades ago as a junior lawyer at the U.S. Department of Justice continue to be the focus of his scholarship: How have digital manipulation, storage, and transmission of data transformed criminal law and criminal procedure?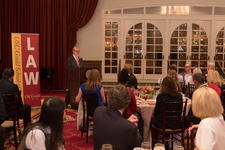 Orin Kerr discusses his scholarship.

"It really divides into three different problems," Kerr said. "One is how do computers and the Internet change substantive criminal law: what it means to hack into a computer, how should the privacy laws work, and what should an invasion of privacy look like?"
A second question involves how criminal investigations that involve digital evidence—computer files and internet messages—should work.
"The existence of digital evidence means that the government wants to search smartphones and computers and get access to email accounts, " he said. "This raises a lot of complicated legal questions about how to apply traditional legal doctrines and procedures, including the 4th amendment and statutory criminal laws."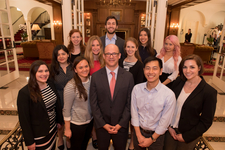 Orin Kerr with his students

Third, Kerr examines the jurisdictional issues that arise when switching from physical evidence to digital evidence. "Who has jurisdiction to investigate a computer crime when the evidence could be anywhere in the world? It's a matter of federal-state relationships, it's a matter of U.S. relationships with other countries. So many complex questions and international norms come into play in routine cases in a way not previously seen."
A gifted litigator, Kerr has argued before the U.S. Supreme Court and federal circuits. Indeed, influencing the courts is key to his scholarly agenda. "My hope is that when I retire, I'll be able to look back and say, 'Wow, some really important changes that emerged in criminal law and criminal procedure and my work was a part of that.' I'd like to think, maybe I helped shape some of the doctrines that eventually emerge."
Kerr's professorship is named for the Duggans, real estate developers who made numerous gifts to the University of Southern California, including generous support of the law school's Carl Mason Franklin Dean's Chair, as well as this professorship and another one in public administration at the USC Sol Price School of Public Policy.
RECENT NEWS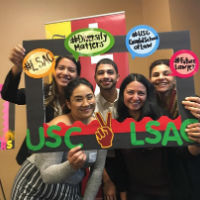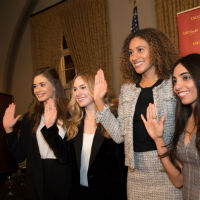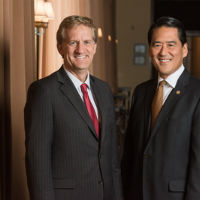 Highlights from 2018
December 20, 2018
As the year quickly comes to a close, we look back at Gould's most notable moments