USC Gould Prof. Dan Simon Named Phi Beta Kappa Visiting Scholar
Wednesday, September 19, 2018
Simon is one of the nation's 15 distinguished scholars chosen this year
-By Gilien Silsby
Dan Simon, an internationally recognized legal scholar, who studies law and psychology at USC Gould School of Law, has been appointed a Phi Beta Kappa Visiting Scholar for the 2018-19 academic year.
Simon is one of America's top experts in false conviction and a renowned interdisciplinary scholar. His book, "In Doubt: The Psychology of the Criminal Justice Process," shows how flawed investigations can produce erroneous evidence that leads to well-meaning juries sending innocent people to prison, while setting free the guilty. Simon also has authored numerous articles published in both legal and experimental psychological journals.
The Phi Beta Kappa Visiting Scholars deliver a series of public lectures and participate in academic life at 80 universities. Simon is one of 15 distinguished scholars in the liberal arts and sciences chosen this year, and joins an elite group of past honorees, including U.S. Supreme Court justices, Pulitzer Prize-winning writers and Nobel Prize winners.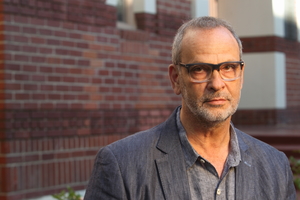 Dan Simon is an internationally recognized legal scholar
"I am honored to serve the Society's goal of spreading ideas, knowledge and hopefully also inspiration to the far corners of American higher education," says Simon. "The work performed by Phi Beta Kappa Society is particularly vital in light of attacks on American academia, scientific research, and the concept of truth itself."
Simon, holder of the Richard L. and Maria B. Crutcher Professor of Law and Psychology, will travel to a handful of institutions that house Phi Beta Kappa chapters across the country. He will deliver public lectures, present seminars, meet with students and faculty, and participate in class meetings and colloquia. The presentations will focus on Simon's research on the intersection of law and psychology and the criminal justice process, as well as on his experimental psychological work in the field of human reasoning and decision-making.
"Dan Simon isn't only a highly respected leader in his field, he is a brilliant teacher who cares about his students," said Gould Dean Andrew T. Guzman. "We are very proud of his many achievements and certain he will make an impact on students and faculty in his scholarly trek across the country."
Phi Beta Kappa is the nation's oldest academic honor's society. The program sets out to offer undergraduate students – in mostly rural and remote parts of the country - the opportunity to spend time with some of America's most distinguished scholars.
"I am looking forward to sparking curiosity and thirst for inquiry in the exceptional minds of the society's student members. Keep in mind that these students are the smartest and brightest. Many of them will advance to graduate programs and ultimately shape the face of academia for years to come," Simon says. "I am particularly excited by the opportunity to whet these students' appetite for the fields of research that are closest to my heart, and to inspire them to participate in the amelioration of the criminal justice process."
RECENT NEWS