USC Gould Launches On-Campus Master of Studies in Law Degree
Monday, September 24, 2018
The residential master's degree is designed for non-lawyer professionals

-By Gilien Silsby
USC's Gould School of Law is expanding its popular Master of Studies in Law degree to include an on-campus option for non-lawyer professionals interested in understanding legal issues related to their fields. The residential degree will commence in fall of 2019.
For the past two years, USC Gould has offered the Master of Studies in Law (MSL) in an online setting. More than 200 students have enrolled in this master's degree since it launched, making it one of the school's most sought-after programs, said Deborah Call, associate dean and chief programs officer at USC Gould.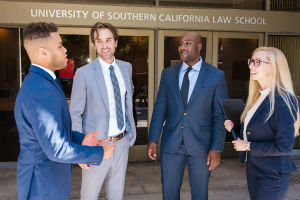 USC's popular Master of Studies in Law degree will include an on campus option in fall 2019
"Our MSL degree offers experienced professionals and recent graduates an unparalleled education to better understand fundamental and complex legal matters," Call said. "We are excited to welcome MSL students to campus where they are sure to have valuable interactions between fellow students and faculty members, who are esteemed full-time and adjunct professors at USC Gould School of Law."
The MSL degree gives graduates expertise in legal matters related to their specific professional fields and academic interests. Applicants must hold a bachelor's degree in any field, however, prior legal experience is not required. Applications for part-time and full-time enrollment are now being accepted for the fall 2019 term.
"Given the pervasiveness of law in many business dealings and operations, the MSL degree will provide graduates with a foundation in law and understanding of the legal and regulatory framework to meet compliance requirements for their organizations," said Call.
MSL students may complete their degrees in as few as three semesters over 12 months, or may tailor their schedules to meet demands of their personal or professional lives.
MSL students will have the option of completing a variety of courses offered through the degree, including Business Organizations, Contract Drafting and Strategy, Corporate Governance, Dealmaking, Fundamentals of IP Law, Healthcare Compliance, Human Resources Compliance, Introduction to Litigation in U.S. Courts, Negotiation Skills, Regulatory Compliance, and Topics in American Law.
Graduates of the MSL degree will have a comprehensive understanding of legal and compliance issues found in business, government, human resources, counseling, education, compliance, social work and many other industries.
For more information, contact USC Gould School of Law Graduate & International Programs office at msl@law.usc.edu or 213-821-5916.
RECENT NEWS