The Real Estate Coach
Monday, October 1, 2018
Danny Guggenheim (JD 2004) brings his expertise back to campus
-By Julie Riggott
Coaching others has been a persistent theme in the legal career of
Danny Guggenheim
JD '04.
As a 2L at USC Gould, he was a teaching assistant for the first-year legal research and writing class, and he was President of the Student Bar Association as a 3L.
Now a partner with Los Angeles-based Pircher, Nichols and Meeks LLP, a boutique firm focused on real estate transactions, Guggenheim continues the coaching habit and is co-teaching the Real Estate Law and Business course this fall 2018 semester with
Professor George Lefcoe.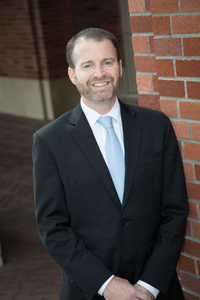 Danny Guggenheim (JD 2004)
Professor Lefcoe holds the Ervin and Florine Yoder Chair in Real Estate Law at USC Gould. For several decades, he has taught the Real Estate Law and Business course and is renowned for a syllabus filled with guest lectures and site visits involving prominent real estate professionals.
"It is a tremendous honor to have been asked by Professor Lefcoe to join him at the helm of his Real Estate Law and Business course this fall," says Guggenheim. "Several generations of USC Gould alumni who are now in the real estate industry got their first taste of the business in his class and have returned to campus with great pride to serve as guest lecturers -- myself included. I am humbled to be teaching at USC Gould."
Guggenheim has connections to both Gould and USC Marshall, having originally been admitted as a JD/MBA student. He never pursued the MBA, however, because in his 1L year he realized that he wanted to focus exclusively on law.
Throughout his post-Gould years, Guggenheim has volunteered for alumni service, on the Executive Committee of the
USC Gould Alumni Association
and several other alumni boards and committees. He has been an ambassador for newly admitted students and he never misses the 1L mentor lunch.
"It is important to me to stay connected, because having attended Gould and being an alum has opened so many doors for me," Guggenheim says. From his externship as a judicial clerk, to his first firm job at Sidley Austin and then to Pircher, Guggenheim credits alumni with sharing the opportunities with him.
Guggenheim also met his wife, Jenna (JD 2004), at Gould.
"It is still hard to believe how much of my success is directly attributable to having been a Gould student or alum," Guggenheim notes.
Guggenheim says he fell into real estate by chance. "I happened to be the one person, from my entering class of about 25, assigned to Sidley's L.A. real estate transactions group as a first-year associate," Guggenheim says.
He knew he wanted to be a transactional lawyer after his 2L summer at Sidley, and taking Lefcoe's class as a 3L cemented his decision to focus on real estate.
Today, Guggenheim is a partner at Pircher, where he represents private equity funds, non-bank lenders and other investors in connection with joint ventures, acquisitions, dispositions and financings. Guggenheim is listed in The Best Lawyers in America as one of the Best Lawyers 2018 in the practice area of Real Estate Law.
But Guggenheim doesn't do his job for the accolades. "I went to law school in large part because I wanted to help people—in the sense of being a counselor on whom people could rely in times of need," he says.
RECENT NEWS
Worth the Risk
May 28, 2019
Meet Allyson Sonenshine (JD 1996), an entrepreneur and women's health advocate in Orange County