The Luxe Life in Paris
Friday, January 18, 2019
By Julie Riggott
Nazanin Lankarani JD 1990 picked the meeting place: Le Café Marly. The patio looks out on the iconic Louvre Pyramid and the windows in the dining room overlook a sculpture gallery in the Louvre. She ordered a pot of tea as we began our conversation. In some ways, it was just another Friday afternoon. And that's one thing Lankarani loves about living in Paris.
"Culture is at the center of social life in Paris," says Lankarani, a former commercial litigator who is today Style Correspondent for Artnet News. For the past 11 years, she has worked as an independent journalist specializing in the luxury world of art, jewelry and watches.
Paris is not just a city of museums and historic sites, she says. "There's a lot of contemporary creation going on here. There are world-famous artists, designers and architects based in Paris who do very creative and avant-garde work here."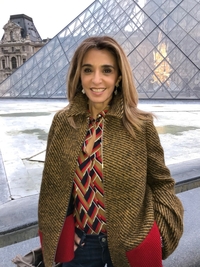 Nazanin Lankarani (JD 1990)
Lankarani immerses herself in that scene — attending art gallery openings, visiting fashion and luxury houses, talking with auction houses — for the articles she writes for Artnet, The International New York Times, World Tempus, Vanity Fair and other publications. In 2016, she started consulting. From the looks of her Instagram account, there's never a dull moment. There's a photo of her with 20-time Grand Slam tennis champion Roger Federer, whom she has interviewed.
It seems Lankarani has always led a cosmopolitan life, starting with her childhood in Iran where she attended a French school. When her family moved to Los Angeles, she finished high school at Le Lycée Français and earned her French baccalaureate, before heading to UCLA for an undergraduate degree in history.
Encouraged by her attorney father, she decided to pursue a law degree. She chose USC Gould. "I liked the fact that it was a small school, where you got to know everyone in your year, that there was a sense of community, and that you received special attention from the professors," she says.
After graduation, she started in commercial litigation with Thelen, Marrin, Johnson & Bridges in Los Angeles and transferred to their San Francisco headquarters. Several years later, she joined Lovell White Durant (now Hogan Lovells) in New York, where she was of counsel in the international London-based firm for seven years.
"I used to travel a lot with that job, to Paris, London, even Moscow, and I liked that," she says. "Then came a time when I thought I'd really like to do something else. For me, it was a personal lifestyle choice."
She came to Paris, an ideal place to explore one of her passions since college: art history. "I took the year off to think about doing something different, without knowing exactly what to do," she says. She enrolled in a full-time art history course offered by Christie's in Paris, and shortly after earning a degree, met a culture editor from The New York Times(then the International Herald Tribune) who hired her to write a story. And the rest is, well, recent history.
"It's true that I gave up practicing law, but I feel like everything that I learned both in school and in my experience practicing law served me very well," she says. "I didn't have any trouble transitioning into journalism because that training in rational thinking helps you succeed no matter what you do."
In fact, some of the things she liked best about commercial litigation, she says, are the same things she enjoys about journalism. "I liked writing, the rigors of being precise and accurate, doing research. Interviewing a subject isn't that different from taking a deposition!"
"What I got from USC was an education that helped me become a more well-rounded person and more suited to making my way in the modern world," she says. "My law degree is a very valuable asset."
RECENT NEWS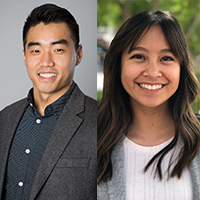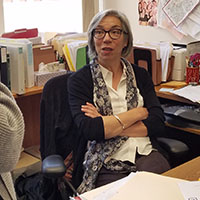 Justice Advocates
August 3, 2019
Led by Prof. Clare Pastore, practicum students work with nonprofits on civil rights, poverty, disability and access.