Saks Institute explores living and working with mental illness

USC Gould School of Law
Wednesday, April 10, 2019
Comedian Maria Bamford and former NBA star Metta World Peace joined the Symposium
By Leslie Ridgeway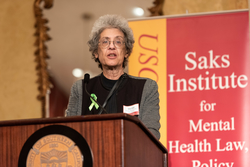 Gould Distinguished Professor Elyn Saks, Saks Institute Founder and Faculty Director, noted in opening remarks that work is one of the three pillars of her recovery. (Photo by Chris Flynn)
The ninth annual USC Saks Institute Spring Symposium tackled the subject of working and living with mental illness with three panel discussions, a keynote speech by comedian Maria Bamford, and a moderated discussion between Gould Distinguished Professor and Saks Institute Founder and Faculty Director Elyn Saks and former professional basketball player Metta World Peace.
Saks kicked off the symposium with recognition of the importance of work in maintaining her well-being.
"For me, work is one of the three pillars of my recovery, along with relationships and treatment," she said at the symposium, held in front of a packed audience at USC's Town and Gown Ballroom. "(Work) gives me pleasure, self-esteem and sense of giving back. We ought to encourage and incentivize people to work."
The power of work to instill confidence and a sense of belonging was a theme running throughout all the discussions that day. In the audience were advocates, practitioners, academics and consumers.
The first panel was a consumer discussion covering the unique challenges people with mental illness face at work, ranging from coping with triggers to managing energy levels and deciding when to tell a supervisor about their mental illness. Moderator Laurie Hallmark, an attorney with Texas RioGrande Legal Aid, asked how mental health challenges impacted the panelists' life trajectories.
Panelist Bridget Frese Hutchens, a Yale School of Nursing PhD graduate, had to rethink her chosen profession of midwifery when it became obvious that she could not maintain a necessarily strict sleep schedule because of the profession's unpredictable nature.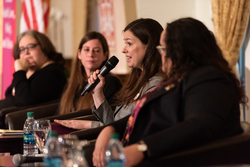 Panelist Bridget Frese Hutchens explained how she had to think creatively to find work that allowed her to follow her passion while managing her health. (Photo by Chris Flynn)
"One of the triggers for mania is irregular sleep hours," she said. "I had to do some creative thinking to protect my health. I had to step away from being at the bedside of birth, which caused a lot of grief. I went to work for Nurse Family Partnership and did home visits with first-time moms and babies. It allowed me to keep a regular schedule while still working my passion."
Managing fatigue is another challenge of people with mental illness when navigating the workday, panelists said. They mentioned the "spoons theory" of communicating one's capacity to manage physical and mental energy.
"Work, for me, is a continual dilemma of having 80 things to do and three spoons to do them with," said Beth Ribet, director and co-founder of Repair, a health and disability justice organization. "I'm always making those hard choices."
The second panel focused on the relatively new frontier of digital mental health, specifically, challenges in creating apps and other technology that are intuitive and efficient. Panelists noted a lack of medical expertise, especially in the health care sector, in the technology sphere.
Tom Insel, president and co-founder of Mindstrong Health, pointed to two of the first areas where digital technology has been adopted broadly – billing and electronic medical record – as examples of making health care less user friendly.
"I argue they made health care much worse," he said. "This should be a wake-up call. For digital mental health to be successful, the technology needs to improve access and quality while empowering users with agency and data."
Communication is a stumbling block in developing apps that meet users' needs, said Diana Steakley-Freeman, web and systems director at Psyberguide, a nonprofit out of University of California at Irvine and Northwestern University that reviews and rates mental health apps.
"There is a huge divide in communication across this discipline," she said. "The people working in this space include academics, people with lived experience and the technology sector. There is very little collaboration across these disciplines. The last few years have shown us what happens when technology moves faster than the public's understanding of it. We have to talk to each other to build technology solutions."
The Clubhouse Conversation panel brought together leaders and employees of two organizations operating on the clubhouse model – New York City-based Fountain House, a vanguard of the clubhouse model, and Los Angeles-based The Painted Brain.
Community was the core to Fountain House's success, said Ralph Aquila, medical director of the Center for Leadership and Education.
"Community is the key," he said. "Isolation kills. We need to bring community to people with serious mental illness. Without community, an integrated health system will only go so far."
When moderator Elyn Saks asked panelists how their clubhouses help people get jobs, Dave Leon, The Painted Brain's executive director, said the clubhouse's focus was on building strengths, not training them to take conventional jobs.
"The political and economic system we live in isn't geared toward workers, it's geared toward corporations," he said. "At Painted Brain we turn the work model upside down and build their strengths instead of slotting into an existing job opportunity. We give them the ability to develop leadership skills."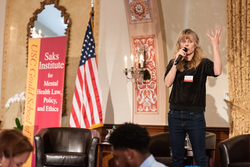 Comedian Maria Bamford, keynote speaker, told a personal story of managing her life and career while dealing with mental illness. (Photo by Chris Flynn)
Comedian Maria Bamford livened up lunch with her personal story of managing life and a career while coping with mental illness.
"Stand-up (comedy) is the perfect job for someone with mental health issues," she said. "You only have to work two hours a night, a lot of adrenaline, a lot of oxytocin rushes … I cannot recommend it enough if you're looking for something to get your heart racing."
Bamford detailed her saga of securing therapy and managing the stigma around needing help. She said she found encouragement from a variety of 12 Step groups, enabling her to produce a television show based on her life, "Lady Dynamite." She was managing her illness with medication and by scheduling her time carefully, but the demands of the show constantly threatened the support system she'd developed.
"I told the people I can't work over 16 hours and I need a 12-hour turnaround between the next day's shooting," she said. "I was the executive producer on the show and every single day I had to tell them, 'Yeah, I gotta go,' and every single day they said 'Yeah, um, we really need to get a couple of shots' … it's really bizarre when I think about it."
The symposium culminated with a discussion about being public with mental illness. New York Times reporter Ben Carey moderated the talk with Elyn Saks and Metta World Peace, both of whom have been open about their challenges with mental illness. When Carey asked Saks and World Peace about how they've been treated since they came out about their illnesses, World Peace said he was initially secretive.
"I never wanted people to know I was seeing a psychologist," he said. "It was too much pressure. I started to go out and drink with my friends. I thought that would make things better but it made things worse, and multiplied the depression and anxiety. I was getting in so much trouble early in my career. I needed to get comfortable to say it was OK to see a psychologist. In 2010, I started speaking publicly about mental health and my issues."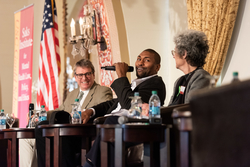 Former NBA player Metta World Peace joined Elyn Saks and moderator Benjamin Carey in a discussion about the challenges of going public with one's mental illness. (Photo by Chris Flynn)
For Saks, while the overall reaction was positive to her going public through her bestselling 2007 memoir "The Center Cannot Hold," some friends and colleagues displayed more cautious, sometimes surprising, attitudes.
"When I decided to write my book, one of my friends who is a geriatric psychiatrist said I should do it under a pseudonym, because, did I want to become known as the schizophrenic with a job?" she said. "I thought to myself, no, that's not how I want to be known but doing this book under a pseudonym would send the wrong message that this (schizophrenia) is too awful to say out loud."
A colleague at the Gould School told Saks she never would have gone to dinner with Saks if she'd known about Saks' diagnosis.
"I thought, this is a smart and kind and well-meaning person who harbors such negative fantasies about schizophrenia that she wouldn't go to a public restaurant with me," she said.
"That kind of really hit me."
But an encounter with a neighbor following publication of a full-page article, with photos, in the Los Angeles Times illustrated one of the lighter moments of fame.
"I'm riding down my elevator in my condo building and this older man looks at me and says, 'There's a picture of someone in the newspaper today who looks exactly like you,'" she said to laughter from the audience. "I told him it was me."
Read More
RECENT NEWS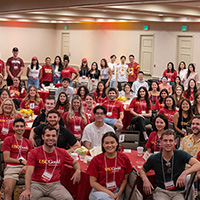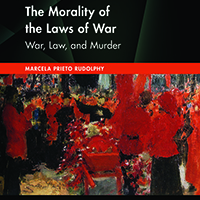 Facing the tragedy of war
September 13, 2023
Professor Marcela Prieto's new book, "The Morality of the Laws of War," argues for strengthening international law to el...