Prof. George Lefcoe Retires from USC Gould
Friday, April 19, 2019
Over five decades, Lefcoe shepherded the real estate careers of countless Gould students
By: Anne Bergman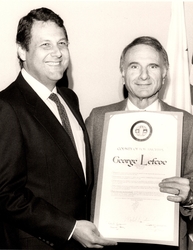 USC Gould Prof. George Lefcoe was honored by L.A. civic leader Ed Edelman.
Since 1962, USC Gould Prof. George Lefcoe, a globally recognized expert in real estate finance, development and land use planning, has regarded L.A. as his personal real estate research lab.
On April 15, 2019 friends, former students and colleagues gathered in downtown Los Angeles to celebrate his retirement after a 57-year career at the law school.
While the law school celebrated Lefcoe, he celebrates Los Angeles.
He believes the city's expansiveness and distinct cultures make it the ideal location to try out new ideas. "I think Los Angeles is perfect, considering the diverse options and opportunities it offers for work and play," he says. Lefcoe even goes as far as to praise the freeways. As aggravating as rush hour congestion can be, the average commute to work in L.A. is shorter than any remotely comparable city, including New York, Chicago, Boston, and Philadelphia.
To buttress his argument, Lefcoe quotes urbanism expert Joel Kotkin: "Southern California functions best as a network of 'villages,' some more urban than others, connected primarily by freeways and an enviable arterial street system. Inside our villages, we can find the human scale and comfort that can be so elusive in a megacity. This arrangement allows many Southern Californians to live in a quiet neighborhood that also is within one of the world's most diverse — and important — cities."
Over the past five decades, Lefcoe shepherded the careers of countless Gould students who pursue all aspects of the real estate business. He has written widely used textbooks in the field (Real Estate Transactions, Finance, and Development and Real Estate Law and Business) and has even helped shape the city he loves so much, by serving on both the Los Angeles County and Los Angeles City planning commissions.
He thinks the law school's proximity to downtown Los Angeles gives the school a "strategic advantage" over other local universities. "Downtown Los Angeles has by far the largest concentration of jobs in the region, making it a vibrant venue for real estate development," he said. "Our annual USC real estate law and business forum, held downtown, draws over 500 registrants each year."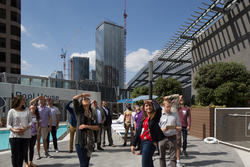 Lefcoe organized site visits for his "Real Estate Law and Business" students, such as this one to to the Wilshire Grand Center (the tallest building west of the Mississippi).
He imparted his wide-ranging knowledge inside and outside the classroom walls, leading the approximately 60 students (both JDs and LLMs) who enrolled in his Real Estate Law and Business class each semester on myriad site visits around the Los Angeles area. The hosts at these sites were "the people who understand the business best," Lefcoe says. "Due to USC's central location and easy freeway access, we have been able to hold site visits from El Segundo to Playa Vista, Hollywood to Santa Monica, without students having to miss another scheduled class."
During fall of 2017, for example, Lefcoe organized site visits to the recently completed Wilshire Grand Center (the tallest building west of the Mississippi) and to the South L.A. affordable housing community Dunbar Village, a rehabbed former hotel and nightclub renowned for hosting and showcasing black jazz musicians during the pre-civil rights era.
Wilshire Grand's architect and planner Christopher Martin led the ground-floor-to-tower skyscraper tour; while Tom Safran, chairman of Tom Safran Associates Affordable Housing, took charge of the Dunbar Hotel visit. After the tours, both men fielded spirited questions from Lefcoe and his students, digging deeply into subjects such as how each project was financed and even how textiles, countertop materials and lighting fixtures were chosen.
Lefcoe's emphasis on site visits and interacting with expert guest lecturers, he said, was borne from the notion that, "You can't understand it if you don't see it. Can you imagine a class in litigation that didn't involve visiting a courtroom? I selected a wide range of site visits because negotiating the Wilshire Grand project is not the same as understanding how Playa Vista evolved to become the main home of Silicon Beach, with such firms as Google, YouTube and Yahoo now located there."
"What George has been doing for decades is in line with the increased emphasis on experiential learning, just as his interdisciplinary approach helped to remake the law school in the 1960s," said Gould Professor Alex Capron, vice dean for faculty and academic affairs.
THOUGHTFUL AND RIGOROUS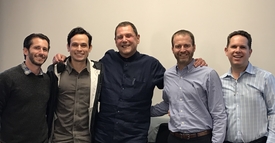 Lefcoe pictured at his final Gould class.
"In the classroom, George can be tough," said Amy Forbes (JD 1984), a co-partner in charge of the Los Angeles office of Gibson, Dunn & Crutcher, where she has spent her entire legal career.
"He's a stickler for class participation. I took his land use class and a seminar on redevelopment. His approach is practical, but always grounded in thoughtful and rigorous analysis of the law. There were about 13 of us in the redevelopment seminar, and 10 of us became land-use lawyers. We learned about every redevelopment project area in L.A., and it was a gift because when I started at Gibson Dunn, I was assigned to work on the Walt Disney Concert Hall project because I knew all about how redevelopment worked," said Forbes, who also served as lead counsel in the deal for the Inglewood redevelopment project approved in early 2015 that included the new Rams stadium.
Lefcoe grounded his teaching in his own real-world accomplishments, which mirror much of what he taught in Real Estate Law and Business. "I've owned small apartment buildings. I was a developer. I even built a prize-winning two-unit condo in Santa Monica from scratch," he said.
Real estate comes naturally to Lefcoe. By age 6 he would occasionally work the front desk in his parents' hotel in post-World War II Miami. "You could say that I grew up on a site visit," Lefcoe said with a laugh. His family owned and managed small hotels, catering to "vacationers on budgets escaping the Northeast cold."
In high school, Lefcoe took a part-time job at the county courthouse as a law clerk and ad hoc research assistant.
"I would shelve books in the law library, and I learned how to use basic legal materials. I ended up knowing all of the trial judges and learned the ins and outs of what the lawyers and legal procedures were like," he recalls. Lefcoe would return home and share what he was learning with his parents, who applied these lessons to their expanding business.
It wasn't until Lefcoe was in his first year at Dartmouth when he realized "not everybody discusses real estate at the dinner table."
Lefcoe majored in political science and philosophy at the Ivy League school, which he attended based on its glamorous depiction in the 1939 film "Winter Carnival." Six weeks into his first semester, the Miami native realized the "shocking" reality of the New Hampshire autumn. The glamour wore off. By the end of his time at Dartmouth, Lefcoe had concluded that he wanted to become a law professor with a specialty in real estate law — and practice in a milder climate.
Graduating Phi Beta Kappa in 1959, Lefcoe headed to Yale Law School, where he became a comment editor on the Yale Law Journal. He earned his law degree in 1962 and by 1963 was teaching in sunny Southern California at USC's law school.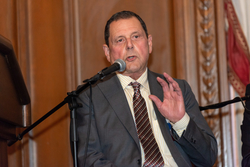 For more than 10 years, Lefcoe has tapped into a list of industry heavyweights to organize the USC Real Estate Law and Business Forum, convening public officials and experts to discuss the latest trends and strategies for meeting challenges.
"When I arrived here in the early 1960s, the downtown we know now didn't exist," said Lefcoe, who quickly became enamored with how architectural historian Reyner Banham divided L.A. into "four ecologies": the beach towns of "Surfurbia," the Foothills, the utilitarian "Plains of Id" and the freeway system, "Autopia."
As he adapted to Los Angeles, Lefcoe worked with faculty colleagues Chris Stone and Bill Bishin to revamp and unify the law school's curriculum to encourage students to look at the ways that, and reasons why, law takes particular forms, especially through the framework of a new course, "Law, Language and Ethics."
By the 1970s, Lefcoe was heavily involved with urban planning, even serving as a consultant to the U.S. Department of Housing and Urban Development (HUD), to advise them on low-income and affordable housing, and how to deal with objectors opposed to subsidized housing being constructed in their neighborhoods.
He also organized conferences around the world for the Lincoln Institute of Land Policy, as well as a Japanese corporation. While he loved traveling to cities such as Sydney and London, he lamented how there were few chances to explore during the conferences. "You're in the hotel lobby all day, reading papers to each other. Meanwhile, outside the sun is shining," he recalled.
He was inspired to launch his next venture, the USC Traveling Land Use Seminar. Beginning in 1990, Lefcoe led tours of cities such as Barcelona and Havana, where he and the other seminar participants met with civic leaders and real estate developers. The tours were so informative that they drew Los Angeles policymakers such as L.A. County Supervisor Ed Edelman and local business luminaries such as Stanley Gold (JD 1967), chairman of Shamrock Holdings and a member of the USC Board of Trustees and a lifetime member of the USC Gould Board of Councilors.
"As one of George's early students, I learned much in the classroom. He literally taught me how to think," says Gold, who accompanied Lefcoe on many of the Land Use Seminars. "And it turned out that I continued to learn from George long after graduation. On these trips, we explored land development and financing, as well as construction techniques. In particular, I recall his discussion about the redevelopment of Portugal's medieval city, Porto, without changing its charming character. That was especially instructional."
MEETING CHALLENGES
"Real estate is a small world, and the people who are important in this market all know each other," said Forbes, adding that Lefcoe has ties to "every firm in L.A."
For more than 10 years, Lefcoe has tapped into this list of industry heavyweights to organize the USC Real Estate Law and Business Forum, convening public officials and experts to discuss the latest trends and strategies for meeting challenges in real estate as they arise.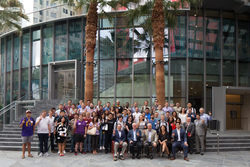 Lefcoe's emphasis on site visits and interacting with expert guest lecturers, he says, is borne from the notion that, "You can't understand it if you don't see it. Can you imagine a class in litigation that didn't involve visiting a courtroom?
A sample of the topics covered at the spring 2018 forum included: cannabis regulations and their impact on California real estate, the effect of driverless cars on the urban landscape, the evolution of retail, and the utilization of funding for homeless services and housing.
To share insights into effective ways to alleviate homelessness, Lefcoe called upon Neal Rackleff (JD 1992), then-Assistant Secretary for HUD's Office of Community Planning and Development. In his role at HUD, Rackleff oversaw billions of dollars in federal funding. He previously served as director of Houston's Housing and Community Development Department (HCDD). During his tenure at the HCDD, Houston became the first major city to effectively end veteran homelessness and reduce chronic homelessness by more than 70 percent. He is currently a partner at Locke Lord, where he focuses his practice on community and economic development and affordable housing.
Rackleff had recently reconnected with Lefcoe. "George was my favorite professor. He had a significant impact on my life and my career," he said. When Rackleff began law school, the Orange County native intended to become a prosecuting attorney, but after taking Lefcoe's Transactions class, Rackleff switched gears and became a real estate attorney, inspired by what he called "George's innovative and pragmatic approach."
For Rackleff 's trip to Los Angeles, Lefcoe arranged — what else? — a site visit of the USC Village. Rackleff, found the project impressive.
Site visits, it seems, are essential to Lefcoe's professional and personal life. He recently quoted from "Dying: A Memoir" by Cory Taylor to help illustrate their significance: "For what are we, if not a body taking a mind for a walk, just to see what's there?"
He exuded: "Walking around to use your mind and see what's there! That's the essence of a site visit!"
(This article originally appeared in the Spring 2018 issue of the USC Law magazine.)
RECENT NEWS