Gould Professors Honored at Chair Installation Ceremony
Wednesday, April 24, 2019
Innovation, personal passion motivate Profs Jonathan Barnett and David Cruz
By Leslie Ridgeway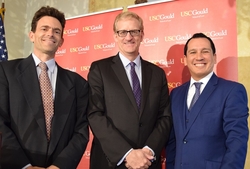 Prof. Jonathan Barnett, Dean Andrew T. Guzman, and Prof. David Cruz at the Professorship Installation Ceremony.
"The installation of a faculty member is an important event, not just for the life of the law school but the life of the university," said USC Gould School of Law Dean Andrew T. Guzman at the recent professorship installation ceremony for Prof. Jonathan M. Barnett as the Torrey H. Webb Professor of Law, and David B. Cruz as the Newton Professor of Constitutional Law.
The March 29 ceremony, at the USC Town and Gown Ballroom, was held in front of an audience of faculty and staff, as well as family and friends of both professors.
Barnett: Bringing Innovation to Research and the Classroom
Barnett, director of the Media, Entertainment and Technology (MET) Law Program, joined USC Gould's faculty in 2006. A prolific and highly regarded scholar in the areas of intellectual property, antitrust and contract law, he has published numerous papers in academic journals including the Harvard Law Review, Yale Law Journal, University of Chicago Law Review, the Journal of Legal Studies and the Review of Law and Economics, among other major publications. His latest publication addresses patent and antitrust policy in wireless communication markets.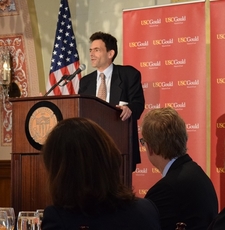 Prof. Jonathan Barnett said he chose to come to USC Gould because of the school's focus on integrating law and the social sciences.
Barnett began his remarks by thanking those who supported him in his academic pursuits.
"We stand on the shoulders of family and friends, and colleagues who helped us achieve where we got to in life," he said. "We never get there on our own."
Barnett said he chose to come to USC Gould because of the school's focus on integrating law and the social sciences. He also noted the value of the MET program – with its practice-oriented, digital media-focused approach – on helping students launch careers and excel in those areas.
"We can be proud of a really innovative program that is academically rigorous and enables our graduates to immediately add value for employers," he said. "Our Media and Entertainment Law certificate has almost 150 JD and LLM students, and our Technology and Entrepreneurship Law certificate has almost 100 JD and LLM students."
Cruz: Academic Advocacy Driven by Personal Passions
Cruz, who joined the Gould School faculty in 1996, called the professorship "a tremendous honor." He was previously a Bristow Fellow in the Office of the Solicitor General in Washington, D.C., and also clerked for Judge Edward R. Becker of the U.S. Court of Appeals for the Third Circuit.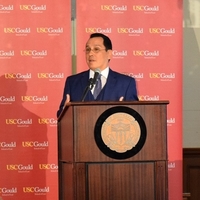 Prof. David Cruz said much of his work is inspired by personal experience with injustice based on gender norms.
Cruz thanked the colleagues, family and friends there to celebrate his accomplishment and detailed some of the challenges he faced as he made his way toward a career in academia. Computer science was his initial goal – "I knew I didn't want to be a lawyer," he recalled – followed by drama, math and logic. It was while he was working toward earning his master's degree at Stanford University that he met his future husband and joined him as leader of the Lesbian, Gay and Bisexual Center on campus. It was a key decision.
"I wanted to affect more people," he said. "I realized that lawyers can be honorable, and change the world."
A pioneering researcher, Cruz's scholarship has focused on obstacles facing members of the LGBTQ community, well before such topics became common in the legal academy. And much of that work, Cruz said, is fueled by personal experience with injustice based on gender norms.
"Having witnessed the burdens on smart women in my large extended family and the broader community, and not having loved people of the gender society expected me to, I have long questioned gender norms," he said. "Biology truly should not be destiny. My work aims to deploy and strengthen that principle."
An author of numerous articles on sexual orientation and gender identity law, Cruz is currently coauthoring the forthcoming book Gender Identity and the Law (Carolina Academic Press), which will be the first law textbook published on the topic.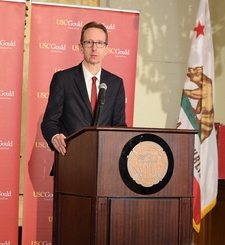 Provost Michael Quick delivered opening remarks on the history of endowed chairs.
Legacy of Excellence
During the ceremony, Provost Michael W. Quick offered some historical perspective on the background of the endowed chair, explaining that the first two endowed chairs ever established, at Cambridge and Oxford universities, were endowed by Lady Margaret Beaufort in theology in the 1500s.
"At the end of the day, universities do a lot of things, but we are in the academic excellence business," he said. "We are recognized by our creative works, our scholarship, grants and the students we send off into the world to be better than ourselves. One of the great recognitions in the academy is the endowed chair or endowed professorship."
RECENT NEWS