Caribbean Dream
Friday, July 19, 2019
Michelle Brathwaite (JD 1998) advocates for human rights in her role with the United Nations.
By Carren Jao
If Michelle Brathwaite (JD 1998) has learned anything it is that "you can never anticipate where life will take you." Raised in Barbados, Brathwaite found herself attending an international school in New Mexico by age 16, going to college in Massachusetts, pursuing law in California, moving to Canada and eventually returning to Barbados as a United Nations national human rights adviser.
Michelle Brathwaite JD '98 works with 10 East Caribbean governments to fulfill their obligations to the international human rights community.
Her legal career has been a journey, where threads seemingly lost resurface, such as her interest in social justice. Despite an early inclination to issues of equality, especially when it comes to race and gender politics, Brathwaite went down the corporate path after law school. With the recent economic downturn, however, she was laid off from her position at legal recruiting firm Major, Lindsey & Africa. Then, one day, a friend serendipitously sent her a job posting for a U.N. position in Barbados.
Brathwaite has now come full circle, living in Barbados and working with 10 East Caribbean governments to fulfill their obligations to the international human rights community. Her background gives a deeper understanding of the cultural dynamics at play in the region she covers — its resource limitations, as well as its views on an international human rights framework that many perceive as being based on Western cultural norms and values. But it is her Trojan education that has helped her become more effective at the tasks before her.
"My USC education has informed the work that I do today," she says. "I honed my writing skills and learned to conduct workshops at law school and in my early days in a large firm."
Nowadays, Brathwaite frequently finds herself traveling and meeting with East Caribbean officials. It may sound glamorous, but her work takes patience and fortitude. Brathwaite's role is that of an enabler, so these developing governments can pass laws and adopt policies that address human rights issues such as domestic violence, disability and discrimination. It isn't her job to make changes, merely to enable policymakers to enact change.
One of the most satisfying parts of her work is conducting a workshop on the Rights of Persons with Disabilities.
"When I run that workshop with officials, I almost always see in their faces that their perspective has completely changed," says Brathwaite. She's already held these workshops in Barbados, Saint Kitts and Nevis, Antigua and Barbuda, and Trinidad and Tobago. One workshop was so effective that officials unanimously agreed to support government initiatives to ratify the Convention on the Rights of Persons with Disabilities.
"But they still have yet to do it," says Brathwaite with a sheepish laugh. "It's all a process," she says, and she will be there to assist them every step of the way.
RECENT NEWS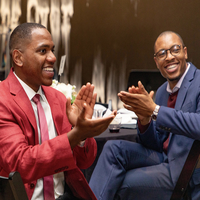 A Family Within a Family
December 2, 2019
The Black Law Students Association celebrates more than 50 years of building diversity and community at Gould.