'Conversation with the Deans' commemorates 50 years of Gould leadership

USC Gould School of Law
Tuesday, November 12, 2019
Progress in diversity, interdisciplinary teaching and global outreach lauded as hallmarks of USC Gould.
By Matthew Kredell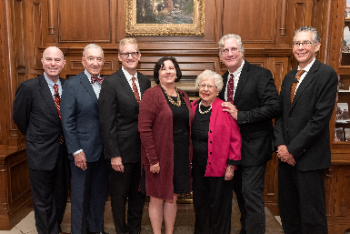 The Conversation with the Deans panel included (from left) Matthew L. Spitzer, Scott H. Bice, current Dean Andrew T. Guzman, moderator and alumna Lisa Kloppenberg, the Hon. Dorothy W. Nelson, Edward J. McCaffery and Robert K. Rasmussen.
Kicking off a year-long celebration of the law school's 120th anniversary, USC Gould brought together six deans representing 50 years of continuous leadership for a conversation on the school's history, impact and legacy.
"One of the things I say about the law school is that we're redefining the standards of legal education, scholarship and practice," said current Dean Andrew T. Guzman. "Our ability to do that is a reflection in significant part of the incredible leadership from all of the people on this stage over the years."
Joining Guzman Oct. 8 at USC's Town & Gown ballroom were the Honorable Dorothy W. Nelson (1968-1980), Scott H. Bice (1980-2000), Matthew L. Spitzer (2000-2006), Edward J. McCaffery (2006-2007) and Robert K. Rasmussen (2007-2015).
Carol L. Folt, USC's 12th president, remarked that USC Gould exemplifies the university's foundational principles to leverage the diversity of the city, give service back to the community, strive for excellence and be innovative and entrepreneurial.
"I think as the university has developed, certainly the law school has been a very important part of that development in all those ways," Folt said.
Folt recapped some of the highlights of the School since its founding in 1900 as Southern California's first law school:
Creating the first legal clinic program in 1929, which later became the Legal Aid Foundation of Los Angeles, for students to gain hands-on training in delivery of legal services to the poor.
Establishing the Post-Conviction Justice Project, which has helped win the release of more than 100 California life term inmates and co-sponsored or written nearly every juvenile justice bill in California since 2012.
Providing free corporate legal services to small businesses, entrepreneurs and nonprofit organizations through the Small Business Clinic, helping to form more than 100 businesses owned by women or underrepresented individuals in the past year alone.
Involving students in the International Human Rights Clinic who have handled pro-bono cases representing more than 100 refugees, asylum seekers, forced laborers and human trafficking victims over the past three years.
Providing pro-bono representation through the Immigration Clinic to asylum seekers who were persecuted in their own countries for their sexual orientation or gender identity.
In addition to its impact in the community, USC Gould's long history illustrates a commitment to diversity, interdisciplinary innovation and a global reach.
Advancing Inclusion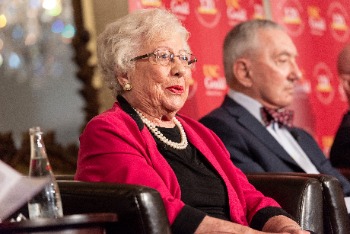 The Hon. Dorothy W. Nelson discusses inclusion efforts at USC Gould.
Nelson, a Senior Judge of the United States Court of Appeals for the Ninth Circuit, became the first female dean at a leading law school when she led USC Gould.
She recalled that when she became dean, 3% of the school's student population were women. She set out to entice more women to come to the USC law school, and by the time she left, that number was up to 35%. Guzman noted that this fall saw the largest number of entering women students ever at USC Gould, comprising 57% of the class.
One of the women who clerked for Nelson was Lisa Kloppenberg, now the interim provost at Santa Clara University, who moderated the discussion.
Nelson explained how her administration recruited African American law students, leading to USC Gould's first class of 20 African American students.
She admitted being naïve to the unique challenges that first cohort of 20 African American students faced. "We thought if we gave them a scholarship and offered them a tutor, they would be very happy. Well, they felt that they were treated like second-class citizens, and out of the 20, seven of them failed to make the grade. Then U.S. Supreme Court Justice Thurgood Marshall, a particular friend of mine, said, 'Dean, don't have a black degree and a white degree.'"
Nelson invested in stronger student support for African American students and improved support resources for all Gould students.
"I think every day at USC is a commitment to diversity and inclusion," McCaffery said. "As dean, we don't even like to talk about it necessarily as diversity. I think the commitment is to excellence, and excellence has many faces. Diversity isn't a question of accommodating some special thing and giving somebody a preference. Diversity is an acceptance that we live in a diverse world."
Multidisciplinary Approach
USC Gould pioneered a nationwide shift by introducing interdisciplinary curriculum to the study of law in the 1960s. Bice explained that the change was catalyzed when Gould hired a number of young teachers newly graduated from Yale Law School, who brought multi-disciplinary interests and backgrounds to the law school.
The younger faculty brought a fresh approach to legal education, teaching the underlying values, history and impact of those legal rules. This innovative, interdisciplinary approach complemented Gould's robust clinical education program, which offered students practice-oriented training to become effective lawyers — thus blending rigorous academic theory with essential practical skills.
"Now in our faculty you'll find a number of people who have PhDs as well as their law degrees in those fields that are important to understanding the social, philosophical and historical impacts of the legal rules," Bice said. "That focus [is] about the philosophical underpinning of what the rules are and where they come from, and it's important. It's also given importance to the clinical faculty, because the clinical faculty are the ones who translate that understanding of the philosophy and history of law into the work lawyers do for their clients."
Spitzer noted that the school often hired the best interdisciplinary faculty possible rather than focusing on filling a specific need.
"This is in contrast of the hiring philosophy at most of our other departments at a university, where they tend to regard their faculty more like an orchestra," Spitzer said. "We need a bassoon player. You can't hire a violist, because they can't play the bassoon parts. So they put constraints on the process, which produces fewer degrees of freedom, which produces lower general quality."
Global Footprint
USC Gould also has a long history of global outreach. The school's Graduate and International Programs recently welcomed a class of students hailing from 40 countries representing six continents.
"Today, you come to USC Gould to meet not only the people who are going to lead Los Angeles but the people who are going to lead the world," Rasmussen said. "I think the learning that goes on in the building, that's what got me out of bed every day. To see the students talking with each other, learning from different cultures, different backgrounds, that's what I think makes this a very special place."
Guzman closed out the event by asserting that a lot has changed over the past 120 years, but what's at the core of USC Gould has remained the same, allowing it to thrive.
"We are fundamentally, at the DNA level, a school committed to the interdisciplinary study of law," Guzman said.
"We are committed in an unshakeable way that everyone in our community – staff, faculty, students – deserves the support of the institution and people around them, and deserve the opportunity to be their best selves both here and when they leave here," he added. "We are certain that we have to be and, indeed we are, a force for good in our society's constant and imperfect attempt to be ever more pluralistic, ever more diverse, ever more inclusive and ever more tolerant — and that too is essential for us."
Read More
RECENT NEWS