Former SF District Attorney George Gascón discusses criminal justice reform goals
Thursday, February 20, 2020
Prof. Jody Armour moderates talk with candidate for Los Angeles District Attorney

By Leslie Ridgeway
Former San Francisco District Attorney, former San Francisco Police Chief and current Los Angeles District Attorney candidate George Gascón joined Prof. Jody Armour for a recent lunchtime talk, discussing his candidacy, his role in the "progressive prosecutor" movement, the death penalty and other aspects of criminal justice reform.
Criminal justice reform has long played a central role in Gascón's career, which includes stints as a police officer with the Los Angeles Police Department (20 years), with the Mesa (Ariz.) Police Department, and with the San Francisco Police Department, where he was named chief in 2009, serving until 2011 when he was appointed District Attorney by then-Mayor Gavin Newsom. He was subsequently elected twice to the position.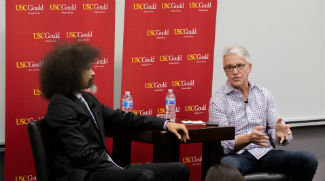 Former San Francisco District Attorney George Gascón discussed his goals for criminal justice reform as a candidate for Los Angeles County District Attorney.
"When I became the District Attorney, I'd been working already at the national level for almost a decade on criminal justice reform really with a very strong focus on reducing incarceration," said Gascón. "My goal is much broader today … when I became District Attorney, I believed that we could find a balance between reducing crime and reducing incarceration. I think you can do both at the same time. We proved that we could."
"If you've got one, it's too many"
An early champion of the "progressive prosecutor" movement, Gascón said experience and scientific data demonstrated to him that incarceration does not make society safer. He focused on shifting resources from prosecuting lesser drug-related cases to prosecuting violent crime and, working with Stanford Law School, supported the passage of Prop. 36, which modified California's so-called "Three Strikes" law mandating 25-years-to-life sentences for those with three consecutive felony convictions.
"We have people in California prisons serving 25 years to life that have stolen a loaf of bread, stolen a pizza," he said. "I'm not going to say that was an overwhelming number … if you've got one, it's too many."
Gascón's office identified around 3,000 people in the system who qualified for release under Prop. 36 and had them out in 45 days, he said. He followed that up with a review of the office's drug policy, which eventually became the basis of Prop. 47, changing certain low-level crimes from felonies to misdemeanors, diverting resources to prosecuting serious violations rather than minor drug offenses like possession of marijuana.
"As soon as you file a case … you activate a defense … you're going to be tying up court resources, you're going to be tying up probation," he said. "Your decision actually triggers immediately an impact that can be hundreds of thousands or millions of dollars on a case and obviously those resources are not available to deal with something else. That might be the right decision but you should at least entertain that decision has an impact system-wide."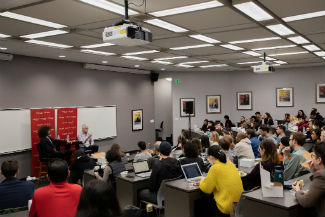 George Gascón talked about some of his reform efforts, including helping to develop a system that uses artificial intelligence to address the problem of implicit bias in prosecution.
"Housing should be a human right"

Armour brought up the ongoing debate about homelessness, housing and trends toward forced rehabilitation and drug treatment.
"One of the approaches we've taken is to crack down on the down and out, to go after them with citations, to put them in cuffs, to put them in jail cells and say the way you can get out of this particular legal embroilment is by going to a kind of 12-steps program in one of the mega-shelters," Armour said. "It's coercive benevolence, it's therapeutic policing. Is your sense that it's an effective approach?"
Gascón urged empathy and compassion for the homeless, arguing that the condition of homelessness can lead to mental and emotional instability. He asserted that research shows forced treatment doesn't work, and that solutions start with housing, he said.
"Forced treatment is nothing more than walking away from our social responsibility to ensure that every human being has a roof over their head and that roof doesn't happen to be a tent," he said. "Housing should be a human right, not an option, not a benefit."
Armour touched on Gascón's recent work in addressing implicit bias – subconscious factors influencing memory and judgment. Gascón worked with Stanford University researchers to develop a tool using artificial intelligence to mask race and race proxies, such as names and zip codes, from prosecutors, enabling them to make decisions without the influence of subconscious choices about race that also affect eyewitness testimony. Prosecutors see only the facts of the report before they review other pertinent evidence like photos, he said.
"We are the first in country, the only ones so far, into the first year, and there's a lot to be learned from it," he said. "We are going to make this available to researchers. We want full transparency. It's a continuing journey but at least it's trying to create bumpers around the impact of race in our work."
Implicit bias and discrimination are also a factor in death penalty cases, Gascón said, adding that he is also against the death penalty because of its cost, its failure as a deterrent and that it's irreversible.
"The system is not infallible," he said. "We have seen over and over again wrongful convictions. Again, mostly the people that get wrongfully convicted happen to be African Americans first and other poor people. You have a tool that doesn't impact public safety one way or another and if you get it wrong it goes really wrong."
RECENT NEWS