Masking the superheroes
Wednesday, May 6, 2020
Dario Avila (LLM 2017) spearheads campaign to deliver 3D-printed face shields to health care workers in Quito, Ecuador.

By Yulia Nakagome
"Every superhero has to wear a mask."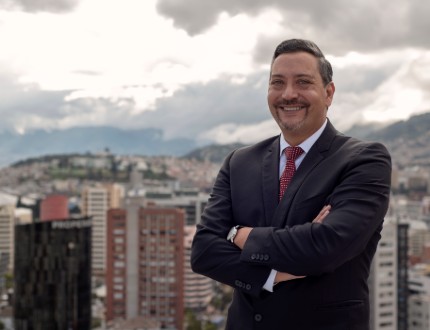 Dario Avila (LLM 2007) is helping to get face shields to health care workers in Quito, Ecuador.
Photo courtesy of Dario Avila
That's the motto of a campaign created by Dario Avila (LLM 2017) and his friend Alberto Larrea who runs Jubilous3D, a 3D-printing project in Quito, Ecuador, that was, until recently, building low cost prosthetics. With the advent of the novel coronavirus pandemic, which has hit Ecuador particularly hard, Larrea shifted the project's mission to creating and delivering face shields for health care workers at no cost. Avila, a high school friend, jumped at the chance to help with soliciting donations and promoting the effort.
"Our main motivation comes from the lack of personal protection products in Ecuador for medical staff, doctors, nurses and support staff, who are our superheroes in this sanitary conflict," says Avila, a managing partner at Alpe-Law in Quito. "My father, Dr. Alberto Avila, a renowned cardiologist, passed away last year, and he taught me the importance of helping others every time, under any situation. His legacy, his love for his patients' health, is my biggest personal motivation."
Jubilous3D has produced more than 1,000 shields and acquired 1,500 additional shields from third parties to help meet the need, supplying hospitals in Quito, the Galápagos and Guayaquil, Avila says.
The project began when COVID-19 cases spiked in March. After designing the shield and doing quality assurance testing, Jubilous3D began printing and Avila got to work spreading the word about the project and encouraging donations, which resulted in a donation of nine more 3D printers, and helped create a delivery network.
Face shields for health workers in Ecuador typically cost $5 to $70, depending on material and quality, Avila says.
"[Our shields] are lighter, more germ-resistant due to low porosity and they comply with medical protection requirements," Avila says. "We have made them so that they can be disinfected, reused and safely discarded. Our material is 100% biodegradable and compostable which keeps in line with protecting the environment."
Avila's promotion strategy includes public presentations, TV, newspaper and radio interviews and social media posts. Avila says he sometimes uses personal contacts on Facebook and Twitter to request donations.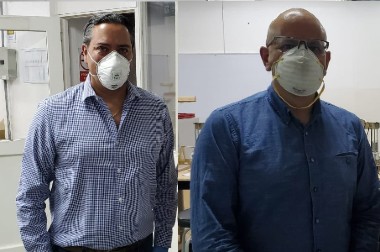 Avila and school friend Alberto Larrea, masked and ready to support health care workers.
Photo courtesy of Dario Avila
"This has helped us to create a more reliable project because our donors can identify the project with a known face. We have humanized our actions, and it has given great results," he explains.
Jubilous3D also instituted measures to protect its workers and disinfect its machinery daily.
Even with support, the project has struggled to keep up with the increasingly high demand for face shields.
"Each order that we receive is urgent and necessary, and knowing that we cannot cover them in full is really hard for us," Avila says. "We are fighting against time and resources every day. Our goal is that our production could be increased in an exponential way as the COVID-19 virus does."
Avila says the gratitude from health care workers is inspiring and heartwarming.
"The most rewarding part of this experience is to see the hope reflected in the eyes of our doctors and medical staff. They don't have to say anything because their gaze says more than any kind of word," Avila says. "Knowing that one face shield helps to prevent the disease for more than 10 people is also a great reward for our efforts."
RECENT NEWS