Winners celebrated at 2020 Hale Moot Court Honors Program competition
Friday, May 1, 2020
Samantha Rifkin takes Edward G. Lewis Champion Award.

By Yulia Nakagome
In early March, the USC Gould School proudly celebrated six student winners of the 2020 Hale Moot Court Honors Program competition.
Samantha Rifkin walked off with the Edward G. Lewis Champion Award and the Themis Bar Review Champion Prize scholarship. Other award winners included Nikki Long, awarded the BARBRI Bar Review Runner-Up Prize, and Allison Blair, Danielle Luchetta, Michael Larson and Molly Grant, recipients of the Anthony and Susan Taylor Written Advocacy Award.
For Rifkin, the experience of competing was enriched by the people who supported her.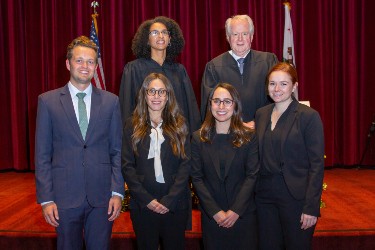 2020 Hale Moot Court competition winners and the judges. Front row, from left: Michael Larson, Samantha Rifkin, Danielle Luchetta and NIkki Long. Back row, from left: The Hon. Leondra R. Kruger and the Hon. William A. Fletcher.
Photo credit: David Giannamore
"The most rewarding parts would be the friendships I've cultivated and learning from [faculty adviser]
Professor [Rebecca] Lonergan
— she's incredibly inspiring," Rifkin said. "Also, having my family present at the final round to see me win was such a special moment. This has been, all around, the best experience and I feel so honored that I'm going to be chair of the program next year. I couldn't be more excited."
Rifkin was one of four finalists, including Long, Larson and Luchetta. Opening remarks for the event were delivered by
Professor Lybby Carroll
, vice dean for curriculum and director of the Gould Legal Writing Program.
"I applaud your personal investment of time, energy and effort," said Carroll. "It required enormous dedication to balance these demands with your rigorous academic work. But I have no doubt that you each learned a lot, grew a lot and hopefully you enjoyed it as well. This is a special experience within law school – one that people carry with them for a long time."
As part of the annual Hale Moot Court Honors Program competition, second-year students draft an appellate brief on one of two given issues on behalf of either the petitioner or the respondent. This year, the issues were pre-Miranda silence and data encryption.
Before making it to the final round in March, finalists compete in qualifying, preliminary, quarterfinal and semifinal rounds. Each participant's brief goes through several stages of drafting, editing, presentation and judgement. Participants attend an issue seminar, three writing seminars and two oral advocacy clinics, and work closely with members of the program's executive board to refine their drafts.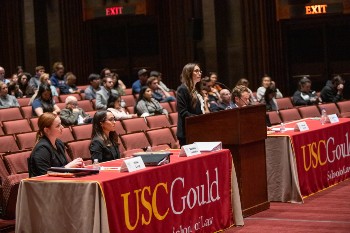 Samantha Rifkin, Edward G. Lewis Champion Award, delivers her appellate brief before the judges.
Photo credit: David Giannamore
In the final round, four participants present their briefs before a panel of three judges as well as their peers, professors and community members. This year, the final round judges included the Hon. Leondra R. Kruger of the Supreme Court of California and the Hon. William A. Fletcher of the U.S. Court of Appeals for the Ninth Circuit. A third judge was not able to attend.
The champion and runner-up were selected by the judges, and the Written Advocacy Award recipients were selected by the executive board.
Every spring, all Gould first-year students are invited to compete in qualifying rounds and in the fall, 40 second-year students are invited to move forward in the competing rounds, whittling down the competition to four finalists. At the end of the academic year, participants are invited to apply to serve on the executive board for the following year.
The Hale Moot Court Honors Program was founded in 1948 to give students an opportunity to hone their written and oral advocacy skills.
RECENT NEWS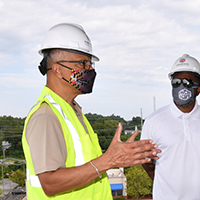 Continuum of Care
November 24, 2020
Boyd Rutherford, JD 1990, focuses on state health issues as Lieutenant Governor of Maryland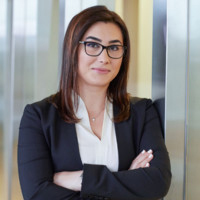 Paying it forward
November 24, 2020
Karine Akopchikyan, JD 2015, VP of Gould's Alumni Association, speaks to the importance of building and keeping relation...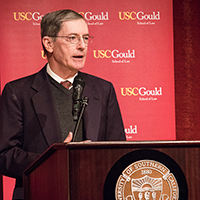 University honors Gould faculty
November 24, 2020
Ron Garet receives Faculty Lifetime Achievement Award, while Tom Griffith and Pauline Aranas named emeriti faculty