They handle the truth

USC Gould School of Law
Monday, August 24, 2020
USC Intellectual Property and Technology Law Clinic helps student documentarians navigate legal aspects of film
By Carren Jao
Documentary filmmaking is about telling a true story, but often truth is a thorny issue, which is why USC School of Cinematic Arts students are working with USC Gould School of Law Intellectual Property Technology Law Clinic students to produce films that retain the integrity of the story while staying on the right side of the law.
Directed by Professor Jef Pearlman, the clinic offers second- and third-year law students the opportunity to work with real clients, navigating interpersonal dynamics and tackling weighty legal issues. The experience they get from the clinic is designed to help them prepare for their future legal careers. Guided by Pearlman, who oversees all the legal advice dispensed to the clinic's clients, law students think through challenging questions that deal with fair use, defamation, trademarks and contracts, to name a few.
While the clinic also offers its services to clients in need of pro bono assistance throughout the university and beyond, Pearlman says working with documentary filmmakers gives his students an opportunity to apply their understanding of fair use to real films.
"While the high-level task of advising a client on intellectual property issues is the same, the day-to-day focus is different," says Pearlman. "In documentary filmmaking, we deal more with questions of fair use and copyright — the use of other people's materials without permission and without paying — and defamation."
Clients last semester included student filmmakers making a documentary focused on the killing of Latasha Harlins, a 15-year-old African American girl fatally shot by a Korean store owner. Her death, just 13 days after Rodney King's beating, is considered by many to be a catalyst for the Los Angeles riots of 1992. The producer and director of The Dope Years: The Story of Latasha Harlins used short news clips and security footage of the killing in the film, and licensing them commercially would have been too expensive for the students.
With the help of three clinic law students — Tiffany Li (JD 2021), Tyler Fergusson (JD 2021) and Roark Luskin (JD 2021) — the filmmakers were able to confidently identify which materials they might be able to include in their documentary through the fair use doctrine. Pearlman's students worked with the filmmakers to ensure the film used the material in a way that meets the criteria of fair use.
While Dope Years could have used news clips in a manner that was arguably fair use, Li says the team was able to make the filmmakers' case stronger by requesting that they add additional voice-overs from interviewees to place the clips in context and connect the events to the impact on their lives.
"It's been an amazing opportunity to get hands-on, real-world experience during the academic year," says Li. "I have a Bachelor of Fine Arts so it's been great to be able to combine my arts background and legal skills in the clinic by providing advice while staying true to our clients' artistic visions."
RECENT NEWS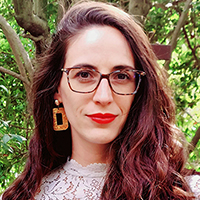 Her dream job
July 25, 2021
Background as prosecutor informs Prof. Marcela Prieto's scholarship and teaching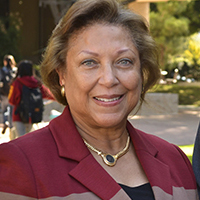 Service is in her DNA
July 25, 2021
Aulana Peters (JD 1973) continues to open the way for the next generation