Beyond the clinics and practicums

USC Gould School of Law
Thursday, September 3, 2020
Two courses offer technology-related experiential learning opportunities to USC Gould students.
By Greg Hardesty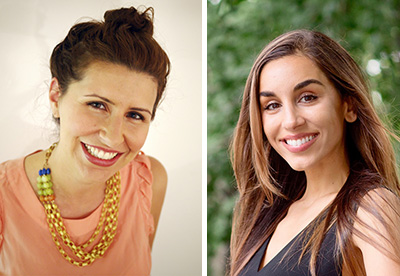 Laura Riley (left) and Dorna Moini
USC Gould, a pioneer in developing real-world skills through its longstanding clinical and practicum program, recently introduced two technology-related courses that bolster experiential learning opportunities for its law students.
One course is "Legal Innovations Lab," which was introduced in spring 2020. The second course is "Counseling the Startup Company," which was first offered in 2002 and then returned to the course list in 2017, as part of the Gould
MET Program
's launch of the
Technology and Entrepreneurship Certificate
; and in 2018, it was offered for the
LLM program
.
Both courses teach students to be leaders in technology-solution oriented legal arenas. The courses offer students an expanded menu of experiential learning opportunities, beyond the school's well-established clinics, which give students outside-the classroom experience in the legal fields of immigration, intellectual property and technology, international human rights, mediation, post-conviction justice, and small business. (USC Gould's longstanding practicums cover access to justice, children's legal issues, legislative policy, medical-legal partnerships, and veterans.)
"With experiential learning courses like these, students have opportunities beyond clinics and practicums to hone their real-world practitioner skills," says Laura Riley, an adjunct assistant professor of law and director of experiential learning at USC Gould.
Mohan Nadig teaches "Counseling the Startup Company." He is director of U.S. legal operations for ByteDance, an Internet technology company headquartered in Beijing whose core product is the news and information content platform Toutiao.
Nadig's course explores the legal issues and business challenges that lawyers face when counseling startup companies, from entity formation, corporate governance, employment and compensation to negotiation of commercial transactions, intellectual property, and privacy and data security.
The course uses real-life examples from startup companies in California and is intended to provide a realistic view into the day-to-day practice of lawyers in the field.
Legal technology entrepreneur Dorna Moini, who graduated from USC Gould in 2012, teaches the "Legal Innovations Lab." She is co-founder and CEO of Documate, a 2018 startup that offers document automation software that allows lawyers to streamline frequently used forms and documents without using any code.
Moini's "Legal Innovations Lab" exposes students to areas of legal practice that help them develop skills to address emerging technology issues.
"We started with a session on product development and user-centered design," Moini says. "We discussed the implications of artificial intelligence, big data and analytics on the practice of law. Students built legal applications using document automation. And we're constantly discussing the implications of technology on expanding access to legal services."
Speakers in Moini's class have included the executive director of the Legal Aid Foundation of Los Angeles and the general counsel of LegalZoom, who talked about regulatory issues. Moini's company started as a platform for lowand moderate-income people. Documate created workflows for domestic violence survivors, tenants facing eviction and other areas not typically covered by legal documentation platforms.
Moini quickly realized the highest value it could provide to promote access to justice was to empower attorneys on the ground so they could build their own workflows and legal applications without any code.
"This class is not just about technology — it's about thinking about the law in a new and innovative way," Moini says. "It's about coming up with out-of-the-box solutions for how we can better deliver legal services to everyone from pro bono clients to consumers to corporations.
"These skills will help students think differently, whether they are doing strictly legal work or recrafting a modern law practice," Moini adds. "USC Gould has put a focus on law, technology, and innovation, and is definitely at the forefront in preparing students for the future of the practice."
RECENT NEWS