A century of law and learning

USC Gould School of Law
Monday, January 25, 2021
Ruth Lavine (LLB 1943) celebrates 100 years as lawyer, champion of women in law, and supporter of law students
By Matthew Kredell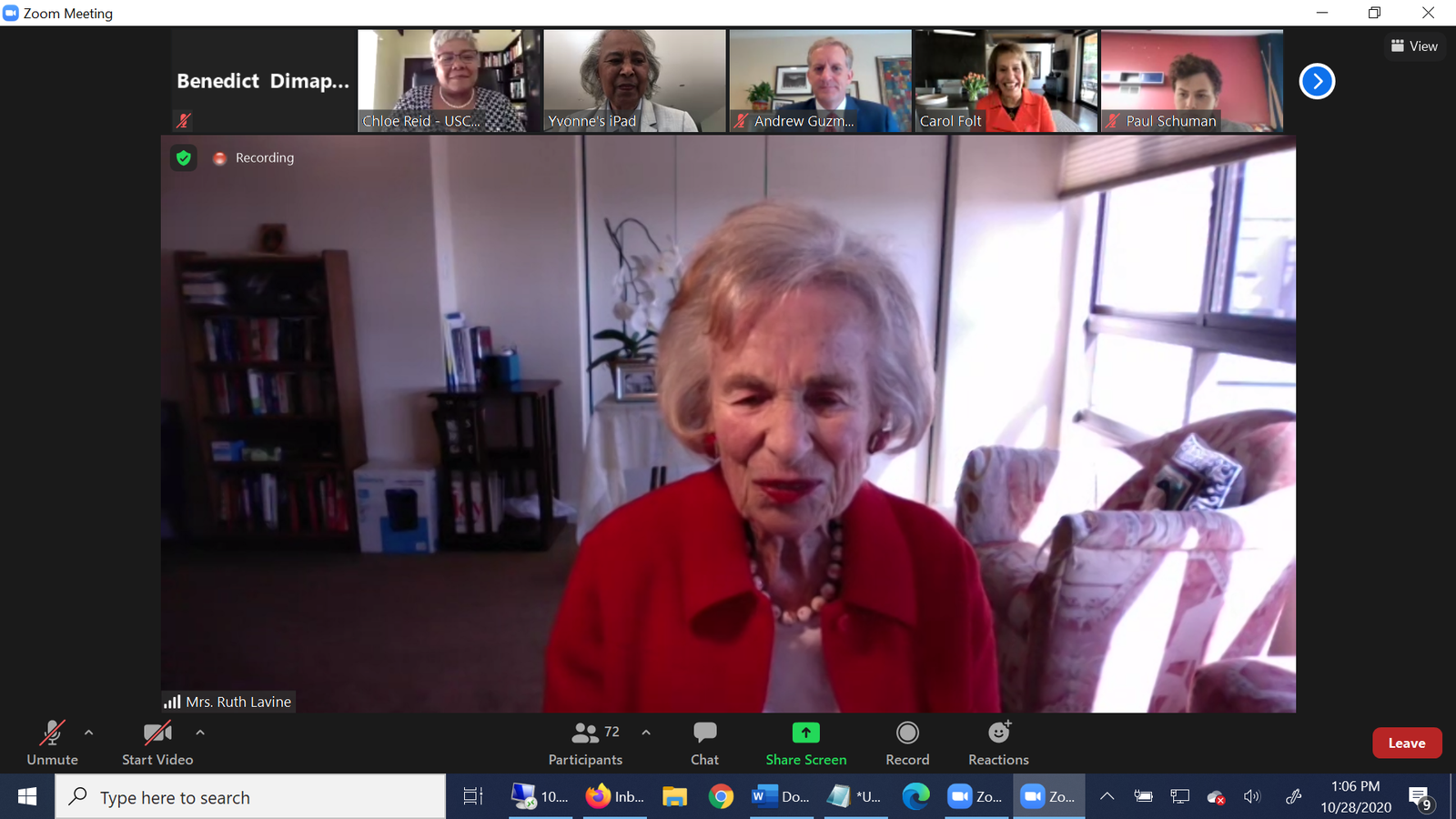 Ruth Lavine's centennial celebration at Gould took place over Zoom when the pandemic intervened.
With the approach of the 100th birthday of Ruth Lavine (LLB 1943), family and USC Gould were eager to celebrate, but the pandemic intervened.
For Lavine's part, she was happy with the small, impromptu birthday celebration from her daughter, grandchildren and great grandchildren, who waved signs and balloons across the street from her condo in west Los Angeles and sang as she watched from her patio. They also made a tribute video. A planned luncheon at Gould was postponed and reorganized as a virtual celebration of Lavine and other law school women spanning the century.
"When I did make it to 100, people make a lot of fuss about it," Lavine says. "So I feel very important because people seem to think it's important."
Coming to America
Lavine was born Ruth Jacobsohn in Hamburg, Germany, on April 21, 1920. As a teenager, she had been accepted by Oxford University, but with Europe on the brink of war, her father put the family on a ship full of British scientists and sailed to New York, arriving in October 1938. Five years prior, her father had moved the family from Germany to England after Adolf Hitler became chancellor.
The family crossed America by train to Los Angeles to connect with family friends. With her parents' encouragement, she enrolled at USC, choosing law when nursing, teaching and medicine didn't appeal. Lavine was one of five women in her class of 23 at USC Law School. With many men being drafted into World War II, it was considered a large class for women.
Being German and Jewish during WWII posed challenges. She was surprised and disappointed when turned away from a law sorority for being Jewish — the very issue that caused her family to leave Germany.
Lavine also needed special permission to attend classes at USC due to an 8 p.m. curfew and restriction to a fivemile radius from home levied on German American and Italian-born people not yet U.S. citizens. It also affected her romantic life. After meeting her husband Richard Lavine (LLB 1942) in the law library, the courtship consisted of Richard visiting her at home and reading her Winston Churchill speeches.
"I was a cheap date," she jokes.
They married in 1944. She worked as a law clerk before taking a decade off to raise a family, returning to work in the late 1950s when a school connection, Robert Thompson (LLB 1942), later appointed an associate justice of the California Court of Appeal and a professor at USC Gould, recruited her to his law firm in L.A.
"I was often the only woman in the room but for some reason it wasn't a problem," Lavine says. "I didn't have a problem with it and I guess they didn't either."
A leader in promoting women in law

Lavine supported women in law, becoming president of the Women Lawyers Association of Los Angeles in the late 1950s. She was the only woman on the Los Angeles County Bar Association Board at the time, and later served as the first woman president of the Los Angeles County Bar Foundation.
She became a partner at Fain, Lavine, Kaufman and Young with her husband and Harry Fain (LLB 1946), who ran a prominent family law practice. She finished her career in 1994 in private practice doing probate and estate planning. Many clients were fellow German immigrants whom she enjoyed helping understand U.S. laws.
As a youngster, Lavine's daughter Cathy Unger didn't like her mother being the only mother who worked — something she later came to appreciate.
"As I got older, I was always very proud of what my mother did and it's only grown through the years," she says. "She's been a wonderful role model as an attorney and a loving wife, mother, grandmother and great grandmother. She both had a career and a good home life."
Richard, who went on to be a Los Angeles Superior Court judge, passed away in 1994. Before his death, he and Lavine created the Richard & Ruth Lavine Family Foundation, which in time provided funds for scholarships at USC Gould, with Lavine taking an active role in the lives of scholarship recipients.
Jonathan Kwortek (JD 2020), recipient of the Lavine Scholarship in 2017, was, like Lavine, born in Germany. Kwortek's father was stationed there in the Army around the fall of the Berlin Wall.
As Kwortek neared graduation, she invited him to her home and when he graduated, she called to congratulate him and ask about his bar studies.
"It's nice to see somebody very involved in the scholarships they give out and wanting to stay in touch," Kwortek says. "My first year, at the scholarship luncheon, they had her speak as the guest of honor along with the dean highlighting her career and involvement with USC. She asked for my address and sent me a hand-written letter. I don't know when was the last time I received one of those. It feels more personal than our general means of communication these days."
Although she hasn't practiced law in 25 years, Lavine attends continuing legal education courses to maintain her status with the State Bar of California. Today, Lavine remains independent, reading the newspaper and her mail daily, and until the coronavirus shutdown, attending theater productions and concerts at the Hollywood Bowl.
RECENT NEWS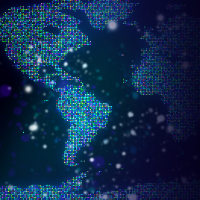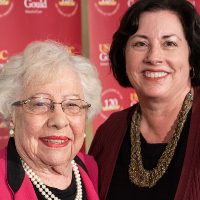 School's in for this alum
June 10, 2021
Lisa Kloppenberg (JD 1987) follows influence of Judge Dorothy Nelson to career in academia