School's in for this alum

USC Gould School of Law
Friday, June 18, 2021
Lisa Kloppenberg (JD 1987) follows influence of Judge Dorothy Nelson to career in academia
By Matthew Kredell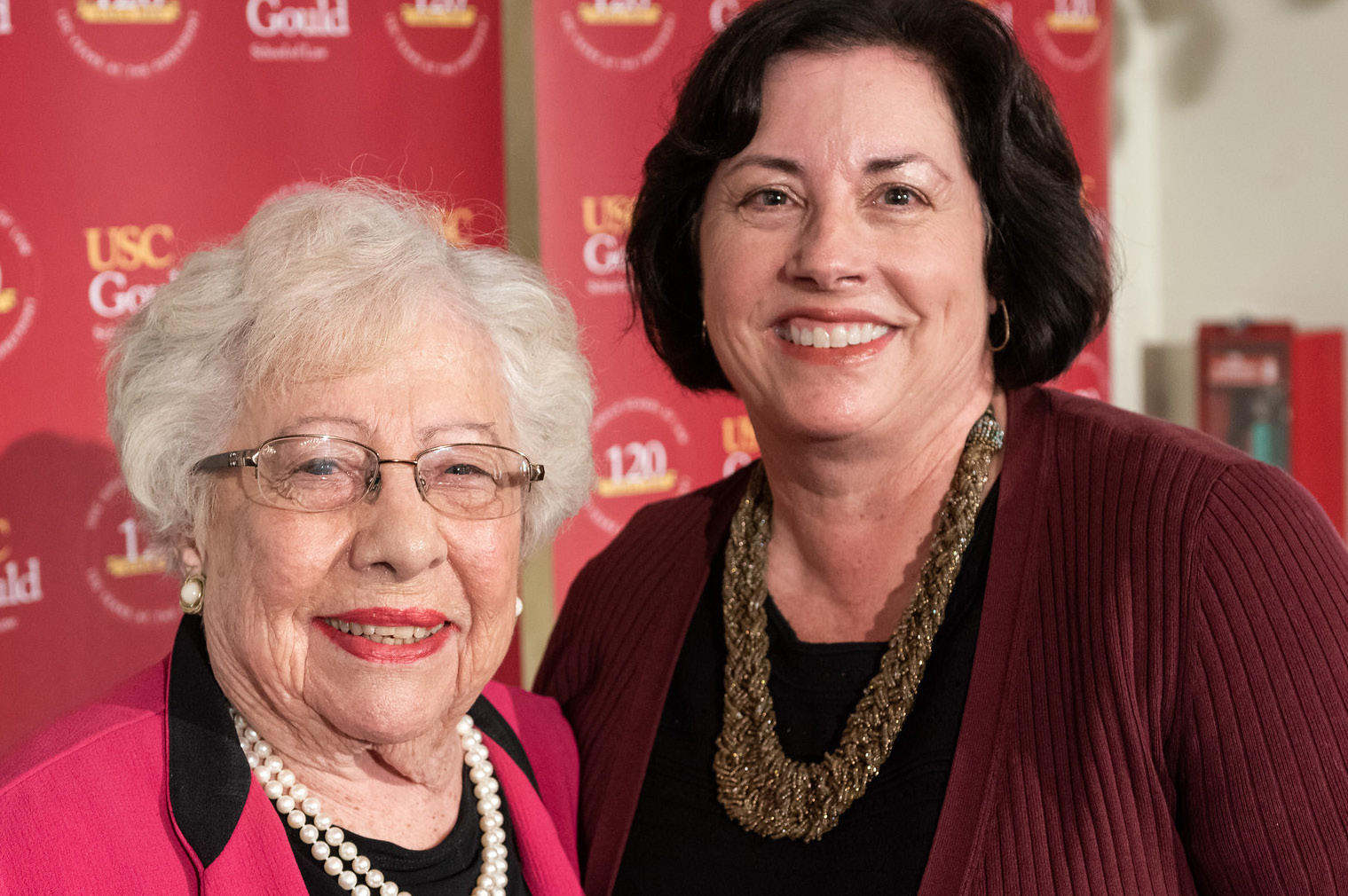 Lisa Kloppenberg, right, with Judge Dorothy Wright Nelson, at the Conversation with the Deans panel in 2019
Lisa Kloppenberg (BA 84, JD 1987) didn't have a career in academia in mind when she enrolled at the USC Gould School of Law, but the seed was planted when she accepted a clerkship after graduation with U.S. Court of Appeals Ninth Circuit Judge Dorothy Wright Nelson (LLM 1956), a former dean of the USC School of Law.
Nelson urged her clerks to seek careers in academia, and her influence led Kloppenberg first to mediation and alternative dispute resolution, and eventually, academia – as a professor, law school dean, provost, and now acting president of Santa Clara University.
Kloppenberg is returning the favor by writing a biography on Nelson, to be published soon by Oxford University Press.
"I'm so honored and humbled to write her biography because she's such a role model to people in education, on the bench and in conflict resolution," Kloppenberg says. "She's really known around the world."
The path to academia
After clerking for Judge Nelson, Kloppenberg wanted law firm experience, and worked in litigation, arbitration and mediation with the firm Kaye, Scholer, Fierman, Hays & Handler LLP in Washington, D.C., then with Ken Feinberg, a prominent mediator who designed conflict resolution systems.
Then she chose the academic path. Soon after earning tenure as a professor at the University of Oregon, Judge Nelson asked if she could put Kloppenberg's name in a database for potential women law school deans being assembled at Georgetown Law Center.
"She told me we need more women to step up and do this," Kloppenberg says. "Back in the 2000s, she was still fighting this battle to get more women in leadership in higher education. That's why I thought of becoming a dean so early in my career."
When Kloppenberg was named dean at the University of Dayton (Ohio) School of Law at age 39, she was the youngest law school dean in the nation at that time.
She found her training in mediation beneficial for leading academic institutions.
"There's a correlation between conflict resolution and teaching in every administrative job I've ever done," Kloppenberg says. "I think a lot of it is really listening deeply to people, trying to solve problems, to help them solve their problems, and getting different groups together to find some common ground and build a path forward."
Telling Judge Nelson's life story
After she became dean at Dayton, Kloppenberg decided to write Nelson's biography, encouraged by her husband, Mark Zunich, who she met while attending USC. The two have worked on the book off and on for a decade.
"We worked on it very gradually, and so many people at USC and on the Ninth Circuit were really generous to give me and Mark interviews," Kloppenberg says. "Judge Nelson gave us tremendous access to a lot of materials. It is part of her life and one kind of perspective on her life, but you could write 10 books on what she did. We wanted to make it a manageable length, readable and accessible to non-lawyers because she's such a part of women's history."
Kloppenberg was impressed by Nelson when she took Nelson's class "Judicial Administration and the Administration of Justice."
"It was the best class I had in law school because she took us down to the courts, took us to prison," Kloppenberg says. "We got to know the judges and lawyers. You just see things you don't see on TV, don't learn from a law book. You got to see your justice system in action with all its good parts and all its failings."
When Nelson was named dean of the USC School of Law in 1969, she became the first female dean at a fully accredited law school. She led the school until 1980, when she became a U.S. Circuit Judge upon appointment by President Jimmy Carter, a role she still fills today.
"Having been on the federal bench for over 40 years and having been blessed with brilliant and caring law clerks, I have no hesitation in saying that Lisa was one of the most outstanding," says Nelson, now 92. "I was delighted that she became one of my most outstanding law clerks. She had been an extraordinary student of mine at USC, but she was also one who was interested in improving the justice system in all that she does. I am pleased that she is writing my biography, but I really feel I should be writing hers."
"I want to be helpful"
Kloppenberg returned home to California to take over as dean of the law school at Santa Clara University in 2013. Last year, she was named provost, a position she held on an interim basis since June 2019. As of March she has served as interim president.
Santa Clara University has more than 8,000 undergraduate and graduate students across six schools. Working with university leadership, Kloppenberg's goals center around increasing access and affordability, transparency, collaborative governance, robust communication, strengthening engagement with Silicon Valley, and becoming an anti-racist institution.
"Judge Nelson always wanted me to be a college president," Kloppenberg says. "She's forceful in her gentle way. I just feel like I'm here to serve because I was called upon and I want to be helpful. Running a law school is a lot like running a small university."
Read More
RECENT NEWS