From 'Law Shack' to America's first Second Gentleman

USC Gould School of Law
Friday, June 25, 2021
Doug Emhoff (JD 1990) on his first teaching gig, his role in the Biden Administration and his support of USC Gould
By Leslie Ridgeway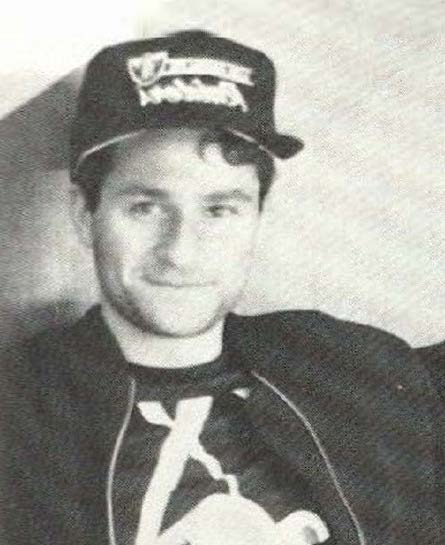 Emhoff in the 1990 USC law yearbook, Stare Decisis
Apparently entertainment has always been in Doug Emhoff's (JD 1990) blood. As a student, he once took a break from the books to hit the stage as a singer and dancer in a student-produced musical extravaganza that lingers in his memory.
"I think it was called 'The Libel Show,'" Emhoff says with a genial chuckle, recalling his past theatrical performance. "We performed 'Law Shack' instead of 'Love Shack,' and this was, of course, in the late '80s. I somehow found my old yearbook and there were pictures of that show."
He grins with the memory. "That was a lot of fun."
Perhaps Emhoff missed a calling as an entertainer on the way to becoming a successful entertainment lawyer working at high-profile Los Angeles-based firms. Today, he has burnished that distinguished career with a new position as a lecturer in entertainment law at Georgetown University Law Center, and with his most prominent role to date as the first Second Gentleman in American history.
But just as he's not above laughing at his amateur exploits on the stage, he's not interested in grabbing the spotlight for himself.
"I wouldn't be in this role if we didn't have our first female Vice President," he says, referring to Vice President Kamala Harris, whom he married in 2014.
As Emhoff embraces his role in the administration of President Joe Biden, he does so with the support of a solid foundation that he credits in large part to his time at USC Gould, where he fulfilled a childhood dream of becoming a lawyer.
"Maybe it was something I saw on TV, [but] I just knew as a six, seven-year-old, I wanted to be a lawyer," says Emhoff, who spent most of his youth in New Jersey and moved to the Los Angeles area as a teenager with his family. "But I also hated bullies as a kid. I always stuck up for other kids; I hated bullying, I hated unfairness. I picked USC because I knew I wanted to stay in Los Angeles, and I knew I wanted to go to the best law school in Los Angeles, and I had an interest in entertainment. When you add it up all together, USC was the best choice I could have made."
From Student to Mentor
His gratitude for his education is evident. Emhoff has taken an active role through the years in mentorship, participating in the annual Mentor Luncheon, mock interviews, and recruiting new grads from USC "because they all make great lawyers.
"They come out of USC and they're ready to practice," he says. The network is so great and so huge. Every time I meet a fellow Trojan from the law school I make sure we stay connected. It's been a long, 30-plus year relationship. [USC Gould] feels like such a big part of who I am and what I care about."
"The strength of the Trojan Family, and the Trojan network," says USC Gould Dean Andrew Guzman, "lies in the commitment of its members to supporting one another. Doug has illustrated that dedication through his decades-long – and still ongoing – involvement with USC Gould. All of us at the law school are very appreciative of the guidance he has given and the doors he has helped open for so many Gould students over the years."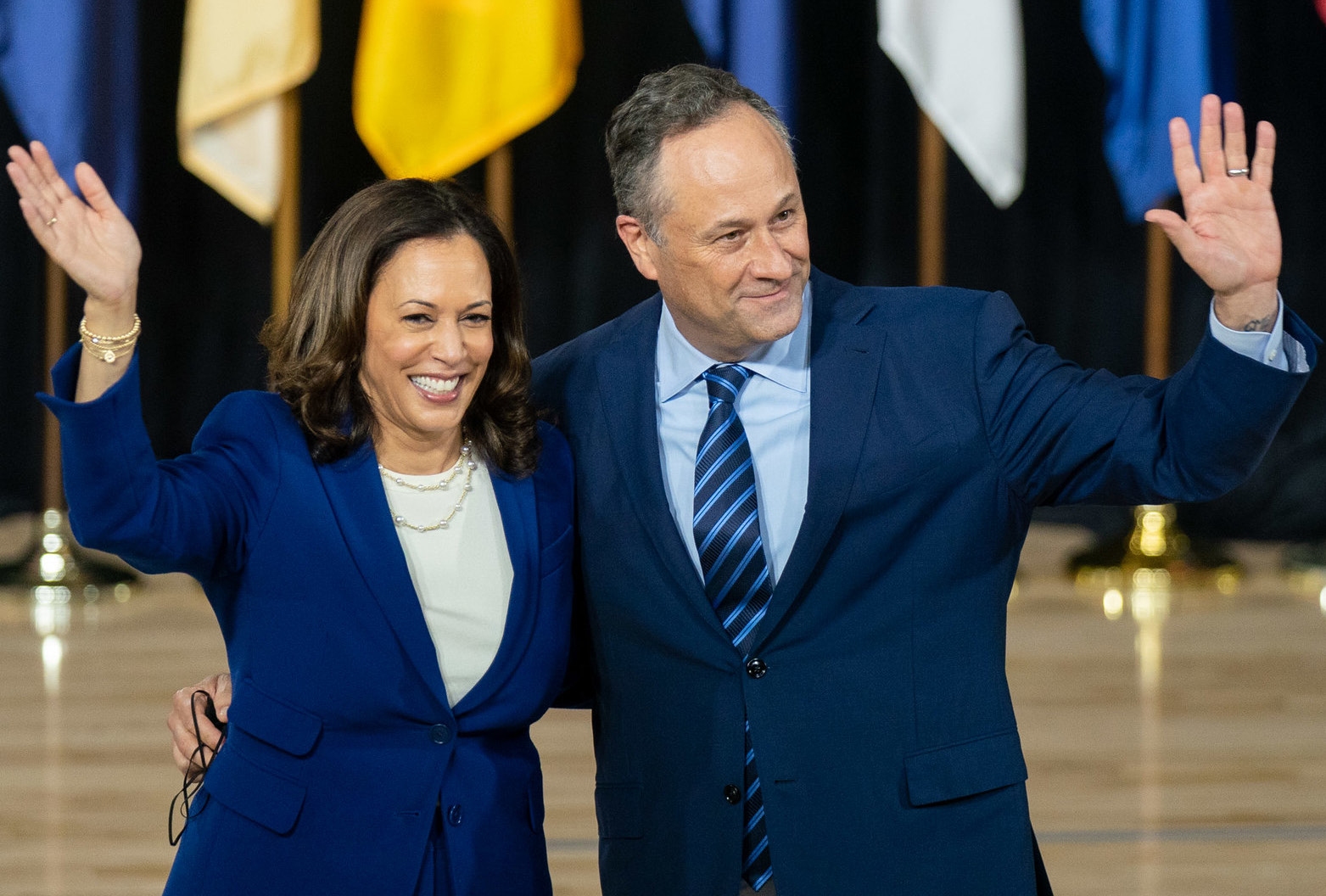 Emhoff joins his his wife, Vice President Kamala Harris, on stage.
Lessons in Law, Preparation for the Future
Becoming a lecturer at Georgetown Law, where he teaches entertainment law, takes his enthusiasm for mentorship a step further, and he's grateful for the opportunity to realize his dream of teaching.
"I want to give back," he says. "This profession has been so good to me, and I've gotten so much out of it, and after 30 years … I feel I have a lot to give back and hopefully impart to law students who are coming into the profession."
The class, taught on Zoom owing to the pandemic, is small, interactive and covers topics in entertainment litigation and disputes. Emhoff intends that it give 3Ls practical experience that will help them transition from school into practice. A typical writing assignment or class discussion challenges students to explain how they would handle a case if it were assigned to them, he says. As of this writing, Emhoff was halfway through his first semester, and pleased with how things were going – "So far, so good," he says.
In case any of his students felt apprehensive or maybe even a little star-struck about their high-profile instructor, Emhoff got that out of the way quickly — "We dispensed with the Second Gentleman business within a few minutes of the first class," he says. Emhoff keeps the focus on what he knows and how it can help his students become better lawyers.
"I'm getting so much out of it, because so much in my world has changed and is different, but to be in this situation and be with law students, all third-years about to start their careers, and being right at that intersection to hopefully help them with some good advice and information as they start … it's great," he says.
Emhoff is well aware that his place in national politics serves as an important signal of more open-minded attitudes toward gender roles in America, which he believes bodes well for women leaders.
"I have been talking about how we need more women leaders in politics, in the legal profession and all professions," he says. "For me to have this job, and for my wife to be Vice President, means we've come a long way."
In addition to teaching, Emhoff educates himself on issues important to Americans, and travels frequently in support of administration policies, such as the COVID-19 vaccination effort. In early April, he traveled to Yakima, Wash., to visit a federal vaccination site, promote the federal American Rescue Plan and encourage more Americans to get vaccinated.
"For me, it's an incredible honor to have the opportunity to be the first Second Gentleman, and I plan to really make most of this opportunity to lend my voice to issues and topics that need some illumination."
Read More
RECENT NEWS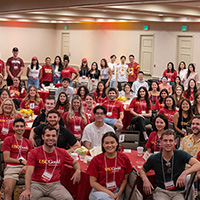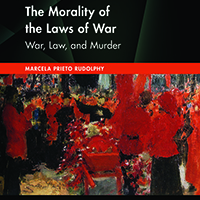 Facing the tragedy of war
September 13, 2023
Professor Marcela Prieto's new book, "The Morality of the Laws of War," argues for strengthening international law to el...