'Buy, borrow, die' gains new life

USC Gould School of Law
Monday, August 30, 2021
Media amplification renews interest in Professor Ed McCaffery's phrase and tax website
By Matthew Kredell
More than two decades ago, Professor Ed McCaffery came up with a phrase to explain how the rich use the American tax system to their advantage: "Buy, borrow, die." After being dismissed by academics and tax professionals who felt it was overly simplistic, the phrase caught on in 2021, cycling through the news media and re-energizing McCaffery's efforts to gain attention for tax inequality.
In June, ProPublica cited McCaffery's work in an article using newly-obtained IRS data demonstrating how the rich pay far less in income taxes than working class Americans. Coverage followed in the New York Times and Wall Street Journal, and "Buy, borrow, die" resonated on social media.
"To me, it's hugely exciting to see something take off that I've been working on for so long and met some resistance from the establishment," McCaffery says. "But I think the bigger story is that people are raising alarms about inequality and about the rich getting richer."
Origin of 'Buy, borrow, die'
McCaffery came up with "Buy, borrow, die" in the mid-1990s to help students understand how the wealthy avoid paying taxes.
"The public thinks the rich get away with paying no taxes because they have expensive lawyers and accountants that regular people can't get who are working their magic," McCaffery said. "That's not the case. The rich aren't paying taxes because of perfectly legal reasons."
Here's how:
Buy: An asset that will increase in value without producing income.
Borrow: Money to live off based on this appreciating asset.
Die: Avoid the 20% capital gains tax for selling an asset by holding the asset until death, when the asset can be sold off tax free by children or spouses.
Assets that aren't sold or producing cash aren't taxed no matter how much they increase in value. Borrowed money also isn't taxed, and the interest rate is typically much less than the income tax rate.
McCaffery first wrote about the phenomenon in his 2002 book Fair Not Flat: How to Make the Tax System Better and Simpler (University of Chicago Press, 2002), in which he argued for replacing the American income tax system with a progressive spending tax.
He's also used the phrase in opinion pieces for CNN explaining how wealthy Americans like Warren Buffett and Donald Trump didn't pay taxes.
ProPublica analyzed how much the 25 richest Americans paid in taxes compared to how much Forbes estimated their wealth grew in that period. Using McCaffery's strategy, ProPublica concluded that these wealthy Americans paid a true tax rate of only 3.4%.
Creating the People's Tax Page
During the 2016 Presidential Election, with the uproar over Trump's taxes, McCaffery created the People's Tax Page to explain the issue. On the theory that videos can reach a wider audience, he invited USC Gould student, Michael Greenwade (JD 2019) and recent USC School of Cinematic Arts graduate Maddie Rodriguez to help. USC Gould students Vivian Liu and Rae Williams currently work on the People's Tax Page.
"When I heard him talk about buy, borrow, die in class, he was so passionate about what he was saying," Greenwade said. "Personally, I wanted to know more."
The first videos were animated, with Rodriguez voicing Sabrina the unicorn, named after McCaffery's daughter, who "comes from a magical place where tax makes sense."
Later, McCaffery's daughter played the unicorn in live-action videos directed by Greenwade, now a tax attorney in Beverly Hills. McCaffery's son Brendan and Greenwade's sons Carter and Christian also star in a demonstration of buy, borrow, die using a Pokémon card.
"On the way home, my kids were saying they want to do more tax videos," Greenwade said. "That's when I first realized you can make taxes fun. These concepts can be understood if you present them in the right way. And if we can change how tax is viewed in the minds of the younger generation, we could potentially change how everyone looks at tax in the future."
Introducing 'Buy, borrow, die' to a younger generation
McCaffery wants to seize on the recent momentum for "Buy, borrow, die" by engaging a new audience through TikTok.
"There's no doubt that rich people do not pay much tax and that 'Buy, borrow, die' explains it," McCaffery said. "But this has been true for 100 years. Why hasn't there been more outrage? We're taking it to TikTok and hoping that can be part of the long-range answer." Sabrina, now 15, is creating the TikTok content.
McCaffery believes that tax reform needs to be regarded as a top-three issue to force change and through TikTok, he hopes to build that wave of momentum.
"We're not going to change something that benefits the wealthiest Americans, and has for a century, overnight," McCaffery said. "If we take away this veil of complexity, lay bare the simplicity of 'Buy, borrow, die,' and have options for reform that are readily understandable, we'll force politicians to talk about it. We're planting seeds."
Read More
RECENT NEWS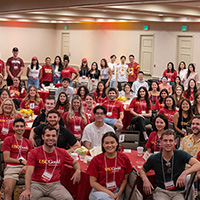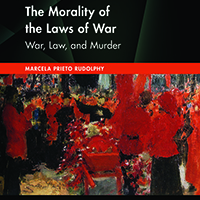 Facing the tragedy of war
September 13, 2023
Professor Marcela Prieto's new book, "The Morality of the Laws of War," argues for strengthening international law to el...