Teaching adds up to success for Jordan Barry

USC Gould School of Law
Wednesday, September 8, 2021
New USC Gould faculty member brings expertise in business law, taxation, law and economics
By Leslie Ridgeway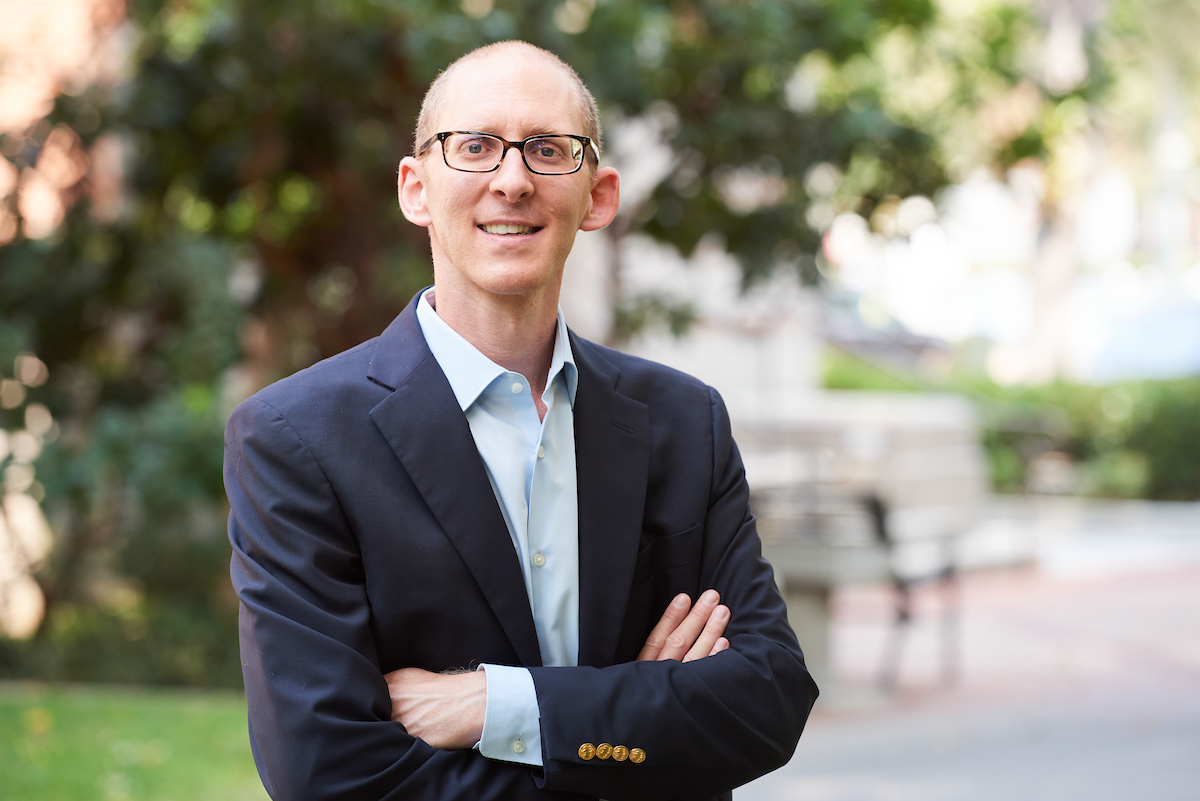 Prof. Jordan Barry brings expertise in business law, taxation, law and economics.
Professor Jordan Barry knows the value of keeping your options open. After studying math and economics as an undergrad at Cornell University, he surprised his friends when he decided to attend Stanford Law School. He wasn't sure what kind of law he wanted to practice, but he was certain that his future wouldn't involve either tax law or academia. He's now a professor who teaches tax law.
"It's good to be open-minded," he says. "At law school, I started seeing how different legal regimes changed how parties interacted. I saw how these models I had studied actually applied to things in the real world, and I got excited. Law school really helped me connect theory and practice."
The more Barry learned, the more he gravitated toward scholarly research and teaching in business law, including taxation and tax policy, securities regulation, corporate finance, and law and economics.
"I practiced law for a few years, then decided to try my hand at teaching, and that's worked out well."
Barry, a new faculty member this year, comes to USC Gould from the University of San Diego School of Law, where he directed the Center for Corporate and Securities Law and co-directed the graduate tax program. He also burnished his teaching credibility by winning USD's Thorsnes Prize for Excellence in Teaching in both 2012 and 2019, being named Herzog Endowed Scholar for both 2014-15 and 2015-16, and being named a Favorite Faculty Member by the USD School of Law's Public Interest Law Foundation from 2011-12.
Real-world cases add relevance to learning
He's encouraged that Gould students have expressed interest in the topics he teaches. He makes the subjects more enticing with real-world examples like the bankruptcy of Barings Bank at the hands of trader Nick Leeson – "There are a lot of lessons in that story; that's why I like it," he says. He loves how a good case can stay relevant, even decades later. For example, he teaches Benaglia v. Commissioner, a 1937 case involving whether room and board provided by an employer to an employee is considered taxable income. "This issue has been getting attention now because of high-profile prosecutions of executives who didn't report those kinds of items as income."
His own experience growing up around a family business gave him a deeper understanding of the value of a good business lawyer, something he hopes to pass along to students.
"If you are a small businessman, that business is a big part of your life," he says. "You have to keep the plates spinning. Having a good attorney to help you with the challenges that you encounter can make a big difference."
Barry's research has been published in numerous academic journals including the Journal of Political Economy, Southern California Law Review, Virginia Law Review, University of Pennsylvania Law Review and Stanford Law Review. He and a co-author have a paper on foreign tax credits forthcoming in the Tax Law Review. His research has also been cited by news media outlets ranging from The New Yorker to NPR's Marketplace to the Los Angeles Times.
Barry is exuberant about the opportunities he sees ahead at USC Gould.
"It has a tremendous faculty, renowned scholars, and the students are extremely strong … and they're all set in LA, one of the most vibrant legal communities in the nation and world. What's not to like?"
Read More
RECENT NEWS