The Secretary Route

USC Gould School of Law
Friday, January 21, 2022
Gould Alumni Spotlight: Paul Winn (BS 1968, JD 1969)

By Diane Krieger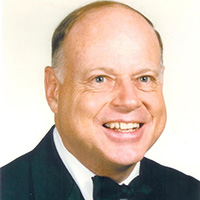 When Paul Winn was a teenager, an uncle gave him some excellent albeit unconventional advice: "If you want to get a job in the city, then you should probably learn shorthand and typing."
Desperate to get off his father's farm in Preston, Idaho, Winn enrolled in secretarial classes in high school. "And I took it seriously!" he recalls.
The 91-year-old Winn owes much of his success in life to following his uncle's advice, which included working as personal secretary to Howard Hughes, aviation magnate, pilot, film producer and studio owner.
Early in his career, Winn's secretarial skill landed him a job with the Idaho insurance commissioner in Boise. When it came time for Winn, a devout Mormon, to go on his mission, the church assigned him to its offices in Washington, D.C. and New York, as secretary to the mission president. Drafted into the Army soon thereafter, Winn's clerical competencies earned him "official reporter" duty at the Military Armistice Commission in Panmunjom, Korea, under Maj. Gen. Leslie D. Carter and Gen. Harlan C. Parks of the UN Command. He was awarded the Army Commendation Ribbon with Metal Pendant for his service.
In his prime, Winn banged out 120 words a minute with zero errors on a manual Royal typewriter. When duplicating documents (this was before photocopiers), Winn says he could hold a conversation while mindlessly typing.
Both speed and accuracy mattered. "If you made a mistake, it meant erasing not only the original but up to eight carbon copies," he says. Winn remembers typing the umpire manual used for Exercise Flash Burn, the Army's first atomic exercise. "It had to be done without errors or erasures. I typed it all in one day: it was 138 pages."
When his service ended in 1955, Winn took a secretarial job at a Provo, Utah, law firm and enrolled at Brigham Young University as an accounting major. He dreamed of being a lawyer someday, though it seemed out-of-reach. "We were poor," he says. "Nobody I knew even went to college." Winn left BYU without a degree after an Army buddy recommended him for a job, at nearly quadruple the pay, as a personal secretary to Howard Hughes. By then, he was married and a father. Winn relocated his young family to Burbank, Calif., in 1957.
His mastery of shorthand — Winn clocked 220 words per minute — proved crucial. In 1961, he accompanied the tycoon-aviator to Rancho Santa Fe, where Hughes spent the year flight-testing a new jet made for TWA by General Dynamics. "I had no problem writing down everything Hughes said, no matter how fast he talked," Winn recalls. Contrary to popular myth, Winn found Hughes to be extremely professional and focused.
Winn still dreamed of being a lawyer, and in 1965, he was admitted to the former concurrent Bachelor of Science in Law and Juris Doctor program at USC Law School. He switched to the midnight shift in Hughes' secretary pool and completed the four-year program with a specialization in taxation.
Back then, Dorothy Nelson occupied the dean's office, and future Dean Scott Bice was Winn's friend and classmate. His favorite USC professor was Louis Brown. As his research assistant, Winn remembers ghost-writing Brown's "Law for the Layman" column for Better Homes and Gardens magazine. Winn also sang in the Trojan men's chorale and stayed fit by playing recreational tennis and racquetball and running the track on campus.
After graduating, Winn briefly opened a solo practice in Burbank but continued to work at Hughes, where he was promoted to executive assistant to Howard Hughes Corporation president Frank William Gay and then named corporate secretary to the board. When Hughes died in 1976, Winn followed William R. Lummis, the reclusive billionaire's cousin and estate administrator, to Las Vegas. Winn spent the next decade helping Lummis untangle Hughes' business affairs and oversee litigation involving hundreds of potential heirs. (Hughes died without a will).
After 32 years with Hughes, Winn retired in 1988 and returned to California to join the general counsel office of Hilton Hotels Corp. in Beverly Hills. Two years later, he retired for good, settling in the Las Vegas suburb of Summerlin, where he's the longtime president of his homeowners' association.
Winn and his wife, Donna, who passed away in 1985, raised two children: son Bruce, 67, is now board chairman of Corporation Service Company in Wilmington, Del.; daughter Jené, 66, is a homemaker in Fort Collins, Colo. Winn's immediate family includes 12 grandchildren and 42 great-grandchildren.
Upon retiring, Winn devoted himself to his elderly parents, who made history when they lit the Olympic cauldron in Salt Lake City on the eve of the 2002 Games. At the time, Marion and Erma Winn, 101 and 98 respectively, were the longest-married couple in America, celebrating 77 years of matrimony.
After his parents died, Winn busied himself traveling. Decades earlier, he'd accompanied Hughes to little-known airfields in the Azores and Greenland. In retirement, Winn, together with lifelong friend Roy Stewart, logged trips to 52 countries.
Today, Winn is the picture of nonagenarian vigor.
"I live on my own, and I still drive. I eat out with friends all the time," he says. "I don't take any medication: I'm just a healthy guy." The walker he uses to address back pain doesn't hold him back. "I go on gravel and grass. I could actually jog with my walker," he says.
A voracious reader of biographies and American history, Winn also regularly plays the organ, both at home and as the substitute pipe organist at church.
He continues to travel with family. Recently, Winn and 66 direct descendants and their spouses returned from an Alaska cruise. He is gearing up for his next adventure in April: an Honor Flight to visit the Korean War Veterans Memorial in Washington, D.C.
Read More
RECENT NEWS