Celebrating the power of kinship

USC Gould School of Law
Monday, March 21, 2022
PCJP event showcases former client's transformation through compassion
By Jenifer Kasten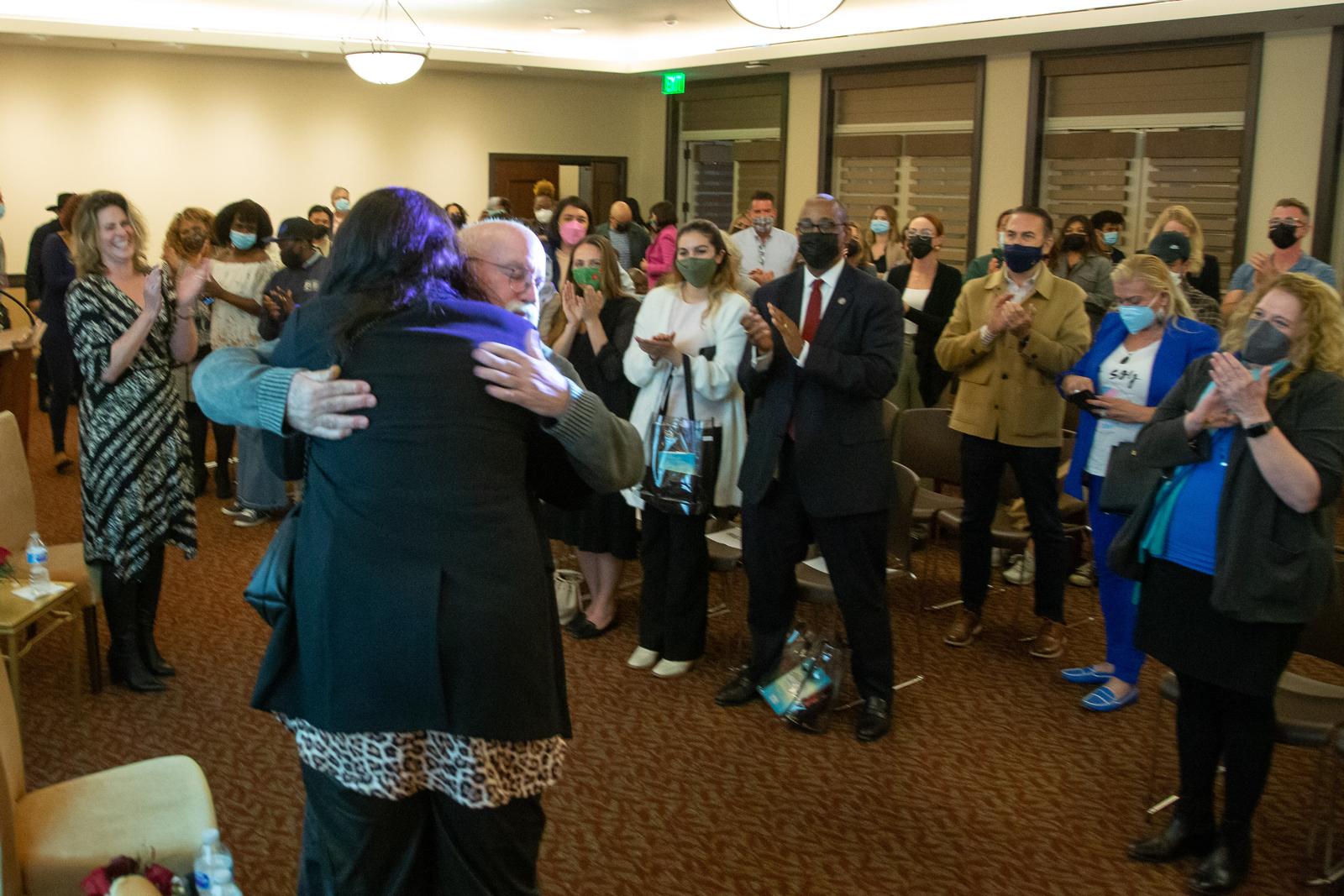 Father Gregory Boyle embraces Celia Perez at the PCJP event "Compassion and Transformation." (Photo: Tom Queally)
Alone in a cell, living as a woman in a male prison, Celia Perez took a leap of faith and put her life story in a letter to the
Post-Conviction Justice Project
at the USC Gould School of Law. She wrote about how a traumatic childhood drove her into homelessness at the age of 14 and how she sought family and protection in a gang. Not yet openly living as a woman at age 17, she was arrested and charged as an adult and sentenced to 29 years to life in prison. Despite the repeated violence and brutality she suffered at the hands of the men who surrounded her, Celia began to engage in intensive self-reflection, eventually realizing she is a transgender woman. Finally living her truth provided Celia the internal freedom she had lacked for so long and even paved the way for her to become a powerful advocate for her community in prison.
How can a person accomplish such a fundamental, personal transformation under such unspeakably harsh conditions? At a special conversation titled "Compassion and Transformation," Professor Heidi Rummel, co-director of PCJP, posed that question to Celia and her mentor, Father Gregory Boyle, the Jesuit priest who befriended her in juvenile hall.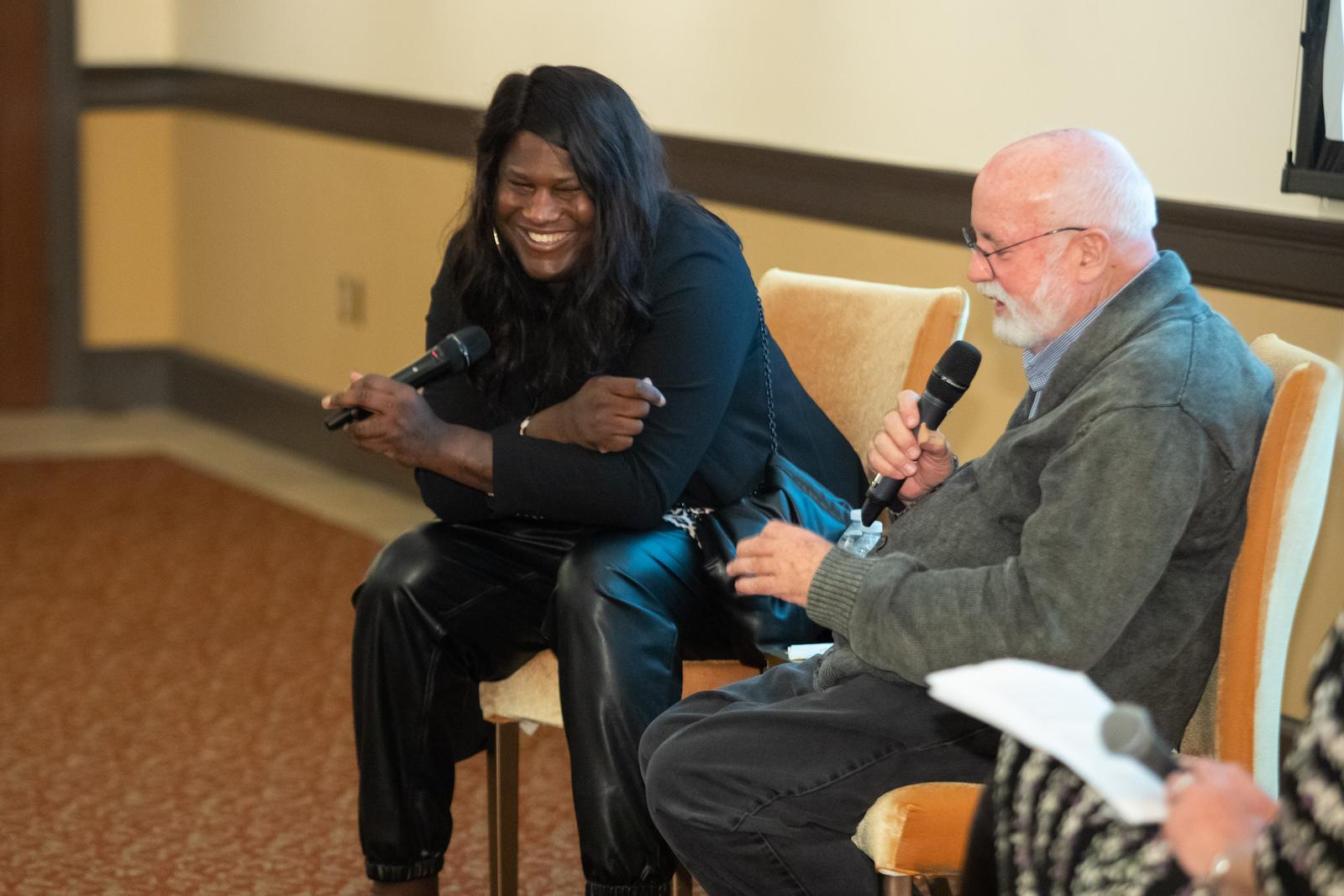 Fr. Boyle and Perez maintained a connection over the years, and Perez now works as an advocate for the LGBTQIA+ community at Homeboy Industries, which Fr. Boyle founded. (Photo: Tom Queally)
The two reminisced about their early connection, when Celia knew him simply as "G," a kind man who held mass at juvenile hall. Many know Fr. Boyle as the founder of Homeboy Industries, the largest gang intervention and rehabilitation organization in the world. He also is known as a prolific speaker and author of three books, including the New York Times bestseller Tattoos on the Heart.
Celia recalled being unable to understand "how it was possible a human being could be trying to show that much love. He would hug you, and just care about you … I didn't know how to react to that." But Fr. G kept showing up, and eventually, Celia said, he became the first man that she was able to trust.
The second man was then-PCJP law student Alexander ("AK") Kirkpatrick (JD 2017). As her legal representative, AK advocated for Celia to obtain gender-affirming health care through the prison system and prepared to her for the parole process.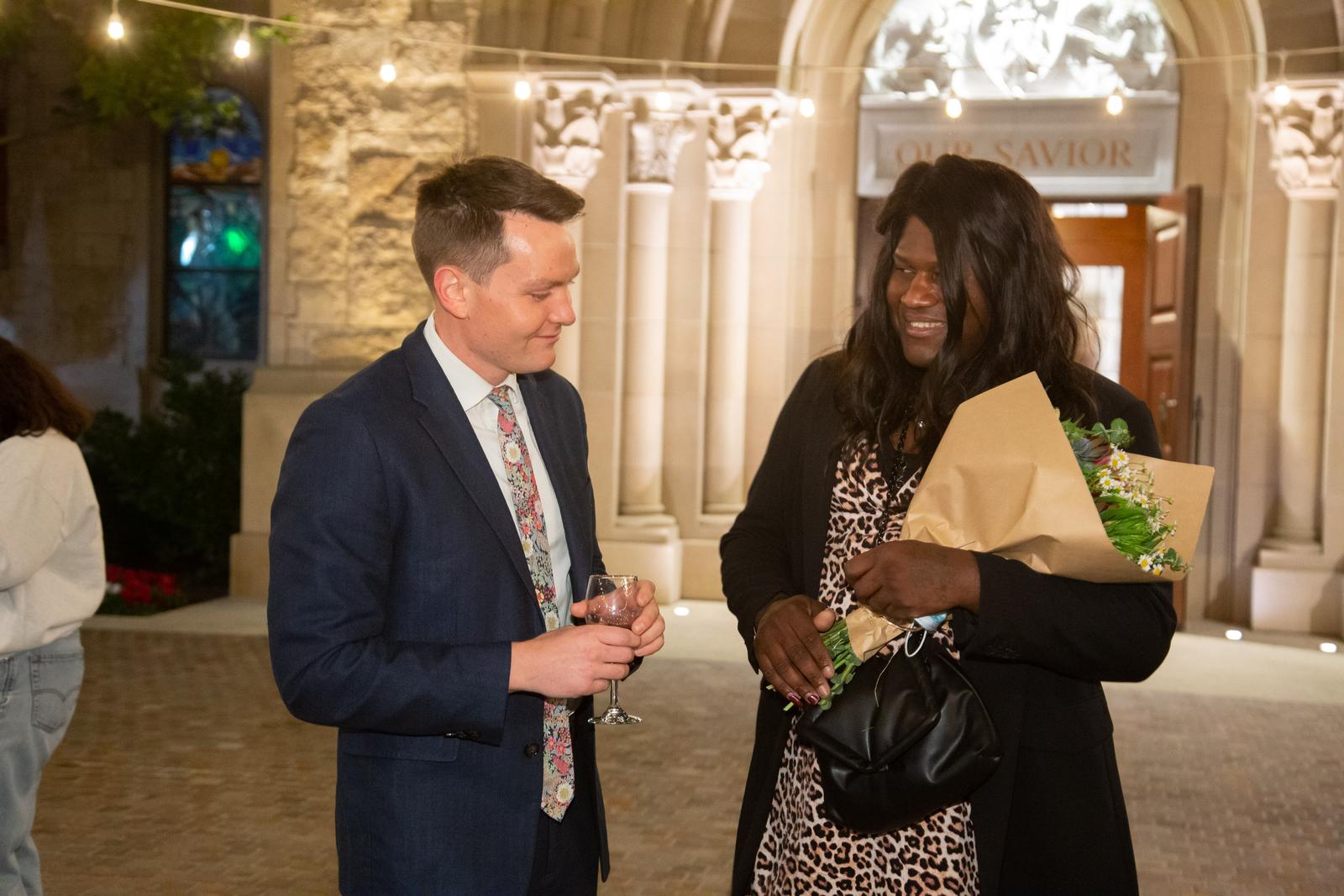 Perez with Alexander Kirkpatrick (JD 2017), who advocated for her to obtain gender-affirming health care through the prison system. (Photo: Tom Queally)
"Celia taught me that it was actually the power of kinship – loving herself and the complicated truths of her journey – that gave her the tools to find freedom within herself. It is with this internal fortitude and endearing brightness that Celia found the external freedom she embodies today."
PCJP law students Sanat Deshpande (JD 2020) and Natalie Katz (JD 2020) continued AK's fight for Celia's freedom, and Celia was granted parole at her initial youth offender parole hearing. In June 2020, Celia walked out of prison a free woman after 28 years.
Celia reconnected with Fr. G who gave her the opportunity to continue her advocacy for people at the margins, describing her as a "groundbreaking presence at Homeboys," where she now works as an advocate for the LGBTQIA+ community and leads gang reconciliation groups.
The audience applauded as Celia described her design of first-ever first Homeboys Pride shirt, that in her words, "changed the conversation about what people believe about Homeboys."
Read More
RECENT NEWS