Retirement of Alexander Capron and Michael Brennan

USC Gould School of Law
Monday, May 23, 2022
Announcement from Dean Andrew T. Guzman

Dear Colleagues,
It is always bittersweet to announce the retirement of our faculty, but most especially when those individuals are longstanding pillars of our law school community. Two distinguished Gould scholars, teachers, and dear friends –
Alexander Capron
, University Professor, Scott H. Bice Chair in Healthcare Law, Policy and Ethics, Professor of Law and Medicine at the Keck School of Medicine, and Co-Director of the Pacific Center for Health Policy and Ethics; and
Michael Brennan
, Clinical Professor of Law and Director of the Post-Conviction Justice Project – will soon be retiring and beginning new adventures in their lives.
Their contributions to USC Gould and the legal profession are unique and unmistakable. For Mike, the emphasis has been on clinical education, supervising students who represent clients in prisons and jails who have worked hard to reform their lives; many of those students came to understand what it means to be an attorney through that experience. Alex's interdisciplinary scholarship cemented his stature as an influential thought leader; and here at Gould, his insights enriched the academic environment for his colleagues and his classes alike. In their own ways, they both have made important impacts in the policy sphere that have changed lives, laws, and improved processes to create a more just and equitable world.
Lasting Legacy of Alex Capron at Gould and Beyond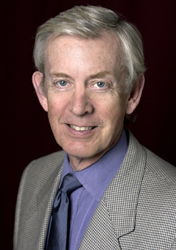 When Alex Capron was named the inaugural holder of the Norman Topping Chair in Law, Medicine and Policy at USC in 1984, he had served three years as executive director of the President's Commission for the Study of Ethical Problems in Medicine and Bioethical Research. He was known as a leading scholar in bioethics and was a go-to source in the science community about burgeoning and thorny medical ethics topics, such as the rights of human embryos. In a July 1984 story in the New York Times, Alex was asked about the law's lag behind science when it came to the fate of frozen embryos of a deceased woman. "The notion that you can have a child born years and years after the death of his parents is something completely new," he said. "This kind of a case is a beacon indicating that we have trouble ahead."
We have come to expect this kind of thoughtful yet frank response from Alex, who fearlessly waded into uncharted waters with a characteristic yearning to understand and synthesize facts and information about health care, medicine and economics for the good of society – something of a beacon himself. As a scholar, teacher, and colleague, Alex intertwines humanistic and intellectual approaches. Perhaps this grew from his scholarly interests in bioethics and public health, where human well-being is a paramount concern. Perhaps he was drawn to these fields because he was already committed to questions whose solutions require both intellect and empathy.
Alex began his journey by earning his bachelor's degree with high honors at Swarthmore College and his JD at Yale Law School, where he served as editor of the Yale Law Journal and was named Order of the Coif. He followed this by serving as a clerk to David Bazelon, Chief Judge of the U.S. Court of Appeals for the District of Columbia Circuit, and starting his academic career at University of Pennsylvania where he was named Professor of Law and Professor of Human Genetics, and for a time was vice dean of the law school.
It was after his service on the commission, when he had landed at Georgetown University as professor of Law, Ethics and Public Policy that USC recognized a star and recruited him, and his subsequent accomplishments are legion: Co-founder, with the late David Goldstein, M.D., in 1991 of the Pacific Center for Health Policy and Ethics; co-author or author of 11 books; testifying 10 times before the U.S. Congress on issues ranging from human embryo transfer to genetic engineering in the workplace; and numerous articles, book chapters and other works. Alex also took a four-year leave from Gould to serve as director of Ethics, Trade, Human Rights and Health Law at the World Health Organization in Geneva, Switzerland. He has been interviewed on NBC Nightly News, ABC News, CNN, and Nightline, among others. In the midst of all these achievements he has taught public health law, torts and law at USC Gould, not to mention teaching at the Keck School of Medicine of USC, where he has a second appointment.
Alex also served at USC Gould as Vice Dean for Faculty and Academic Affairs, for which he was well-suited, being a reliable and enthusiastic supporter of his fellow faculty. He is often among the first to congratulate our faculty for opinion pieces, acknowledgements and awards with beautifully-written, heartfelt emails often suitable for framing.
And speaking of awards – in case you missed it, this year Alex was honored with the Phi Kappa Phi Scholar Award for expertise in teaching and research, well-deserved for the time he gives to his students, and his tireless efforts to keep learning in a dynamic field.
Alex has inspired students and colleagues at USC (and worldwide) with his grace, kindness, and decency. As a role model to students and professors, he will be dearly missed.
The Individual and Community Impact of Michael Brennan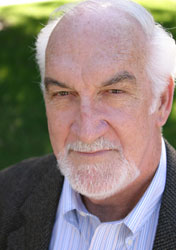 Mike, who earned his BA and LLB from UC Berkeley, joined USC to co-lead the Post-Conviction Justice Project more than four decades ago. He has been known to remark that if he had been told then that he'd be in the role that long, he wouldn't have believed it. He came to USC with an impressive resume, serving as directing attorney for California Rural Legal Assistance with labor union leader Cesar Chavez, in the Federal Public Defender's Office in Los Angeles and as a clinical professor at Emory University. He was working as an attorney and partner at a private civil practice firm in LA when he realized he wasn't fulfilled and needed a more satisfying pursuit.
When a friend told him that PCJP was seeking a clinical professor to help supervise students, he applied for the job and joined Denny Curtis, who founded PCJP in 1981, and Lee Campbell, who were later joined by William Genego, Carrie Hempel, Denise Meyer, Noel Ragsdale, Judith Resnik, Chuck Weisselberg and notably Heidi Rummel, who has co-directed and shaped the program with Mike since 2006.
Mike's PCJP work began by supervising students representing men at the Federal Correctional Institution on Terminal Island. The work expanded in the 1990s to the California Institution for Women where students represented women convicted for murder of their abusers. It was around this time that PCJP's focus shifted to parole reform, and Mike was at the forefront, encouraging students as they fought for release of deserving clients in administrative hearings and court challenges. Since the 1980s, California's release rate on parole was less than 1 percent, but then came 2008 and in re Lawrence.
PCJP, representing longtime client Sandra Davis-Lawrence, filed a habeas corpus petition challenging the California Governor's fifth reversal of a parole grant for Lawrence. In a surprise move, the California Court of Appeal adopted PCJP's novel legal argument and granted the petition, releasing Lawrence after 24 years in prison. The California Supreme Court later affirmed the Court of Appeal decision, giving those in incarceration hope that true rehabilitation could earn their release on parole. In the 10 years prior to the Lawrence decision, PCJP won release for eight clients. Since Lawrence, more than 150 PCJP clients have been released through the parole process.
Under Mike and Heidi's leadership, PCJP since 2010 has represented juveniles serving adult life sentences and helped draft and pass the California Sentencing for Youth Act, which became law in 2013. Other PCJP highlights include co-sponsoring two juvenile justice bills signed into law in 2017: SB 394, extending youth offender parole eligibility to children serving life without parole sentences, and AB 1308, raising the age for youth offender parole eligibility to 25 years. And just this year, PCJP alumnus Nina Rosser (JD 2021) won an appeal in the California Court of Appeals that sets a new precedent and affects the convictions of thousands of youth convicted of felony murder.
An authority on the three strikes law and death penalty, Mike has taught trial advocacy and served as chair of the Federal Indigent Defense Panel Selection Committee for the United States District Court for the Central District of California. He was also a member of the LACBA Judicial Evaluation Committee, consulted for the National Legal Services Training Program and was a member of the National Institute for Trial Advocacy.
Mike's leadership and expertise have affected the lives of many vulnerable people who have demonstrated they deserve a second chance. Though his influence will be felt in PCJP and across the California justice system for years to come, Mike's mentorship, wisdom and friendship will certainly be missed.
Michael will retire June 30, 2023, and Alex on January 4, 2023. We will find appropriate ways to celebrate them both, their careers, and their contributions to Gould and share more information as those plans unfold. In the meantime, please join me in wishing both of these stellar faculty members a fond thank you and farewell.
Sincerely,
Andrew T. Guzman
Dean and Carl Mason Franklin Chair in Law, and Professor of Law and Political Science
RECENT NEWS