2023 Hale Moot Court Honors competition showcases talent of Gould students

USC Gould School of Law
Thursday, April 13, 2023
2L Bryce Lourié wins 2022-2023 Oral Advocate Champion award

By Heidi Ried-Gonzaga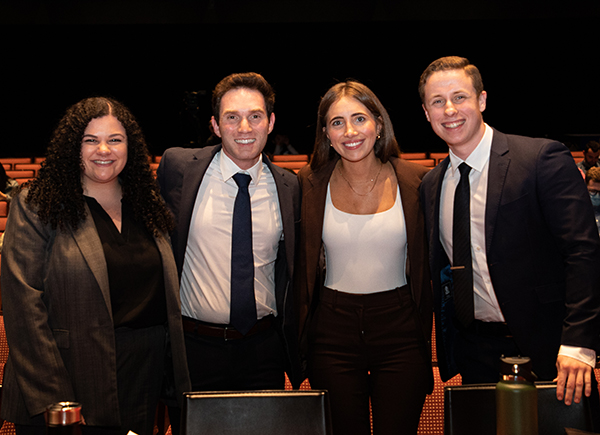 From left, finalists Natalie Bastawros, Bryce Lourié, Rachel Stone and Jordan Al-Rawi
The 74th Hale Moot Court Honors program competition took place on March 3, with 2L Bryce Lourié named the 2022-2023 Oral Advocate Champion.
Competitors delivered their arguments before the presiding judges, including Hon. Daniel P. Collins, U. S. Court of Appeals for the Ninth Circuit, Hon. Harris Hartz, U.S. Court of Appeals for the Tenth Circuit, and Hon. Cheryl Ann Krause, U.S. Court of Appeals for the Third Circuit.
"I would not have won the competition without the support of (Hale Moot Court Honors advisor) Professor (Rebecca) Lonergan and the other Moot Court participants who were a constant source of encouragement and guidance," said Lourié. "I'm very grateful to all the judges for taking time out of their incredibly important schedules to give law students like me such an invaluable experience."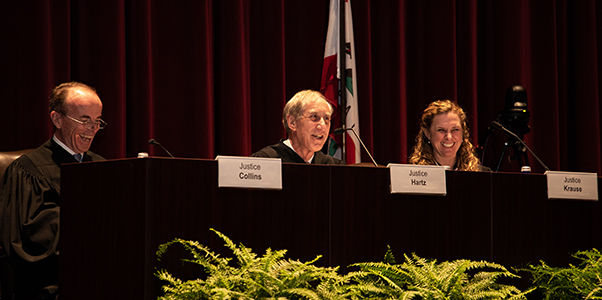 From left, judges Daniel P. Collins, Harris Hartz, and Cheryl Ann Krause
Other finalists included 2Ls Jordan Al-Rawi, Natalie Bastawros and Rachel Stone. 3L Mackenzie Tobin, a finalist in last year's competition, served as chair of the Hale Moot Court program.
"Getting to be this year's chair taught me so much about managing a large group of people and providing leadership," Tobin stated. "It was so special to watch the participants improve their skills from the first day I met them, to the final round of the competition. Having a hand in helping them perform their best throughout the competition was a very meaningful way to give back to a program I love that shapes really talented attorneys."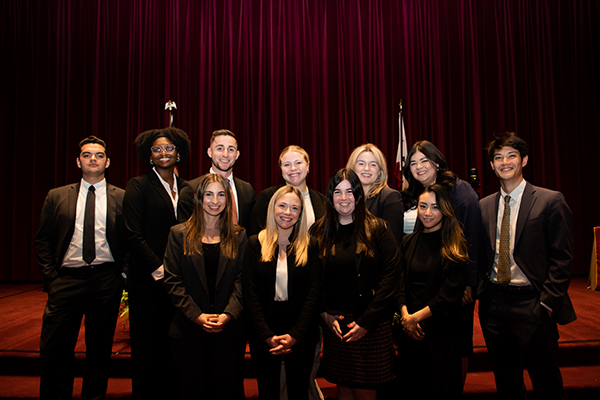 This year's competition covered two topics: whether a surveillance camera mounted by law enforcement on a utility pole to record events in and around a defendant's residence for 22 months constituted a warrantless search, violating the defendant's Fourth Amendment rights; and whether defendants have the right to the assistance of counsel under the Sixth Amendment during pre-indictment plea negotiations.
"I was incredibly proud of all the participants this year," Lonergan stated. "Their arguments were poised, articulate, legally accurate, and factually compelling. One of the guest judges told all four finalists that their arguments were better than most practicing attorneys, and that he would welcome them in his courtroom any time in the future."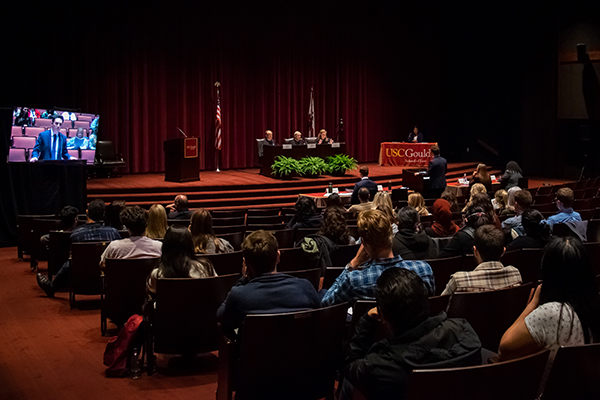 Hale Moot Court program competition winners, finalists and some participants receive monetary gifts through generous donors including Barbri, Anthony and Susan Taylor, Phil and Charlene Bosl, and the E. Avery Crary award, named after the late Judge Crary.
Read More
RECENT NEWS