A new legacy

USC Gould School of Law
Monday, July 3, 2023
Dean Franita Tolson looks forward to cultivating change, while carrying on USC Gould's tradition of excellence

By Ben Dimapindan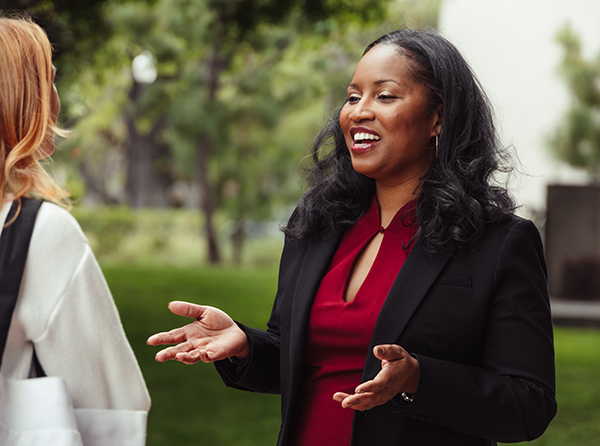 Dean Franita Tolson (Photo by Larissa Puro)
USC Gould School of Law Professor Franita Tolson is no stranger to making a big impact on the national stage.
One of the preeminent scholars in election law, Tolson has published research in nearly every top legal journal, has been featured widely as an election analyst on major networks, and has been invited numerous times to testify before the U.S. House and Senate on voting rights.
Now, as interim dean of USC Gould, Tolson is ready to make positive imprint on the law school and its vibrant community. She officially became interim dean July 1, when former Dean Andrew Guzman took on his new role as USC's provost and senior vice president for academic affairs. Tolson and Guzman had served as co-deans since April.
"As the first African American to hold this position ever and the first woman to hold this position in over four decades, my deanship will be about creating a new legacy and standing on the shoulders of giants," she said. "I have big shoes to fill, and I'm looking forward to all of the ways in which I can make changes that benefit this student body, this faculty and this school."
Tolson previously served as vice dean of faculty and academic affairs from 2019 to 2022 — playing an instrumental part in the launch of Gould's Visiting Assistant Professor program and the development of the Race, Racism, and the Law course, a first-of-its-kind required course among top law schools.
"Her guidance and foresight were indispensable in the face of the pandemic, as we worked to prioritize community safety, while preserving our educational and research mission," Guzman said. "Dean Tolson has the expertise and experience to accomplish extraordinary things as Gould's leader."
'Mindset of Service'
According to Tolson, one of the hallmarks of a Gould education is helping students develop robust legal knowledge and analytical skills while also instilling a sense of service.
"Law is a career choice that comes with a lot of responsibility, with the potential to make life better for others," she said. "We tend to attract not only the top students, but also those who have a strong moral and ethical fiber, which is very important for the practice of law."
She added, "As a voting rights scholar, my sole purpose was to help people vote. I took seriously the responsibility of making sure the mechanisms of our democracy worked for those who are less fortunate. As Dean, I hope to pass on that mindset of service and feeling of responsibility. We are in positions where we can effectuate great change and bring great benefit to society."
Student-Centered Priorities
In her view, the main quality that "sets Gould apart from other institutions is our students… students need to be at the center of any policy, any strategy on how to move the law school forward."
Toward that goal, Tolson plans to focus on three student-centered priorities: deepening Gould's faculty expertise, investing in student resources and improving the law school's physical facilities.
"One of Gould's strongest legacies is our tradition of hiring the best scholars," Tolson said. "We have always had faculty who are leaders in their respective fields, from corporate law to constitutional law. We've made a number of hires in recent years that we are very proud of, and I plan to continue that tradition. We want to attract top legal minds, who can train our students and prepare them to be thought leaders as well."
Another key area for Tolson is ensuring that students have the resources needed to thrive inside and outside of law school.
"Be it resources for mental health, resources for how to study, how to be a law student, how to make the transition to Gould, resources for making connections with alumni in L.A. and beyond — I am committed to expanding those types of opportunities," she explained.
In addition, Tolson hopes to advance the law school's plans for a new building, which will enhance the student experience.
"We are very proud of the fact that, in a few short years, we will be able to open a new building for our students and drastically improve their learning experience through state-of-the-art classrooms, facilities and dedicated study space."
Tolson refers to the journey through law school as a "life-changing experience." And because of that, she underscored how meaningful this opportunity is for her.
"Being dean at one of the best law schools in the country is an avenue for cultivating change," she said. "I have the ability to affect so many lives in a positive way."
Read More
RECENT NEWS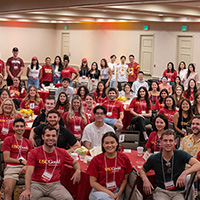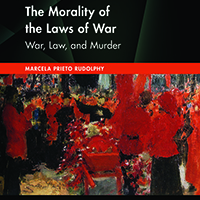 Facing the tragedy of war
September 13, 2023
Professor Marcela Prieto's new book, "The Morality of the Laws of War," argues for strengthening international law to el...