Trojan Family values

USC Gould School of Law
Wednesday, July 19, 2023
Small-to-midsize firms helmed by USC Gould alumni enhance their ranks with students, graduates
By Matthew Kredell
Small and midsize law firms can offer unique openings for growth and training early in an attorney's career. Three such law firms led by USC Gould School of Law alumni also demonstrate the Trojan Family in action by choosing to hire USC Gould students and alumni.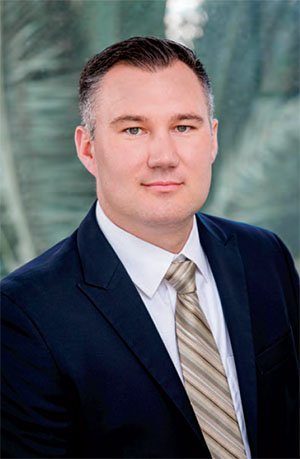 Matt Cave (JD 2011) builds relationships with USC Gould students in hopes of hiring them to work at his law firm.
Matt Cave (JD 2011) co-founded the litigation and trial boutique firm Kibler, Fowler & Cave LLP in January 2020, which represents clients in complex business disputes. Three of the firm's 13 lawyers are USC Gould alums, including Kevin Kroll (JD 2014) and Shiqi (Sara) Borjigin (JD 2017).
"I wouldn't be doing the job I love today without my experience at USC Gould and the incredible support of the Trojan Family," Cave says. "The alumni are a remarkable part of our school. Beyond supporting each other professionally and referring cases to each other, some of my best friends are from my law school class."
Cave keeps close ties with USC Gould as a mentor and serves on the USC Gould Board of Councilors Clerkship Committee.
"I'm constantly in touch with current students, and I do that because I got a lot of help when I was in their shoes," Cave says. "But I also do it for the networking. I build relationships with USC Gould students to help them wherever they go, but with the idea — and hope — that some will someday choose to work at my firm. I know that USC Gould alumni are among the best lawyers out there."
Mark Feldman (JD 1990) has hired at least one first- or second-year law student, mostly from USC Gould, as a summer associate for the past 18 years. His firm Feldman & Associates focuses on litigation with an emphasis on construction.
Two current USC law students, Blake Colquitt (3L) and Blake LaClaire (2L) worked with Feldman & Associates as summer associates. And Elise Eckert (1L) will work for the firm, which offers paid internships, this summer.
Three of the eight attorneys at Feldman & Associates are graduates of USC Gould, including Kevin Heravi (JD 2016) and Andrew Monge (JD 2019), who previously served as a summer associate. Many other summer associates have gone on to prestigious careers elsewhere.
"You're not just going to do document review for us like you would at some bigger firms," Feldman says. "You're going to draft pleadings and write discovery, and you're going to communicate with clients. I'm very proud of the students who have worked here as summer associates who have gone on to do fantastic things."
Feldman models the experience after his summer job at a personal injury firm in the first year of law school. He came away with 30 writing samples from different motions and oppositions, which beefed up his portfolio for on-campus interviews during his second year. He wants every summer associate at Feldman & Associates to get the same advantage.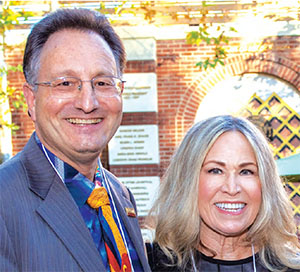 Steve Mindel (with wife Nancy Mindel JD 1986) has hired many USC Gould graduates because of their high level of training
Steve Mindel (JD 1985) serves as managing partner at Feinberg, Mindel, Brandt & Klein, which specializes in family law.
FMBK has a summer program that hires two to three law school students, typically drawing several hundred applicants. Five of the past six summer hires have come from USC Gould.
Mindel admits that his compensation packages can't keep up with big firms. He tries to make up for it with the experience he provides.
"We have a motto at FMBK — we build lawyers," Mindel says. "USC Gould trains people on how to learn the law. Learning different specialties, how to go out and find clients, bill them and collect from them, that's what the Trojan Network does at a level of no other law school in Southern California."
Mindel met Alex Grager (JD 2004) at a USC Gould event. Mindel hired Grager shortly after he graduated and he's been at the firm for nearly 20 years.
The Trojan Network extends to Mindel's personal life. He met his wife, Nancy (JD 1986), at USC Gould. His partner Jerry Klein was in his law school class. In addition to becoming his business partner, Klein married Mindel's sister, becoming part of his family. Speaking of which, Steve and Nancy's son Jake Mindel graduated this year from USC Gould.
Mindel praised the networking opportunities USC offers, bringing students and alumni together for support.
"The first-year mentor lunch is just an incredible opportunity for students and alums," Mindel says. "The Dean's Speaker Series brings alumni back and gives them value and networking opportunities. And, of course, it never hurts when you have a winning football team for people to come together around with tailgate parties. Everybody knows each other in the Trojan Family and they're all working together."
Read More
RECENT NEWS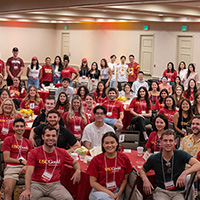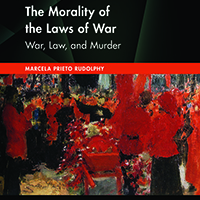 Facing the tragedy of war
September 13, 2023
Professor Marcela Prieto's new book, "The Morality of the Laws of War," argues for strengthening international law to el...