USC International Human Rights Clinic celebrates more than a decade of advocacy, justice work

USC Gould School of Law
Tuesday, July 25, 2023
IHRC faculty, students, alumni and partners come together to recognize the clinic's efforts and impact over time
By Melissa Masatani
For more than a decade, the USC International Human Rights Clinic (IHRC) has been a champion of international criminal justice, refugee rights and protecting vulnerable populations across the world. With more than 100 clinic alumni already forming the next generation of human rights advocates, the IHRC is poised to continue its work educating law students and making a difference in global justice and accountability.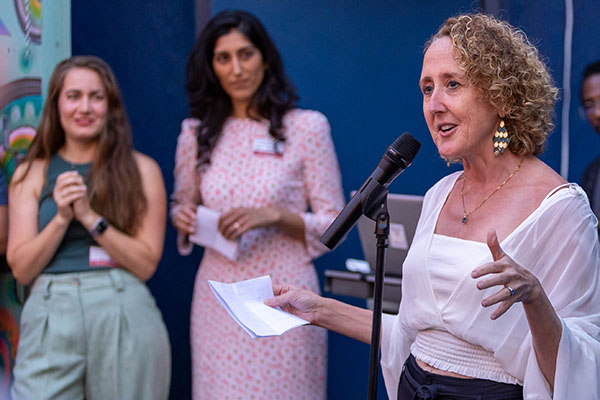 Hannah Garry (right), with Henna Pithia (center) and Kelsey McGregor at the IHRC celebration
This past year, the clinic marked its 12th cohort of students, led by professors Hannah Garry and Henna Pithia, as well as senior supervising attorney Kelsey McGregor, who joined the team for six months as part of WilmerHale's Pickering Fellowship. Both Pithia and McGregor are clinic alumnae.
"IHRC is such a life-changing experience not only by allowing us to conduct incredibly important work that can make a difference around the world, but also by letting us witness our students' growth as they work on some of the most pressing human rights concerns of our time," said Pithia, IHRC interim director. "I wake up every day feeling lucky that I get to do the work that I do."
In addition to taking the students on a trip to Malawi over spring break for a fact-finding report on the intersection of gender-based violence and female incarceration, the clinic has continued its mission in a variety of ways, including filing an asylum application for a young woman who fled Afghanistan after U.S. troops withdrew from the country in August 2021; helping a Ukrainian family escape war and find safe passage to the United States in December 2022; and traveling to The Hague to raise awareness of human rights atrocities in Ukraine, Armenia and Cameroon. In collaboration with the Clooney Foundation for Justice's TrialWatch initiative, the IHRC is preparing a report on fair trial rights violations that occurred during the trial of a human rights defender in Kyrgyzstan.
"It's a testament to the clinic and our students' strong work that the majority of the students who wanted to, were able to apply and be accepted to internships and fellowships at human rights organizations, international courts and tribunals over the years," said Garry, the clinic's founding director, who recently transitioned into the role of Executive Director of UCLA's Promise Institute for Human Rights.
Convening the community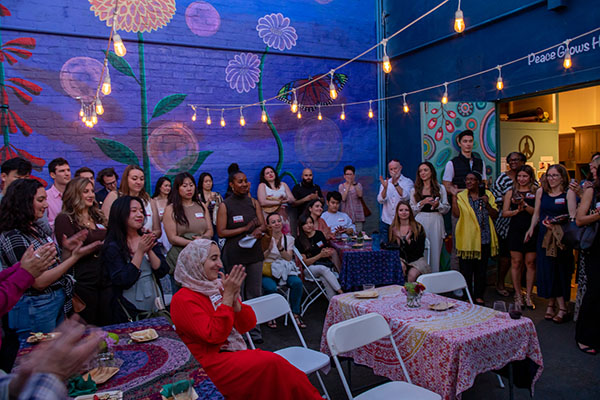 The IHRC celebration's guests included students, alumni, partners and supporters
In April 2023, IHRC held a celebration marking its decade-plus of work in the human rights space. The event gathered clinic alumni, partner organizations and supporters to recognize the importance of the work that the clinic has accomplished and continues to do.
"The celebration was a wonderful convening of our community that has been built and grown over the last 12 years through the clinic," Garry said. "It was great to be in a room with so many like-minded individuals who are passionate about fighting for justice on the local and global level."
The speakers included rising 3L Maramawit Abera, who shared how her experience as the child of Ethiopian immigrants informed her work with the clinic and her fight for justice. During her speech, Abera explained how it was humbling to realize that human rights work cannot be done by one person alone. Abera added that the best part of being in a clinic like IHRC is the opportunity to work in solidarity with the community, bringing unique insight and background to the work.
Mission driven and forward focused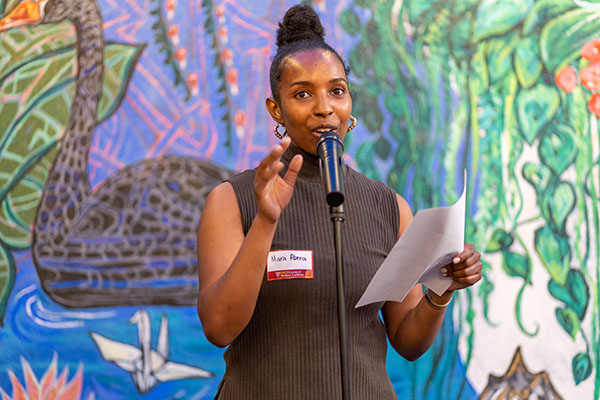 JD student Maramawit Abera
As the clinic prepares for a new cohort of students, Pithia shared her goals for IHRC in this second decade of advocacy.
"My vision for the clinic moving forward is to continue and expand our focus on accountability for mass atrocities, while simultaneously working on individual client representation matters for individuals fleeing atrocity situations," Pithia said. "And ideally, we would be able to grow the clinic, to offer more students the opportunity to learn about human rights advocacy."
The sentiment was echoed by Garry: "my hope and vision for the clinic is that it continues to be a core part of Gould and its mission to train excellent lawyers and advocates who will work for social justice and public interest issues."
Under her leadership, Interim Director Pithia looks forward to continuing the important work of the IHRC and training the next generation of human rights advocates.
---
To learn more about the USC International Human Rights Clinic, visit humanrightsclinic.usc.edu — and follow IHRC on social media: Twitter | Instagram | Facebook | LinkedIn
Read More
RECENT NEWS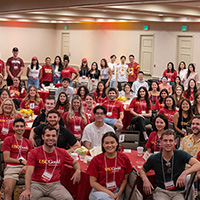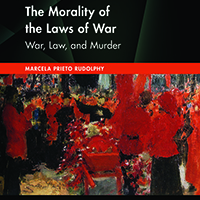 Facing the tragedy of war
September 13, 2023
Professor Marcela Prieto's new book, "The Morality of the Laws of War," argues for strengthening international law to el...