In Gould's Legislative Policy Practicum students and participants with lived experience 'fight on' for criminal, juvenile justice reform
By Julie Riggott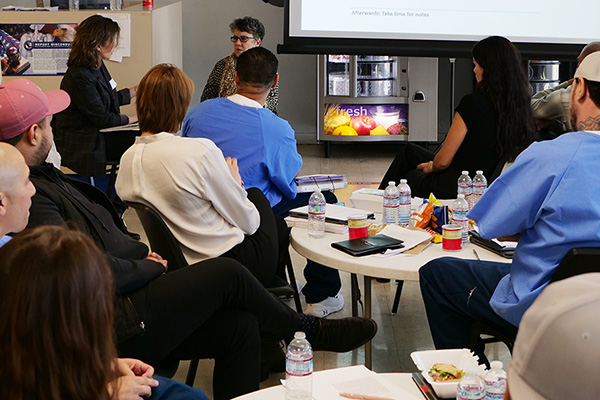 The Legislative Policy Practicum on a visit to Calipatria State Prison
About two months after Dara Yin, a client of the USC Gould School of Law's Post-Conviction Justice Project (PCJP), was released from a life without parole (LWOP) sentence, he was sitting in a classroom on the USC campus, participating in Professor Heidi Rummel and Professor Elizabeth Calvin's Legislative Policy Practicum.
The practicum, in its eighth year, engages students in real-world advocacy on criminal and juvenile justice issues, bringing in participants with lived experience in the area targeted for legislative reform.
"This course is a model for powerful policy work," says Calvin, a lecturer in law at USC Gould and senior advocate for children's rights with Human Rights Watch (HRW). "Law students learn how to listen to people with personal experience of a problem, and work together to shape change."
Yin, convicted at age 18 on gang-related homicide charges, served 20 years before his release on Nov. 23, 2022. Yin is thankful to PCJP, led by Professors Rummel and Michael Brennan. The practicum is his way to give back.
"Being represented by USC really gave me a lot of confidence in my recovery and the work I was doing when I was incarcerated," Yin says. "So, with everything [professors and students at USC] have done, whatever they want me to do, sharing my story, I'm there. I know that I was given a second chance to do something purposeful."
The Legislative Policy Practicum involves students with strategic policy advocacy, including identifying areas for reform and evaluating legislative solutions. It also involves students in the legislative process, including drafting legislative language and collaborating with stakeholders. The students work during the California legislative term, sometimes co-sponsoring legislation, sometimes working on legislation that has been introduced.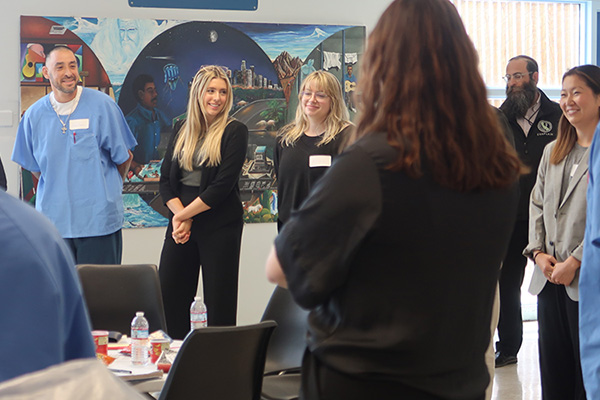 This year, the class is working on a bill related to LWOP, a sentence approximately 5,300 people are serving in California. Along with Yin, two others who were released from LWOP sentences participate in person, and 11 incarcerated men serving life without parole at Calipatria State Prison participate via Zoom. And for the first time in California history, incarcerated people will take part in meetings with legislators and staff to advocate for reform.
"I love teaching this practicum," Rummel says. "Law students move from answering the question 'How does the law apply in this case?' to asking 'What should the law be to achieve a just result?' And then they do the hard work of navigating the political process to pass legislation. They partner with people with lived experience, learning from them and raising up their voices to create real-world change."
Since 2008, Rummel and Calvin's legislative advocacy has resulted in passage of landmark youth justice reforms. Together with HRW, PCJP has written or co-sponsored most justice bills in California, and practicum students have worked on the majority, including SB 394 (providing youth offender parole hearings for all juvenile LWOP inmates), SB 1391 (precluding transfer of 14- and 15-year-olds to the adult system) and AB 2417 (Youth Bill of Rights for incarcerated youth).
2L Claire Hagan is in this year's practicum. Through the PCJP clinic, she helped Yin prepare for his parole hearing and represented him at the hearing where he was granted parole following a commutation of sentence by the California governor.
"They tell you that you don't learn how to be a lawyer as a student; you learn it by practicing, and it is really true," Hagan says. "I think for both of us it was something that you don't realize you're capable of doing until you're in the situation. Dara was so deserving of his freedom."
Hagan signed up for the practicum to broaden her impact.
"I really liked working with Professor Rummel and the people I met through PCJP like Dara. You get to make a difference one case at a time, but if there's a possibility to make a difference on a broader scale, through legislation, I wanted to do that," she says.
Though Hagan is interested in private practice litigation, her experience with criminal law in the clinic and classroom has made a lasting impression. "I want to be able to continue this kind of advocacy, at least in a pro bono way," she says. "This is something I'm really passionate about."
Meanwhile, Yin wants to work to keep young people out of gangs. He was accepted to the USC Rossier School of Education's online master's program in Learning Design and Technology and is seeking funding to attend.
"I want to learn how to implement social and emotional learning into curriculums, educational tech and other programs to help kids," he says. "I applied to other schools as well. But I want to be a Trojan."