Terry Solís recognizes impact of Frank Solís (JD 1949) with new scholarship
By Leslie Ridgeway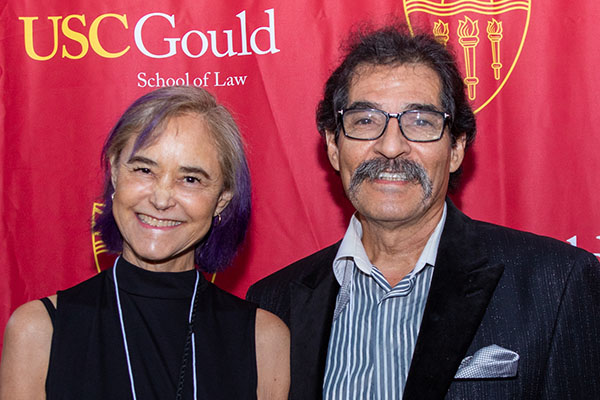 Terry Solís, with husband David Flores (JD 1981), was inspired to create a scholarship endowment to memorialize the impact of her father, Francisco "Frank" Solís (JD 1949) on her life and work.
When Terry Solís attended the USC Gould School of Law all-class reunion last fall with her husband David Flores (JD 1981), she realized an opportunity to commemorate the impact of her father on her life and her work.
Francisco "Frank" Solís (JD 1949) was active in Los Angeles politics and an officer in the Mexican American Bar Association in Los Angeles. He had a strong influence on Solís who recently retired from leading the company she founded, The Solís Group, which provides project management services for public and private construction projects. At the reunion, she and her husband picked up the spring 2022 issue of USC Law Magazine, and as they flipped through it, they spotted an article about several alumni creating an endowment in support of need-based scholarships.
Solís considered her father's legacy, the lessons she had learned from him that she'd been applying all of her life, and the law school that set her father on the path to an accomplished career.
"I remembered the impact of education on my father, and what it meant to me — the first in my family since my dad to go to college," says Solís. "I knew the moment I read that story that I was going to do something to honor my father."
That spark set into motion a $100,000 scholarship endowment named for Francisco Fernandez Solís. The scholarship will support students for whom affordability may be an obstacle and positive consideration will be given to students who advocate and/or promote Hispanic communities.
"We are grateful to Terry Solís for memorializing the legacy of her father with this generous gift," says Andrew Guzman, former dean and now USC Provost. "We're honored to accept this donation symbolizing Frank Solís' grit and determination. It will serve as an inspiration to our students.
Frank Solís (1918-1991), a veteran of the United States Army, earned an undergraduate degree in Spanish with a minor in religion at USC in 1940. After graduation, he worked in an office in East Los Angeles as a criminal defense lawyer, sometimes traveling as far as Tulare and Fresno to meet with his clients. "He cared about the people he represented," says Solís.
Flores never met Frank Solís but puts Solís' achievements in perspective with the racial barriers to success in Los Angeles during the 1930s, 1940s and 1950s. "He had been a teenager in the late '30s in Los Angeles surrounded by discrimination and yet he graduated from USC law school," says Flores.
Terry Solís' company has thrived for more than 30 years, with her daughter Elizabeth now the CEO and owner and her grandsons working there as analysts. With her decision to endow a scholarship, she shares the good fortune she credits to her father. "I hope students who receive the scholarship will be inspired by him," she says.