USC Gould LLM graduates make their mark in South Asian entertainment law

USC Gould School of Law
Monday, July 24, 2023
Nikita Shankar (LLM 2009), Chandra Arval (LLM 2018) and Jerusha D'Souza (LLM 2020) found opportunity in India's burgeoning media and entertainment scene
By Diane Krieger
India is considered one of the fastest growing media and entertainment markets. Today India produces more movies than any other place on earth — 1,700 feature films in 2021 according to Film Federation India, down from a pre-pandemic rate of around 4,000 movies annually.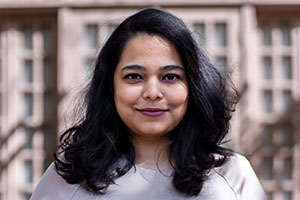 Nikita Shankar (LLM 2019)
"There's a lot of Indian fandom and fascination for movies," says Mumbai-based entertainment attorney Nikita Shankar (LLM 2019). "We have a huge population — 1.4 billion of us are watching."
There's tremendous opportunity for legal professionals like Shankar, a recent graduate of USC Gould School's LLM program with a focus on media and entertainment.
Shankar works for Mumbai-based TINNUTS, which bills itself as "a new-age intellectual property firm offering non-conventional solutions to conventional problems." (TINNUTS stands for "there is nothing new under the sun"). It's a fascinating time to be in this field, she says.
"Media and entertainment law is still very nascent in India. There's no concept of estates. The jurisprudence is still developing around publicity rights. Netflix only came to India in 2016," she says.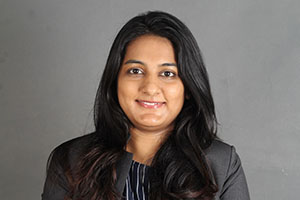 Chandra Arval (LLM 2018)
Being well-versed in American law gives Indian attorneys a clear edge, adds Chandana Arval (LLM 2018), an associate with Mumbai-based TMT Law. "It's very helpful to have an understanding of an entire other system where media and entertainment law is so developed," she says.
Before joining TMT last spring, Arval worked for Netflix India and a couple of smaller entertainment law firms in Mumbai. As a "clearance analyst" at Netflix, Arval read scripts and reviewed production reels for landmines, either in possible civil litigation or government censorship. This work is in high demand in India, where product placements are commonplace while the law around them is still developing and unclear.
Copyright and trademark infringements, brand issues and privacy rights are the tip of the iceberg. The greatest legal peril lies in defamation and falling afoul of government censors.
Under Indian entertainment law, Arval says, "you have a very, very high chance of hurting religious sentiments, and anything to do with nationalism is very touchy."
Close-knit alumni tout networking opportunities
When looking for an LLM program, USC Gould — with its location in the world's entertainment capital and deep industry ties — topped the list for both Shankar and Arval.
"It puts me first in line at every interview," says Arval of her USC Gould credential.
Arval first learned about USC's strong media and entertainment focus from her supervisor while interning at a Mumbai IP firm. At the time, she was an undergraduate at Jindal Global Law School. After finishing her BA/LLB in 2017, Arval came straight to USC. Her former supervisor, Niyati Shah (LLM 2022) also ended up studying at USC Gould. Shah is now an entertainment attorney with Amazon Prime-India.
India's USC Gould alumni network is comprised of 107 LLMs, and growing fast. Another 29 Bharati Trojans are in the Class of 2023.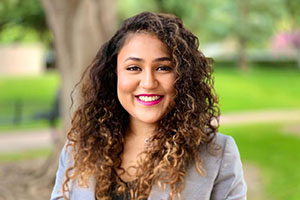 Jerusha D'Souza (LLM 2020)
"A lot of us are great friends," says Jerusha D'Souza (LLM 2020). "We'll be negotiating contracts one day, and the next day we're having drinks. We meet up, and we keep helping each other."
D'Souza, who has an independent practice, takes full advantage of the Trojan network. She and Shankar are international co-chairs of the USC Gould Alumni Association. Both women also belong to the Trojan Entertainment Network, an affinity group for alumni involved in the entertainment industry across many USC schools — law, business, cinema, engineering and music, to name a few.
When she and Shankar first met, they were on opposite sides of a deal. "There was no hedge, no argument," D'Souza recalls. "It was just the two of us talking. We have the same education. We understand the same things. And it went beautifully." Today, Arval and Shankar frequently refer clients, a fair number of whom are also fellow Trojans, to D'Souza.
A varied field
After finishing her degree, D'Souza stayed on for optional training (OPT), working simultaneously for an entertainment law firm and a tech startup, dipping her toes into the crypto currency and non-fungible token space. When she returned to Mumbai, she brought along her Silicon Beach employer, becoming its foreign attorney. "They are now my biggest client," she says. D'Souza's current practice spans the music, television and film industries, social media and influencer marketing, blockchain and Web3 space.
Arval found a course on TV and digital media taught by Adam Hime (JD 2004) particularly helpful. An L.A.– based entertainment executive, Hime brought the class on set and showed students how to secure waivers, notices and clearances.
"Choosing to work in this field is definitely interesting," says Shankar.
Read More
RECENT NEWS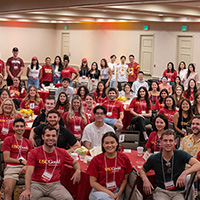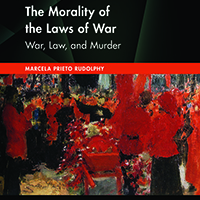 Facing the tragedy of war
September 13, 2023
Professor Marcela Prieto's new book, "The Morality of the Laws of War," argues for strengthening international law to el...