Alumni Spotlight: Mubarak Alrefaei

USC Gould School of Law
Tuesday, August 20, 2019
An essential element of the USC Gould School of Law's success is the supportive community fostered among its students around the world. These strong bonds which tie together the Gould Trojan Family fuel the impact and influence of the school's programs online and on campus.
Meet Mubarak Alrefaei. In the Q&A below, he shares what made him choose an online education with USC Gould and his most rewarding – and challenging – experiences as one of its first online students.
What made you pursue an online legal education, and why at USC Gould?
A significant part of my current work is legal or has a law-related element. I wanted to supplement my rich business experience with substantive legal knowledge, and was drawn to the disciplined framework outlined for learning online from USC Gould. I firmly believed this experience would enrich me with a deeper understanding, awareness and appreciation of legal issues and challenges that arise daily when dealing with complex laws and regulations, as well as with global law firms.
Given my stage in life, and my unique background and experience, I believed that the University of Southern California's professional educational standards—and reputable and rigorous program within the Gould School of Law—would prove formative in enabling me to play a positive and prominent role in my family, and in shaping the legal changes and challenges that unfold within an important, though nascent, institution in my country. Participating in this program would thus provide a sound basis for understanding, and a working familiarity with, how mature legal systems grapple with financial and legal issues in what is now an increasingly shrinking world.
What made you excited to be among the first online students of USC Gould?
I had been looking for an online legal education, but nearly all programs I found were commercial. USC's reputation and the convenience of the online environment were the two main drivers behind my desire to be part of USC's Trojan Family.
How was your experience with the online format and our program abroad?
In the beginning, it was a bit challenging to get myself familiar with the all technology, but I received unlimited support from the program teams that helped me to get very comfortable with learning online. I very much liked the idea of studying at my own pace. Despite the time zones differences, the program was managed in a very professional manner to best service all participants.
The technology used in providing study materials, live lectures, admin support, etc. was extremely convenient. After my very positive experience with the online format at USC, I strongly believe that location no longer limits access to top quality education.
You do not practice law and did not intend to with your degree, can you share how legal education has helped your career path?
My work involves many aspects of law and therefore requires a fair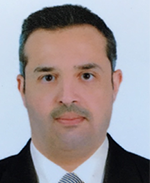 Mubarak Alrefaei
amount of legal knowledge. I am continuously involved in the process of drafting new regulations and laws in relation to the financial services sector as well as understating and reviewing the existing ones, and having a legal background is essential in order to form a holistic view of workplace issues and how to advance my business.
My favorite courses were those related to business law, since I work with a more "transactional" type of law.

What would you look for if you were in a position to hire graduates from an Online MSL or Online LLM program?
I would look for the relevant work experience paired with a degree in understanding law. Having both is the perfect combination in my opinion.
What's next for your career?
I haven't decided yet, but there some ideas being discussed around consulting or starting my own business. We will see how it goes!
Read More
THE LATEST NEWS. REDEFINED.