Student Spotlight: Disha Bhagwat

USC Gould School of Law
Monday, March 9, 2020
An essential element of the USC Gould School of Law's success is the supportive community fostered among its students around the world. These strong bonds which tie together the Gould Trojan Family fuel the impact and influence of the school's programs online and on campus.
Meet Disha Bhagwat (LLM in ADR '20). In the Q&A below, she shares the reasons behind her pursuit of the degree, love for USC and the law and advice for future students: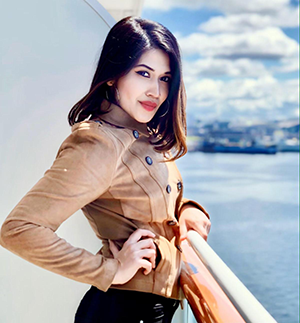 Disha Bhagwat, LLM in ADR '20
What sparked your interest in learning about law?
There is no retirement in the profession of law, because there is always something new to learn. There will always be an emerging area of law being explored, and law evolves as time goes on, so learning never stops. That is what sparked my interest in the Law.
Another reason is my fascination with justice. Justice is blind; everybody deserves their day in court, is equal in the eyes of the law, innocent until proven guilty. You become a part of the story for every person you represent and pursue a noble career. And most importantly, NO MATH!!
What made you pursue your degree in particular, and why at USC Gould?
"Justice delayed is justice denied."
What better way to speed up the overly burdened legal systems than to pursue Alternative Dispute Resolution? ADR mechanisms like negotiation are immensely helpful in all walks of life. We negotiate with everyone every day; being a good negotiator will prepare you to navigate any conflict, be it legal or personal.
How has it been transitioning into our program, and how has USC assisted you?
It has been surprisingly smooth. USC provides G&IP Students with opportunities and career resources, including interview tips, mock interviews, symposiums, academic advising and bar preparation to help us transition into the education methodology in the United States.
What is the most memorable experience or learning from your USC studies so far?
Professors put in the effort to make the courses theoretically and practically applicable and introduce guest speakers that allow students to understand what the world of ADR is like outside of the classroom. Professor Joel Furman's criminal law lectures were enriched with experiential learning, enabling me to meet distinguished professionals in the field of criminal law and having the opportunity to build connections with distinguished prosecutors, judges and District Attorneys. It created great internship opportunities for me.
How will your degree from USC Gould give you an advantage for your future career? What do you want to do next with your degree?
A Masters in Law degree is a highly reputable graduate degree, and being able to graduate with an LLM from USC Gould School of Law - which is among the top 20 Law Schools in the United States - will be advantageous to an internationally trained attorney such as myself. Acquiring knowledge of the legal system in the United States will give me an edge over the competition. My goal has always been to utilize these 12 months to gain as much practical and theoretical experience and knowledge to become a member of the California Bar and build my career options internationally. I never want to limit myself and want explore it all.
USC Gould has been pivotal in helping us land internships, such as mine in Medical Malpractice Defense at Long Beach as well as a pro-bono legal researcher position with a non-profit, working remotely. Further, it also prepared me in qualifying and being invited to interview for not only the New York Interview Symposium but also the UCLA Interview Symposium.
What advice do you have for students who may be interested in following a similar path to yours?
My advice would be to GET ORGANIZED AND KEEP ON KEEPING ON. Maintain a consistent positive attitude and I promise you, anything is achievable. Work hard, pay the haters no mind, and worry only about things that deserve your time and energy. This one year is all you get, so make the most of it and don't waste one second being anything less than your best.
To learn more about the Master of Laws in Alternative Dispute Resolution (LLM in ADR) degree, please visit https://gould.usc.edu/academics/degrees/llm-in-adr/
Read More
THE LATEST NEWS. REDEFINED.