Student Spotlight: Katia Tyra

USC Gould School of Law
Monday, March 9, 2020
An essential element of the USC Gould School of Law's success is the supportive community fostered among its students around the world. These strong bonds which tie together the Gould Trojan Family fuel the impact and influence of the school's programs online and on campus.
Meet Katia Tyra (MDR '21). In the Q&A below, she shares the reasons she chose to pursue her MDR at USC and how her studies are immediately applicable to her current work and future career: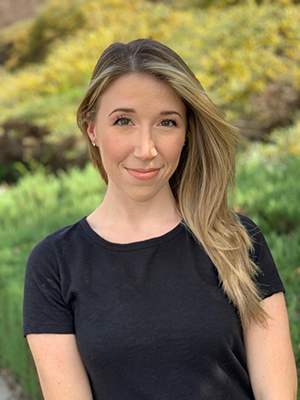 Katia Tyra, MDR '21
What sparked your interest in learning about law?
What sparked my interest in learning about law through dispute resolution was through my time as a volunteer mediator in small claims, civil harassment and unlawful detainer court. While my previous training greatly helped me help others, I knew there were still gaps in my knowledge, especially in law. I realized that if I wanted to progress in my career I would need a master's degree in this field.
What made you pursue your degree in particular, and why at USC Gould?
I chose the Masters of Dispute Resolution because the curriculum best matches what I wanted to learn. I chose to pursue my degree at USC Gould because of its renowned connections and experienced professors. Before choosing USC, I took a sports law arbitration class and toured [other universities] to make sure I picked the best program for me. USC best fit my needs financially and academically.
How has it been transitioning into our program, and how has USC assisted you?
It has been a good transition, although I do struggle sometimes to balance working full-time, going to school and my personal life like many other graduate students. USC has helped me with my goals, specifically Andrew Culberson and Professor Harper for their help with my resume and professional connections. While I cannot participate in many events that the Gould puts on, I appreciate the resources and connections the school helps students like us create.
What is the most memorable experience or learning from your USC studies so far?
It's a bit silly, but one of my most memorable experiences was Dr. Peterson surprising us as Superman for our class on Halloween, along with bringing us candy which was so kind of him. Another would be the informative and fun discussions in my class with Professor Harper, including practicing our real apologies!
How will your degree from USC Gould give you an advantage for your future career? What do you want to do next with your degree?
I believe that this degree from USC will give me an advantage for my future career primarily for the professional connections. These professors are willing to add you to their professional network and help connect you to all the right people. Some of them are even willing to mentor you ad help guide you towards your goals. What I want to do next with my degree is to continue to use my skills at my current job and eventually transition into an HR role. My current classes and previous training has helped me mediate and promote healthy communication within my job environment. I also hope that this degree will help achieve my dream to become an ombudsman at CSULB, my alum!
How have your ADR skills helped in your current position?
I currently work as a Membership Manager at an engineering nonprofit, SAMPE. A good amount of my job is using my communication skills, which are inherently linked to my ADR skills. There have been communication issues within my office, including one meeting where two of my coworkers got very heated. I switched into mediator mode and began working with them to resolve their conflict. Since then, I have been using my collaborative skills combined with what I've learned so far in the MDR program to help create mindfulness about the communication and conflict styles within the office. I believe we have seen an increase in more open and mindful communication because of it.
What advice do you have for students who may be interested in following a similar path to yours?
I recommend that students that may follow a similar path is to really connect with your professors. They really are here to help bring you into the professional world and eventually work with you. If you need to work while going to graduate school like me, make sure you do one self-care thing a week at least, and continue to manage your time well. Juggling school and working full time is difficult, but not impossible.
To learn more about the Master of Dispute Resolution (MDR) degree, please visit https://gould.usc.edu/academics/degrees/mdr/
Read More
THE LATEST NEWS. REDEFINED.